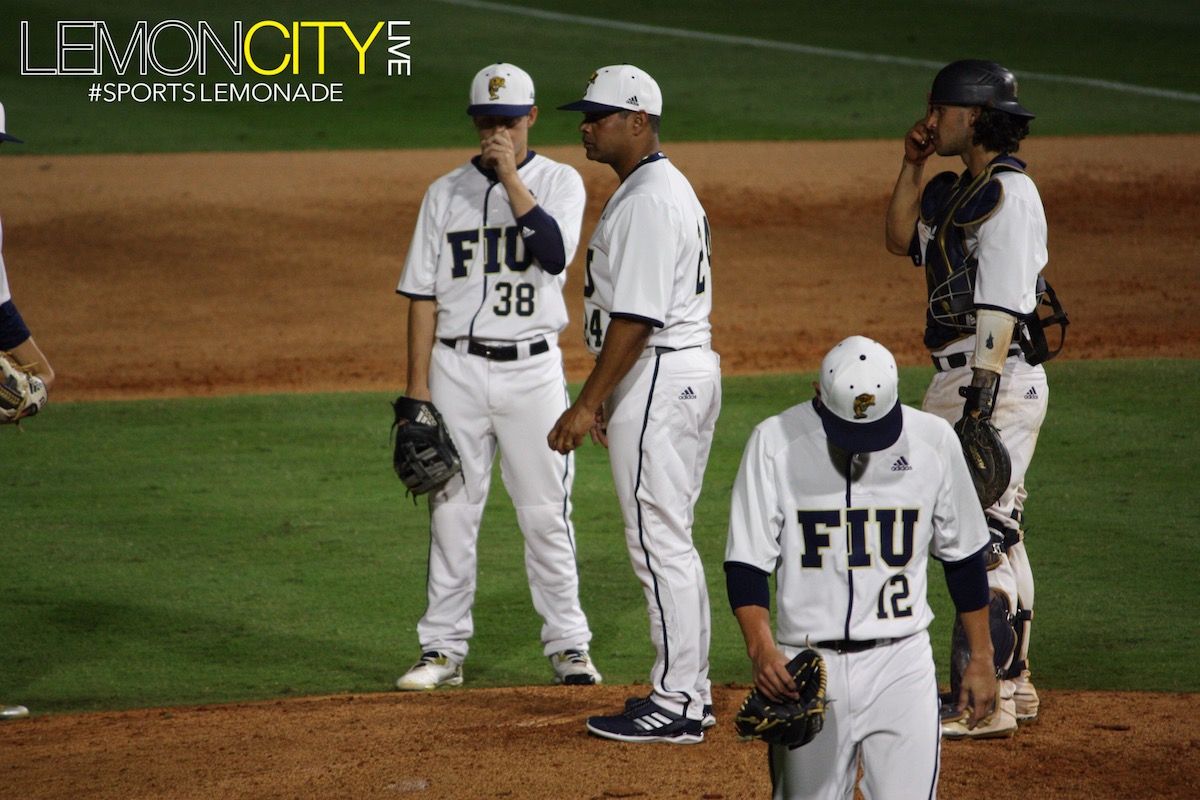 Sweetwater, FL – Thank the weather gods for sparring us with the rain tonight! It was somewhat of a damp day in Miami, and I was worried we would have a rain delay, but alas, baseball was to be played! The Panthers came into game-one of this three-game series with a 4-4 record. They took one of three against Mizzou, two of three vs. Grambling, and split a two-game series against FAMU. The Gamecocks of JSU came in at 6-2, only losing to Samford and Radford.
The Gamecocks took the early lead in the 2nd inning, but FIU tied it back up, 1-1. No big deal. That 3rd inning though… I felt how teams must have felt facing last year's Panthers. Remember those guys, the Pour It On Posse? JSU stepped into the 2nd and put four runs on the scoreboard, forcing Coach Mervyl Melendez to make a pitching change. Tyler Myrick came out for Daniel Brown, who got FIU out of the inning, 5-1.
The game, at least on the offensive end, was all about consistency. The Panthers would score a run in the 2nd, 3rd, 4th, and 5th innings. The first three runs were all homeruns. Eddie Silva had two on the night while Austin Shenton had the other, because chicks dig the long-ball. Ask your mom. After five innings, the Panthers trailed 5-4.
Weekend series, game 1️⃣
🆚 JSU
Eddie Silva with 2 #MonsterDongs that'll make Stanton blush. ☺

🐓 5 5 0
😼 4 11 0
⬆6⃣#PawsUp #PanthersBaseball pic.twitter.com/KmvWBgQHcf

— Lemon City Live (@LemonCityLive) March 3, 2018
When Dan Brown isn't writing books about the Illuminati, starring Tom Hanks, he's pitching for FIU Baseball. The kid threw a solid 3.1 innings as an early middle reliever, but after giving up a run in the 6th, Melendez decided to pull him after finishing the inning, 6-4. In the 7th inning, pitcher, Jan Figueroa kept the Gamecocks off the score sheet. Good job, kid. In FIU's at-bat, Jose Garcia was hit by a pitch, and advanced to 2nd base off a Juan Teixeira single. After a Silva single, Garcia scored, and Teixeira took 3rd. Christian Khawam hit a sacrifice pop fly that brought Teixeira home, and tied the game up for the Panthers, 6-6. Nice rally! FIU would end the inning tied up.
"because chicks dig the long-ball. Ask your mom."
Let's fast forward to the 9th inning. Taylor Hawthorn grounded out on a close play at 1st, and voiced his displeasure to the umpire. I want to know what he said. I'd like to think it was something related to his un-athletic physique. The 9th inning would come and go, and both teams would fail to put the game away. That means EXTRA INNINGS! Free baseball, if you will.
Jump to the 12th inning. If there's one stat that stands out to me, it's FIU's four errors in the game. JSU scored six runs in the 12th inning. The Panthers can blame the pitching, but really, it's the errors that cost them this game. They weren't able to, once again, rally, and make it a game. Six runs is a lot to overcome in one inning. This is exactly the type of game that last year's team would win. The Panthers have some work to do if they are to match, let alone surpass the quality of last year's squad. They still have two more games in this series to make up for this loss. My only positive takeaway from this game was the hitting. FIU put up six runs on 15 hits. JSU had 12 runs on 13 hits, due in large part to the all the errors. The Panthers drop this one 12-6.
That escalated quickly#Cocks stick it to the #Panthers
Score 6 in the 1️⃣2️⃣ and take game one of this three game set. First pitch tomorrow 6pm

🐓 12 13 0
😼 6 15 4
Final Score#PawsUp #PanthersBaseball pic.twitter.com/jLsLPom3EL

— Lemon City Live (@LemonCityLive) March 3, 2018
[foogallery id="10809″]
(Visited 188 times, 1 visits today)