We are now on the eve of the biggest event in South Florida (At least Wednesday night). Round 2 of an epic battle between rivals. On one side, we have a storied program that has traveled to the promise land named Omaha on several occasions. And on the other, we have a program that's been making waves fairly recently, decisively defeating the former earlier this season and winning the season series last year. It's the newest rivalry, but the UM-FIU tandem has made things particularly interesting. Lets quickly recap and move from there.
Last Episode
FIU came out swinging in the first meeting, taking an early 3-0 lead on the brute strength of Eddie Silva and Jose Garcia's longballs. The Canes pulled to within one due to key hits from Isaac Quinones and Willy Escala, eventually tying it on a wild pitch in the sixth inning. The Panthers countered in their half of the sixth, utilizing back to back sac flies from Lorenzo Hampton Jr. and Diandre Amion to score the runner from second, regaining the lead for good. FIU emerged victorious, 5-3.
The #MagicCityMelee did not disappoint… unless you're a @CanesBaseball fan. @FIUBaseball takes this one!#FIUvsUMhttps://t.co/1PuUpppE7c

— Lemon City Live (@LemonCityLive) March 8, 2018
What Happened Since
With the victory, FIU achieved an even record and hovered over the .500 mark until mid-March. A bad string of games starting in Port Charlotte against Rutgers, saw them lose five out of six. The rough stretch dropped them below .500 and that's where they've been ever since. Coming tantalizingly close to getting over the hump after taking two of three at UAB in Birmingham early April. The team has continued to see great pitching from Logan Allen and tremendous firepower from their Big 4: Eddie Silva, Austin Shenton, Lorenzo Hampton Jr., and Jose Garcia. Their bats have remained red hot all season. Despite leading C-USA in home runs (48) and having the fifth best batting average (.281), they're in the back half of the conference when it comes to runs scored (222) and near the bottom in RBIs with 191. For comparison, Southern Miss leads with 327 runs scored followed by LA Tech with 256. Their pitching staff as a whole leaves more to be desired as they're ranked seventh with a 4.77 ERA with opposing hitters batting .261. Since their showdown with Miami, FIU has gone 12-15 winning just three of its last seven series. When it comes to mid-week games, FIU is 1-3.
📢: Congratulations to @FIUBaseball's Andres Nunez, #CUSABASE Co-Pitcher of the Week!

🏅1⃣ pic.twitter.com/ZnF7jKyfvX

— Conference USA (@ConferenceUSA) April 23, 2018
Andrew Cabezas has been named ACC Pitcher of the Week following his complete game shutout of Pittsburgh on Saturday night! pic.twitter.com/bsvTNAcFSV

— Canes Baseball (@CanesBaseball) April 23, 2018
UM soldiered on with persistent, crucial injuries to players like outfielder Danny Reyes and Michael Amditis. Both have only just recently returned after missing over 5 weeks of action. However, the loss of Amditis saw the emergence of freshman Isaac Quinones. Quinones has done a superb job at catcher, earning his stripes in the 15-inning marathon against Maine back in early March. In the wake of losing the first game against their crosstown rivals, UM fell to two games below .500 (5-7) but broke even with wins against Notre Dame and UCF mid-March. However, struggles against Duke and Florida Atlantic pushed them back. The team's high watermark was the sweep of #24 ranked Virginia, where Miami stood at 12-11. This was immediately followed by an ugly 7-game losing streak (Eight if you want to count the 22-2 loss to the Miami Marlins) which included getting swept at Georgia Tech. The Hurricanes finally broke the bad stretch with a rain-shortened victory against North Carolina. Although Miami boasts a 3.67 ERA (Louisville leads with a 3.33 ERA) their true weakness is at the plate. Their team average is a dismal .246, good enough for third-worst in the ACC and their home run total is tied for last with Boston College (13). UM also leads the ACC in strikeouts with 386. After the road battle at FIU, they've also gone 12-15 winning just three of their last seven series. Déjà vu much? For mid-week games UM is 2-4, splitting games with FGCU and UCF while getting swept by FAU.
Players To Watch
UM: Willy Escala, Freddy Zamora, Isaac Quinones, Chris McMahon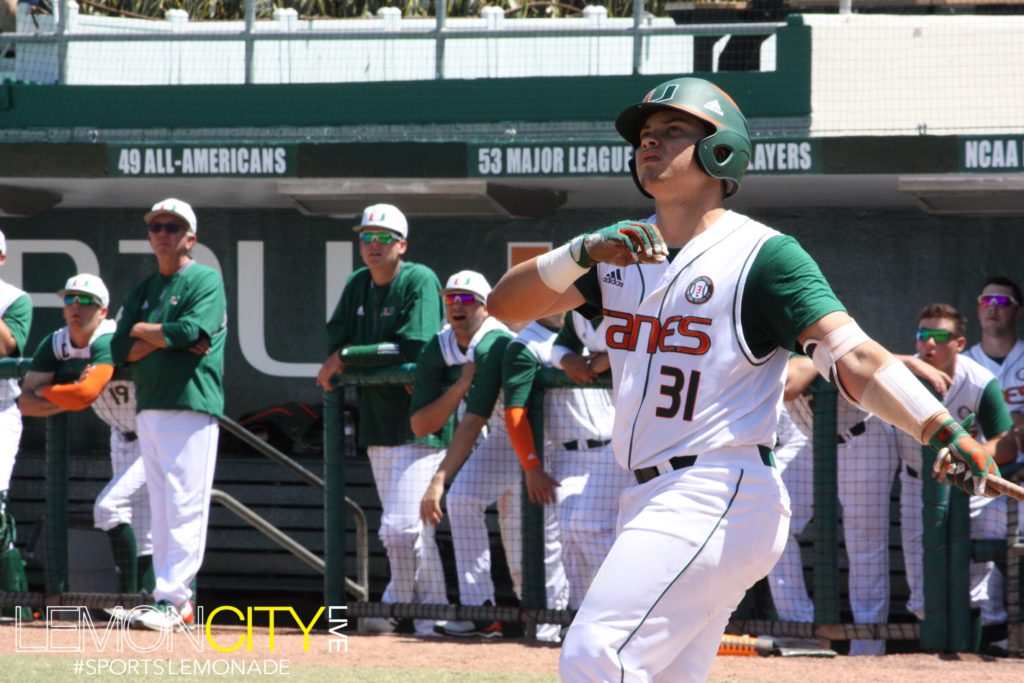 Escala and Zamora are a great 1-2 punch at the top of the order while Quinones looks to keep up the great work either as catcher or DH if allowed. McMahon has been the starter for mid-week games as of late since coming off his own 8+ week long injury so look for him to toe the rubber.
FIU: Austin Shenton, Eddie Silva, Jose Garcia, Lorenzo Hampton Jr.
These guys are the bash brothers Miami wished it had and the chances of any of them crushing it on Wednesday night look very good.
What To Expect
Look for FIU to go for the sweep while UM searches for a way to tie the season series in their second and final meeting of the season. As before, expect at least one longball and a particularly close game. Last time around I got the score in reverse, I predicted UM winning 5-3. I got it wrong then. Still, UM has been an up and down team for much of the year. They've lost to teams like Duke and Pittsburgh but beat Florida, swept #24 Virginia and won the series against then #8 Clemson, at their house. I'll give them the edge one last time since they're back to full strength.
Final Score Prediction
UM 6, FIU 4
By The Numbers
| | | |
| --- | --- | --- |
| FIU Panthers | Team Stats: Batting | Miami Hurricanes |
| 222 | Runs | 163 |
| .281 | Batting Average | .246 |
| 48 | Homeruns | 13 |
| 308 | Strikeouts | 386 |
| .445 | Slugging % | .337 |
| | | |
| --- | --- | --- |
| FIU Panthers | Team Stats: Pitching | Miami Hurricanes |
| 4.72 | ERA | 3.67 |
| .261 | Opponent Avg. | .231 |
| 24 | Homeruns | 20 |
| 170 | Walks | 149 |
| 373 | Strikeouts | 349 |
(Visited 160 times, 1 visits today)