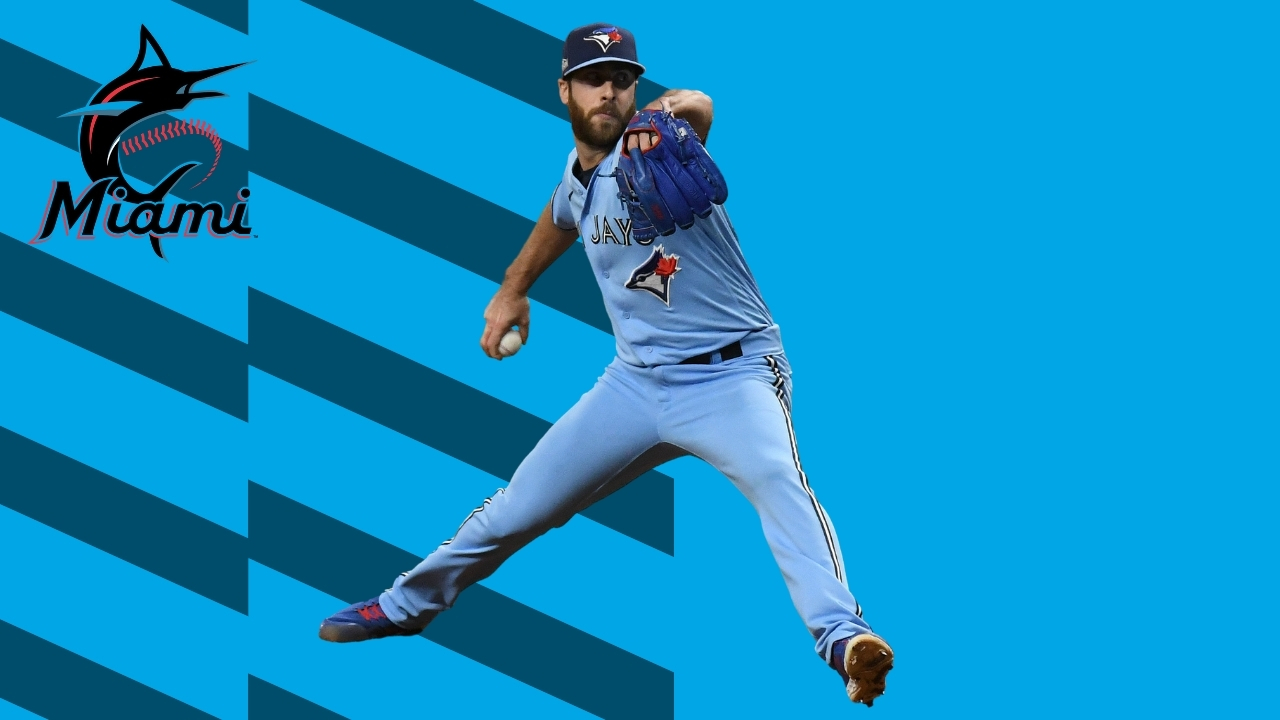 ---
Miami, Florida – The Miami Marlins have signed Anthony Bass to a two-year deal. The right-hander is the latest move in affordable bullpen upgrades. Bass is guaranteed $5 million with a club option for the 2023 season. The righty spent time in the Padres, Astros, and Rangers from 2011-2015 before heading to Japan for two seasons. The journeyman righty is considered one of the main contenders for the closer role in 2021. In the past three years, he's thrown for a combined 3.44 ERA with a below leave average strikeout rate (22 percent) and a decent walk rate (8 percent). In 2019 Bass recorded five saves and six holds with the Mariners in 48 innings pitched. Last year, the righty claimed seven saves (2-3, 3.51 ERA) and three holds in over 25 IP for the Blue Jays.
The 33-year-old is a ground-ball specialist whose strength lies in his 95 mph sinker. Bass excelled at this last year, inducing a career-best 62.3 percent grounder rate among hitters, putting him in the high tier of big-league pitching. Part of his sinker's effectiveness is the good spin rate. The Fish also signed veteran southpaw Ross Detwiler earlier this month to a one-year contract, adding experience to a rather newbie bullpen. The lefty pitched in 16 games from the pen for the Chicago Whitesox last year, going 1-1 with a 3.20 ERA in 44 IP. Detwiler held left-handed hitters to a .194 batting average.
Bass saved seven games during the truncated 60 game season for the Blue Jays in 2020. Throws strikes, throws hard. He will be a late inning option and potential closer for Miami in 2021.

— Craig Mish (@CraigMish) January 22, 2021
Player Profile: Yiddi Cappe
The 18-year-old from Havana, Cuba is among 11 international players the Miami Marlins recently signed. He began playing baseball at age 4 (Ey, a year before me) in the capital's youth leagues. At age 16 he participated in the national competition with the team from Artemisa province. Standing at 6'3 and weighing 175 pounds, the lanky infielder is considered one of baseball's Top 10 international prospects. The Fish also signed players from Mexico, Venezuela, and the Dominican Republic.
The youngster left Cuba in late 2018 and quickly became a favorite to scouts. Yiddi Cappe waited an extra year to be part of this signing class, making him older than most. He has a body frame similar to a very young Derek Jeter with lots of potential development. The infielder is seen as a glove-first player who does not project to become a power hitter. Reminds me of Alex Gonzalez already, and that is not a bad thing.
Int'l Players Anthem on repeat. #305OnTheRise pic.twitter.com/5ueP56JuFM

— Miami Marlins (@Marlins) January 15, 2021
With that said, scouts say he makes hard contact and has an advanced understanding of the strike zone. Across the board, Cappe is average to above average with arm strength leading some to believe that the Cuban shortstop may very well grow out of his position. Hot corner anyone? Heck, maybe even outfield too like Brian Anderson. Scouting reports also say the MLB hopeful has good footwork and solid hands-on defense. There's already plenty of young talent like Jazz Chisholm and José Devers among many others at that infield spot. Nothing wrong with a bit of competition to get the best choice possible on the field. There will be a lot of buzz in Little Havana if he proves worthy of plate appearances at the major league level.
Final Thoughts
Miami has been very active this offseason. They've also reached deals with all of their arbitration-eligible players. The Marlins resolved contract terms with third basemen Brian Anderson, catcher Jorge Alfaro, and three relievers: Yimi García, Richard Bleier, and Adam Cimber. Adding two veteran arms to the bullpen was a great move to shore up the relief corps. I'm liking the pursuit of Boston Red Sox outfielder Andrew Benintendi although it's very possible he's staying there. To be honest, I think it's for the best that the Fish did not acquire Corey Kluber. Of course, he'd make an immediate impact but the teams got plenty of young arms to make the starting rotation a scary group of pitchers. The challenge will be in developing them.
The New York Yankees ended up signing him to a one-year deal for $11 million. No doubt the 34-year-old brings a lot of experience and talent but for that amount of money, Miami can do better. The Yankees are rolling the dice hoping Kluber returns to Cy Young form. They've got that kind of cash to make such an investment. Overall, the organization is trying to put together a young core without breaking the bank. Supplementing it with veterans to round out the roster to bring leadership and experience. The idea of grabbing the stars of tomorrow from their very own farm system that is now rated as one of the best in the league has the potential to pay big dividends in the coming years.
Hello, 2021. 🤩 pic.twitter.com/OyoDDDgKpa

— Marlins Park (@MarlinsPark) January 1, 2021
(Visited 25 times, 1 visits today)