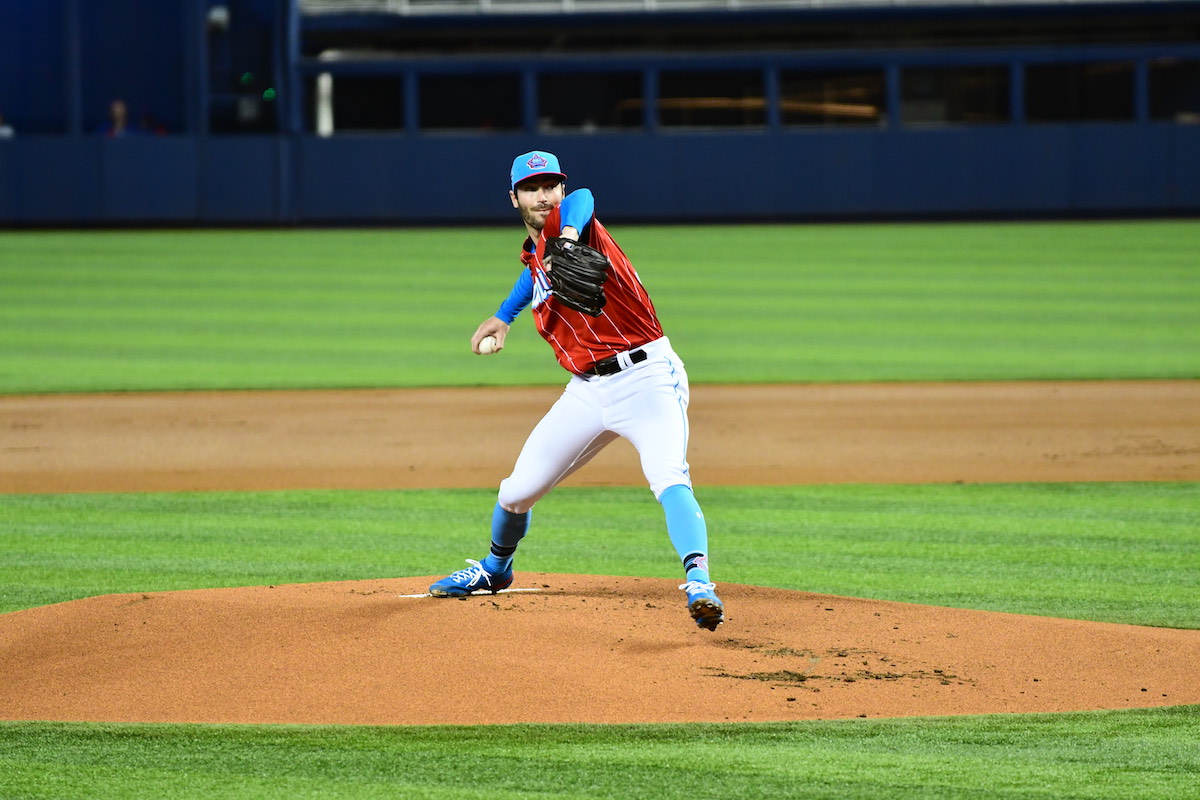 ---
Miami, Florida –It was an emotional ride as the Miami Marlins lost 6-5 to the New York Mets in a 12 inning rollercoaster that saw 18 pitchers on the mound. The visitors sent out Marcus Stroman while the Fish went with a bullpen game starting with John Curtiss. They would use nine more hurlers in a contest lasting over four and a half hours. The Marlins offense squandered several opportunities, stranding 11 runners going 3-for-17 with RISP. Friday night saw the unveiling of Miami's "City Connect" jerseys commemorating the past, present, and future of Latin American baseball.
For la cultura. For our city. This is Legacy. #JuntosMiami pic.twitter.com/2DjcVZeUni

— Miami Marlins (@Marlins) May 17, 2021
Opening Strikes
The Mets pounced early taking advantage of a shaky Curtiss punching in two runs during the first inning. Former Marlin Jonathan Villar drew a walk and then stole second. Francisco Lindor drove him home with an RBI double to open up the scoring. Dominic Smith flew out to center fielder Magneuris Sierra as Lindor tagged up racing to third. The throw slipped past Brian Anderson and Curtiss himself ending up in the Marlins dugout ensuring another run.
.@Lindor12BC gives us the early lead. 😤 #LGM pic.twitter.com/mB4qegxKfZ

— New York Mets (@Mets) May 21, 2021
Miami responded in the second after Adam Duvall singled and Anderson hit a ground-rule double. The fish scratched a run via a sacrifice fly from catcher Sandy Leon.
Both Jordan Holloway and Ross Detwiler tossed an effective inning each but Zach Pop struggled in the fourth. He walked Smith then gave up the RBI double to Tomas Nido before beaning Jose Peraza. New York extended their lead but the Marlins did save a run thanks to the terrific throw from Sierra getting Nido at home.
MAGNUERIS SIERRA WITH THE 🚀

Great throw by Sierra and maybe an even better tag from Sandy León get Tomas Nido trying to score and the Marlins keep it a 3-1 ballgame!#NYMvsMIA #MLB #JuntosMiami pic.twitter.com/tbnyxXHwZZ

— Bally Sports Florida: Marlins (@BallyMarlins) May 22, 2021
The bottom of the fourth frame did not go according to plan, however. Leon struck out while Garrett Cooper was caught stealing for the double-play to end the inning. Don't worry, Cooper made up for this later. Sort of. In the seventh inning, he lifted one to left field with BA aboard to tie it up 3-3.
You'll see.
The Marlins came tantalizingly close to taking the lead in the eighth when Duvall and Anderson drew back-to-back two-out walks to load the bases. Cooper was ahead of Mets reliever Trevor May on a 3-1 count but ended up striking out to leave 'em loaded. Miami would strand two more in the ninth after Jeurys Familia K'ed Miguel Rojas taking it to extras.
🗣️ COOOOOOOOOOOOOP

Garrett Cooper has HRs in back-to-back games as his 2-run HR ties this one up at 3 in the 7th‼️

📺 Bally Sports Florida
💻 https://t.co/NmvFknRt5C
📲 Download the new Bally Sports app!#NYMvsMIA #MLB #JuntosMiami pic.twitter.com/zYzAagAuPI

— Bally Sports Florida: Marlins (@BallyMarlins) May 22, 2021
More Baseball
New York loaded the bases in the tenth but came away with nothing. Cooper snatched Villar's hard grounder, tossing it to Dylan Floro at first base tagging the bag for the third out. The Mets were denied again in the eleventh when Adam Cimber picked off Villar at third ending the immediate threat before retiring another former Marlin Cameron Maybin followed by Dominic Smith. The Fish had their own opportunity in the eleventh when Cimber of all people nearly got the winning hit lining out to Maybin at right field.
Khalil Lee broke the deadlock in the twelfth inning hitting a sharp line drive inside the line at right field bringing in a run. The Mets extended their lead with a two-run triple from Johneshwy Fargas. Rojas knocked an RBI single and Jazz Chisholm scored while Corey Dickerson grounded into a double play but this was as far as they got.
Totally worth it. ☺️@Johneshwy | #LGM pic.twitter.com/jern9VbrJp

— New York Mets (@Mets) May 22, 2021
¡Azúcar!
The Miami Marlins are paying tribute to the Cuban Sugar Kings this weekend, a nod to Latin America's contribution to baseball history. The Sugar Kings were a Triple-A squad that won the Junior World Series Championship in 1959 defeating the Minneapolis Millers. Cuban entrepreneur Bobby Maduro bought the Havana Cubans of the Class-B Florida International League, moving them into the Triple-A International League for the 1954 season. Renaming them the Havana (or Cuban) Sugar Kings, he secured an affiliation deal with the National League's Cincinnati Redlegs.
Maduro had Major League dreams for Cuba but in the middle of the 1960 season, Cuban Prime Minister Fidel Castro nationalized all US properties shattering those plans. As a result, the Sugar Kings relocated to Jersey City, New Jersey, and became the Jersey City Jerseys. Unable to attract fans, they moved again a season and a half later to Jacksonville, Florida. They ultimately settled in Virginia in 1969 where they still play today as the Norfolk Tides.
Game Notes
Game Time: 4 hours and 37 minutes
The Mets scored six runs on eight hits committing no errors
Miami scored five runs on 11 hits committing one error
Sandy Leon was the only non-pitcher in the starting lineup to go hitless
Both Detwiler and Cimber were the only two pitchers to get an at-bat Friday night, the former got a hit (single to RF)
Photo Credit | JC Ruiz
(Visited 39 times, 1 visits today)