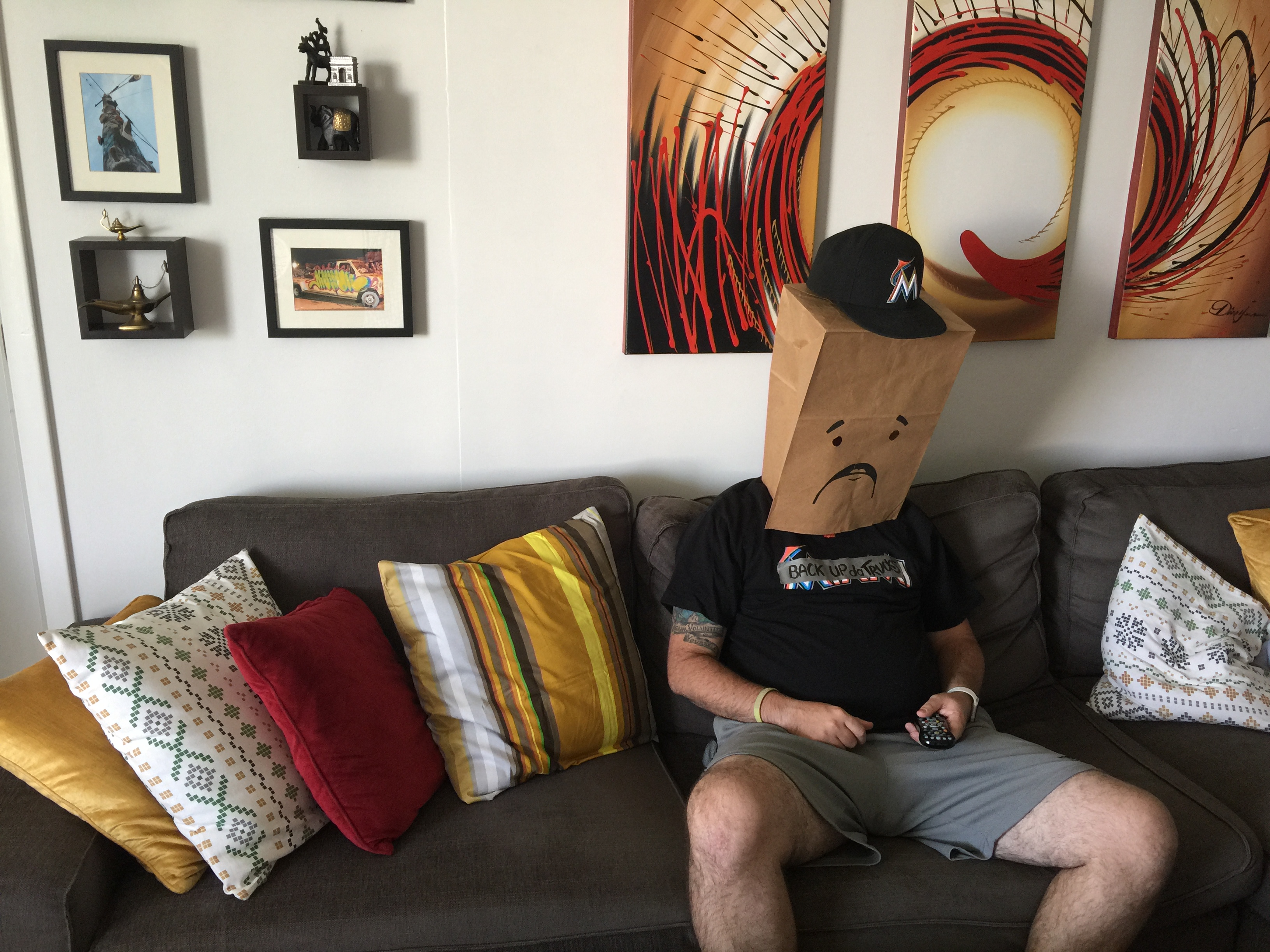 written by Enrique Sierra Jr.
I feel like I have talked about this ad nauseam but, perhaps, not so in depth. The Miami Marlins, through no fault but their own, are simply not allowed to deal or behave as other MLB front offices would.
Consider this:
As the 2012 season was becoming Miami's worst nightmare, the Marlins made some unpopular moves that resulted in the, once again, "blow up the team" scenario that has become all too popular around these parts. All the new ballparks, flashy free agents, and overpriced Clevelander shots in the world couldn't make them less shitty. Two things I believe to be very relevant followed this…
The Boston Red Sox made almost parallel moves when they traded away the ridiculous contracts of Adrian Gonzalez, Carl Crawford and Josh Beckett for no other reason than to clear up the books. However, the Red Sox have built up the pedigree of trust that allows their fanbase to remain calm in situations like this because they were certain their beloved Sox would re-tool. On the other side of the spectrum, the Marlins would receive the usual onslaught, locally and nationally, that all but "took to the streets". In a vacuum, the moves were similar and any front office executive will tell you that the result alone is not the true barometer of whether a transaction was the right one or not. But that's not really how this works though, is it? As fate would have it, the Red Sox would go on to win a World Series with a revamped roster and the Marlins have been fulfilling more dreams than the Make-A-Wish foundation by finishing up their seasons with teams packed full of less-than-deserving minor leaguers. "That Bahstan team is wicked smaht, kid".
Let's take a look at some of those names that left town during or after the 2012 season.
Hanley Ramirez – Part-time DH/LF/emergency IF for the Red Sox now. Full time pain in the ass.
Omar Infante – Bench player.
Anibal Sanchez – Middle of the rotation pitcher for a team that did not make the playoffs last year.
Josh Johnson – Offering sexual favors to the San Diego Padres front office for year-to-year deals as he repairs his throwing arm elbow for a 3rd time.
John Buck – LOL!
Emilio Bonifacio – I dare you to tell me what he's doing with his life without googling.
Jose Reyes – A possible Domestic Violence suspension away from the culmination of a shitty downhill slide to end his career; not to mention he's held together by mostly Duct Tape at this point.
Heath "Taco" Bell – I mean, fuck this guy in ways I cannot even come up with.
And last but not least, Ozzie "I Love Fidel Castro" Guillen – What a guy.
Take a look at those fucking names. Jesus Christ! How did any of us ever blame this team for making those moves? A much more fair criticism would be to ask how the hell these idiots in the front office considered those guys franchise cornerstones in the first place.
The extremely long winded point I'm trying to get to is this: Armed with the comparison shopping of a franchise in the Red Sox, that made almost identical moves, and throw in the hindsight of watching the feces covered careers of the outgoing players circling the toilet bowl, we, as a fanbase, still kill the Marlins for those moves. In fact, we are so PTSD'd about moves of the sort, that when Mat Latos and Dan Haren were traded away last year, it actually caused a bit of an uproar. Latos and Haren for fuck's sake (one is now retired and the other is holding up a "Will Pitch For Food" sign). It seems no one ever cares about this team until it's time to bitch about them.
Once again, I circle back around. The Marlins are completely responsible and deserving for what they receive. But, man, it's got to be difficult to operate like this.
Take the upcoming move, for example. Jose Fernandez is under team control for the next 2 years. Fernandez is signed with agent Scott Boras who is notorious for pushing his players to free agency. This leaves the Marlins with one of three options. One, offer an extension on the off chance he takes it (they tried and it was unsuccessful). Two, lose one of the game's most dynamic young aces and receive nothing in return. Or, finally, three, pay him the absolute ridiculous fuckton that the market currently established for a pitcher of his ilk.
The names Justin Verlander, Homer Bailey, Matt Cain, Barry Zito, Johan Santana come to mind, and that's just recent history. What's more, even the positive results like Felix Hernandez and Max Scherzer, with amazing regular seasons, did little to stop their team's inability to make the playoffs. The Toronto Blue Jays, Los Angeles Dodgers and St. Louis Cardinals all drew hard lines in the sand, set a price for their respectively valued pitchers and would not go above it, leaving other bozos to overpay. Even more interesting, while making the right move, those teams still lost David Price, Zack Greinke and John Lester and got nothing back. In fact, acquiring those guys in the first place cost some of those franchises their best prospects. The rest of the MLB is desperately showing us the mistake that it is to pay the high-end pitchers and no one will listen.
Believe this; you do not care about Jose Fernandez more than I do. I am a Cuban born, die hard Miami Marlins fan. I was at his return from Tommy John game screaming at the top of my lungs, I own his jersey, and I love his story and his stuff. However, I am also not utterly insane. Fernandez is simply not worth the money the current market dictates, no one is, especially not a pitcher with an injury history playing a position that is synonymous with words like "elbow complications" and "rotator cuff issues".
As a front office, how can you willingly "fuck it" overpay a player you do not deem worthy? Furthermore, once you've already come to the realization that you will not be able to keep said player, wouldn't you rather get top-notch value in return as opposed to losing him for nothing?
The Miami Marlins will soon be forced to trade Jose Fernandez. While it will definitely be the right move – I'm calling it right now – the angry mob will once again rise. You mustn't try to rationalize with the irrational. The unfortunate part is, the aura around this team is so dark and gloomy, that anything resembling objectivity is seen as sympathetic or apologetic. Fuck you very much, Marlins. You've brought this upon yourself and you make it damn near impossible to be a sane fan in your self-contaminated waters.
(Visited 77 times, 1 visits today)