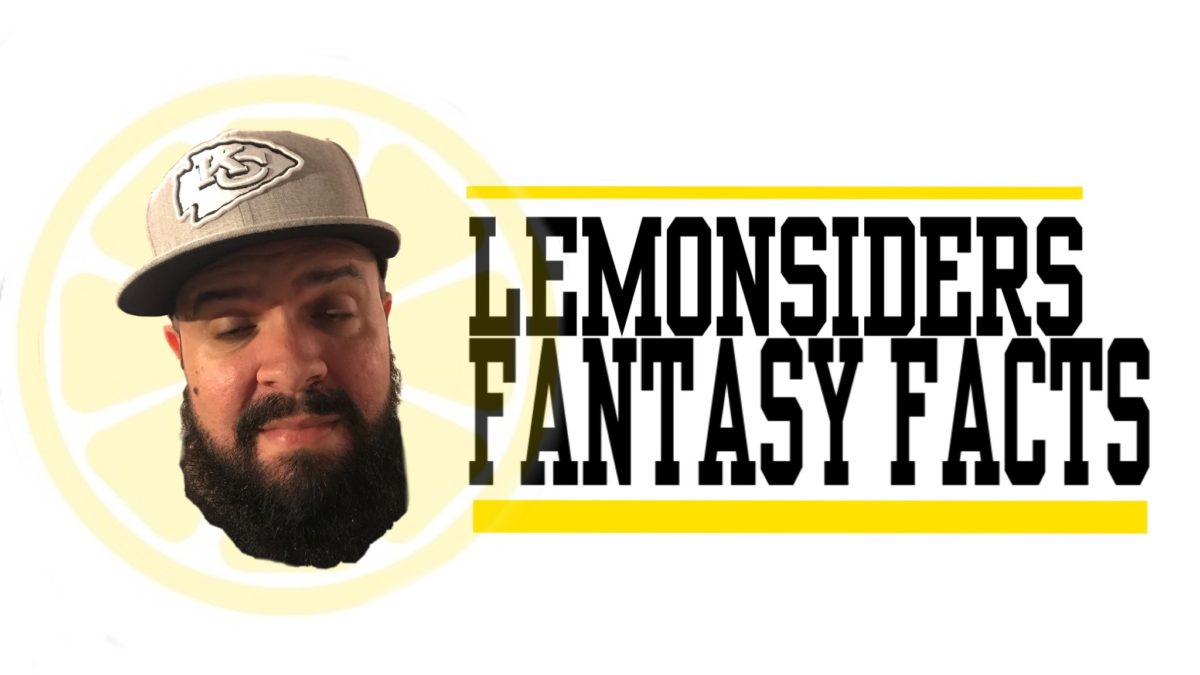 Few things are worse in fantasy football than when you realized the player who just went off for 25+ points was sitting on your bench. Few weeks ago I was guilty of this. I had Will Fuller AND Juju on my bench which in that league turned out to be 60+ points on my bench. Was gut wrenching but lucky for me I was still able to pull off the win. It was a reminder for me to ALWAYS go with my gut. I knew I should have started Juju over Tyreek that particular week but I went against it. We're here to help you not make the same mistakes on who to not leave on your bench. Lets get into some Fantasy Facts for Starts, Bust & Sleepers for Week 10. (We're always going to avoid obvious starts like Tom Brady and Antonio Brown but if we feel like a high profile player is going to be a bust, we will NOT hold back and let you know whats up!)
Quarterbacks
To prove how much I'm into Goff this week, in one of my leagues I'm starting him over Drew Brees. Last week, the Texans defense gave up 300+ to Jacoby Brissett while Jared Goff was in NY throwing for four touchdowns. That alone excites me on this matchup as Goff should remain hot and this Texans team in whole should slowly continue to sink.
Checking in on Jared Goff fantasy owners… pic.twitter.com/MhNpJDZEG2

— CBS Sports Fantasy (@CBSFantasy) November 5, 2017
Washington's offensive line has been banged up and since then, Cousins a.k.a. Primos hasn't put up the same numbers as earlier in the season. Somehow, the Skins went into Seattle and managed to get a victory but things will be tougher heading into Minnesota that ranks number 5 in passing defense. Vikings haven't allowed a QB to throw for 200+ yards since Week 4 so be cautious about starting Cousins this week.
Kirk Cousins said Rob Kelley offered to be "the sacrificial lamb" on that bad snap. pic.twitter.com/fXRAxUZvC2 https://t.co/Wy1zFMax9R

— Dan Steinberg (@dcsportsbog) November 7, 2017
Sleepers: Josh McCown @ TB & Eli Manning @SF
Running Backs
Not a name that draws excitement but the matchup definitely should. San Francisco ranks dead last in rushing defense giving up the most yards to running backs. As dysfunctional as the Giants offense has been, Darkwa past few games has been getting steady work so this should fare well against this generous run defense of the ) in Niners.
Hey, Orleans Darkwa: I don't know who you are, but apparently you're my starting running back this week. Godspeed to us both.

— Reed Lubin (@ReedLubin) November 1, 2017
Believe it or not, the Browns are ranked number 3 in rush defense, only allowing 2.9 yards per carry and they haven't allowed a running back to rush over 66 yards in a game. No Lions runner has reached 100 yards this season so this looks like another game where Stafford will have to throw for 40+ times to carry the Lions offense.
I'm not saying they're the same person, all I'm saying is I've never seen Mathew Stafford and Haley Joel Osment in the same room. pic.twitter.com/hw2oTGhpsc

— Marcus Moss (@marquise311) September 23, 2017
Sleepers: Matt Forte @ TB & Devonte Booker vs NE
Wide Receivers
Anderson has received over five targets per game in every game but one this season and has scored a touchdown in his last three games. Tampa Bay's defense has been below average all year. McCown has been lighting up past few weeks and should continue to surprise this week.
Pre-snap McCown when he recognizes Robby Anderson has single man coverage. pic.twitter.com/YqysRxhbtj

— SLD (@SeanLTheWriter) November 3, 2017
After being named AFC offensive player of the week, Hilton goes from a great matchup to a rough one. Steelers have allowed the second fewest yards to receivers and they've had extra time to prepare coming off a bye week. Stay clear from using Colts offensive players this week against the Steelers defense.
T.Y. Hilton takes a page out of Marvin Harrison's book.

Plays possum. Gets up. 80-YARD TOUCHDOWN! pic.twitter.com/4X84JtnGtw

— Indianapolis Colts (@Colts) November 5, 2017
Sleepers: Mohamed Sanu vs DAL & Terrance Williams vs ATL
Tight Ends
Averaging over 7 targets a game in the past four weeks and going against a team that has been extremely favorable to opposing tight ends makes Kyle Rudolph a solid play this week. Washington has given up plenty of fantasy points throughout the offseason to tight ends and that trend should continue this week.
Happy 28th birthday to this big guy! Enjoy your day with all your girls! Love you! @KyleRudolph82 pic.twitter.com/T7Q7zeqOz3

— Lori Nine (@lorinine9) November 9, 2017
Whenever a player has a 20+ point game, it's easy to get excited and assume they could be productive the next week but in the words of Lee Corso, "Not so fast." Thomas hasn't done much throughout the season and Panthers at home have surrounded under 10 points a game to tight ends so avoid starting Julius and look elsewhere for your tight end this week.
Sleepers: Garrett Celek vs. NYG & Jack Doyle vs PIT
Defenses
Coming off a bye week, the Steelers defense will be going up a Colts team that has allowed six defenses to finish in the top 10 in scoring this season. Pitt's solid pass defense and their strong defensive line against a team who gives up sacks far too often makes them one of the best streaming defenses of the week.
The Steelers' defense has given up the 2nd least points per game in the NFL this season at 16.4 #HereWeGo pic.twitter.com/alLOMxSM2S

— Steelers Nation (@__steelernation) November 4, 2017
Bust Alert:

Broncos

vs NE
Denver defense has underwhelmed this year for fantasy production which is a reminder of why not to hold on to defenses or draft them so high. They got torched against Wentz and the Eagles and now face Tom Brady and the Patriots as they make their run for the playoffs. Doubt the Broncos are on your waiver wire but if they are, stay clear.
Broncos fan got a little ahead of himself yesterday 😂😂 #EaglesNation #FlyEagelsFly #BirdGang pic.twitter.com/Cb7of0uKGW

— Yofray Ray (@Yoofray) November 6, 2017
Kickers
Pittsburgh is a huge favorite in this game and with the Colts giving up multiple touchdowns per game, this should provide plenty of opportunities for Boswell. Indianapolis gives up the most fantasy points to kickers too so giddy up on Boswell this week.
As a huge Steelers fan, let me actually Thank You. It doesn't seem like you get enough praise for all you do for the team. THANK YOU #9
#7🏆 pic.twitter.com/smjP3JTE4h

— Claudia (@ClaudiaTener92) October 30, 2017
Not only did Watson's unfortunate injury limit opportunities for offensive skill players but it also limits the kickers production too. The Texans offense looked stagnant against a favorable Colts defense so now going to play the Rams on an away game, points of any sort are going to be hard to come by.
Be sure to check with us each week where we will discuss not only start, bust alerts, and sleepers for that particular week, but also who you should be adding to your roster and who you should be dropping.
Don't forget to follow us on Twitter, Facebook, and Instagram.
(Visited 42 times, 1 visits today)