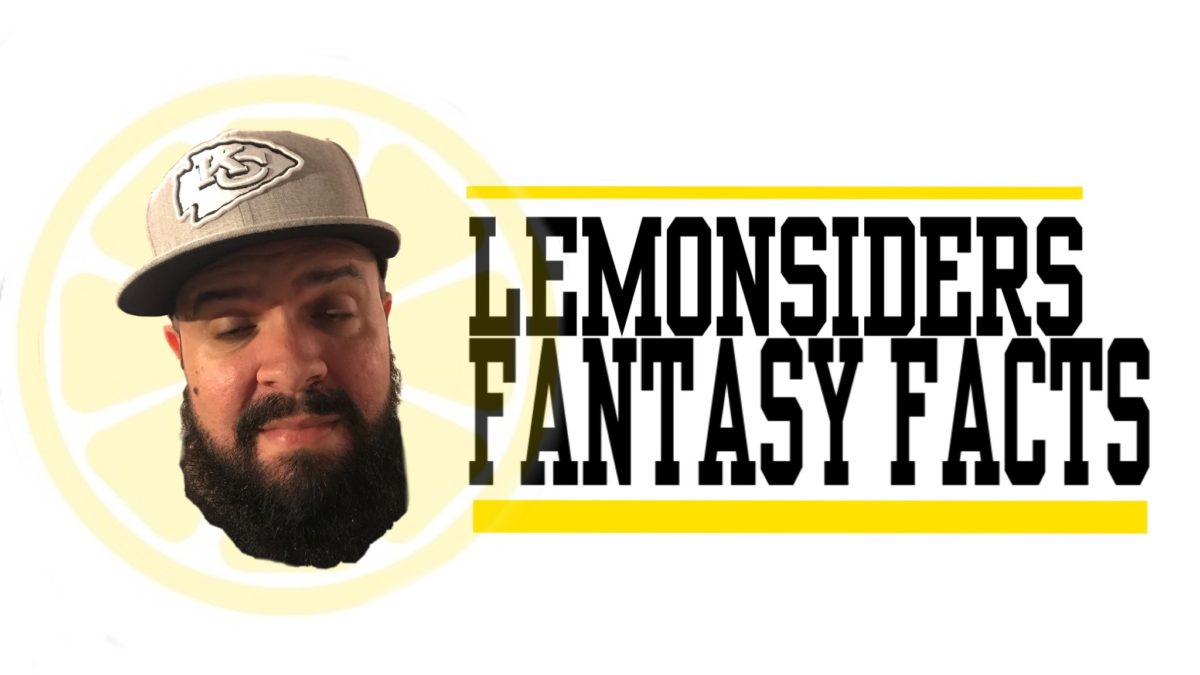 Here we are Lemonheads, fantasy football championship week!! The last of the 16 weeks with all the rollercoaster of emotions is coming to an end. It's an exciting time for those in the championship game and for those who missed out, well, there's always next year right? Sadly enough, this is also one of the last Fantasy Facts Lemonsiders articles of the 2017 season! It's been a fun yet stressful ride. From excitement to shower cries, the 2017 season has had it's ups and downs but if you're still alive well then giddy up!! This edition of Lemonsiders Fantasy Facts is going to be primarily about good matchups only. You may be sitting there wondering who to play and not to play so we're going to mention bad matchups too but really want to dive more into the good ones more than anything. Grab your souvenir cups and get ready for some ice cold Lemonsiders Fantasy Facts.
Quarterback
Yes, Blake Bortles yet AGAIN. I know i know. It's not the sexy name you'd want to start your championship game but it's a very safe one. Bortles against good matchups has killed it all year and I expect him to do the same this week. He's a very safe bet to get you 16+ points which provides a safe floor. Even without their #1 receiver in Marquis Lee exiting early in Week 15, Bortles still finished with 300+ yards and 3 TD's! Would have preferred if this game was in Jacksonville but guys, the Jags are fighting for home-field advantage. Yes, you read that right. This means despite it being Week 16, they have a lot to play for which means I don't expect them to let up at all.
SAVAGE: Jacksonville Jaguars​ fans are shipping trash cans to NRG Stadium in Houston, Texas after Clowney called Blake Bortles​ "trash."

(Photo credit: @DRHegedus ) pic.twitter.com/EhZ1VhQK8A

— First Coast News (@FCN2go) December 21, 2017
its time to start asking if Blake bortles is the best athelete in American history

— PFTCommenter (@PFTCommenter) December 17, 2017
Best matchups: Joe Flacco vs. Colts, Case Keenum vs. Packers, Cam Newton vs. Tampa Bay & Nick Foles vs. Raiders
Worst matchups: Jimmy Garappolo vs. Jaguars, DeShone Kizer vs. Chicago, Brett Hundley vs. Vikings & T.J. Yates vs. Steelers
Running Back
So I've been getting text messages with things like, "Glad Kareem Hunt has woken up, finally! He's been a bum!!" Yes, Hunt got off to a hot start and then went ghost for some time but the majority of that blame goes to play calling and lack of touches. He's had 3 games with less than 10 carries and in those games, his high was 40 yards. More touches you give anyone, the better the opportunity right? Well, the Chiefs play calling woke up last two games because Hunt has had 49 carries within the last two weeks combined which has resulted in 155 yards in Week 17 and 115 yards in Week 16. Plus, they are giving him passes out of the backfield! This game is a home game at Arrowhead and with a win, the Chiefs clinch the NFC West so I expect their strong momentum to continue this week against the Fins.
Kareem Hunt's last two games:

28 touches, 138 yards, 1 TD
31 touches, 206 yards, 2 TDs

To those who had little faith: pic.twitter.com/5pHNS4ocCC

— Graham Barfield (@GrahamBarfield) December 17, 2017
When you have Kareem Hunt in the #FantasyFootballplayoffs pic.twitter.com/i8BD3bZn7m

— Robert Flores (@RoFlo) December 17, 2017
Best matchups: Ezekiel Elliot vs. Seahawks, DeMarco Murray vs. Rams, Leonard Fournette vs. 49ers & Jerrick Mckinnon vs. Packers
Worst matchups: Carlos Hyde vs. Jags, Bilal Powell vs. Chargers, Isaiah Crowell @ Bears & Frank Gore @ Ravens
Wide Receiver
The past two weeks, the Texans defense has been as generous as Wes Welker was when he was handing out $100 bills after winning big at the Kentucky Derby a few years back. I do have to admit though, what SLIGHTLY worries me but is worth noting is despite the INCREDIBLE matchup the Steelers have, they tend to play to their opponent. Games where they should dominate, they really don't. Matchup wise though, can't get any better for Juju. Don't believe me? Keelan Cole in Week 15, 7 receptions 166 yards 1 TD, Week 14 Marquis Goodwin 6 receptions 106 yards. With Antonio Brown out, I expect Juju to get the biggest boost out of all the Steelers receivers so plug him in!
JuJu Smith-Schuster's about to get suspended a couple dozen games or so for re-enacting his hit on Vontaze Burfict as a TD celebration #NEvsPIT pic.twitter.com/7AQRSEiBsc

— NOTSportsCenter (@NOTSportsCenter) December 17, 2017
Best matchups: Martavis Bryant vs. Texans, Adam Thielen @ Packers, Keelan Cole vs. 49ers & Doug Baldwin vs. Cowboys
Worst matchups: Robbie Anderson vs. Chargers, Rashard Matthews vs. Rams, TY Hilton vs. Ravens & Jordy Nelson vs. Vikings
Tight End
As a KC fan, I will scream my head off for Kelce this week against the Fins but at the same time, I will hurt inside because, in my money league, my opponent has Kelce (hate when that happens). Dolphins tend to get beat up against tight ends and with the Chiefs offense back in full stride, expecting Kelce to eat more than Bill Murray in Ground Hog Day. I know, I know it's an obvious start but you'll be surprised how much people over think the championship week.
Good matchups: Ben Watson vs. Colts, Eric Ebron @ Bengals, Greg Olsen vs. Buccaneers & Zach Ertz vs. Raiders
Worst matchups: Austin Sefarian Jenkins vs. Chargers, Jason Witten vs. Seahawks, Julius Thomas vs. Chiefs & Jared Cook vs. Eagles
Defense/Special Teams
Hope you listened to our advice because we brought up stashing Baltimore WEEKS ago and last week they slapped off against the Browns and now this week they face the hopeless Colts. The Colts have been bullied and give up way,way,way too many sacks which farewell for the Ravens. Baltimore at home against a bad offense? Yes, this is absolutely my favorite matchup this week for DS/T
Just realized how much Terrell Suggs and bubba look alike😂 pic.twitter.com/SERp55OU3C

— Connor Cain (@cain_21) December 11, 2017
Best matchups: Kansas City vs. Dolphins, Chicago vs. Browns, Pittsburgh @ Texans & Jacksonville @ 49ers
Worst matchups: San Francisco vs. Jaguars, Houston vs. Pittsburgh, Indianapolis @ Baltimore & Miami vs. Chiefs
Kickers
Baltimore at home against the battered and bruised Colts defense? No need to say anymore. I tell you what though, don't be surprised if Joe Flacco finishes as a top 10 QB this week. Ravens will be able to move the ball down the field which will create a great opportunity for Tucker.
Best matchups: Jake Elliot vs. Raiders, Will Lutz vs. Falcons, Stephen Gostkowski vs. Bills & Harrison Butker vs. Dolphins
Worst matchups: Robbie Gould @ Jaguars, Mason Crosby vs. Vikings, Ryan Succop vs. Rams & Nick Rose vs. Chargers
Be sure to check with us each week where we will discuss not only start, bust alerts, and sleepers for that particular week, but also who you should be adding to your roster and who you should be dropping.
Don't forget to follow us on Twitter, Facebook, and Instagram.
(Visited 62 times, 1 visits today)