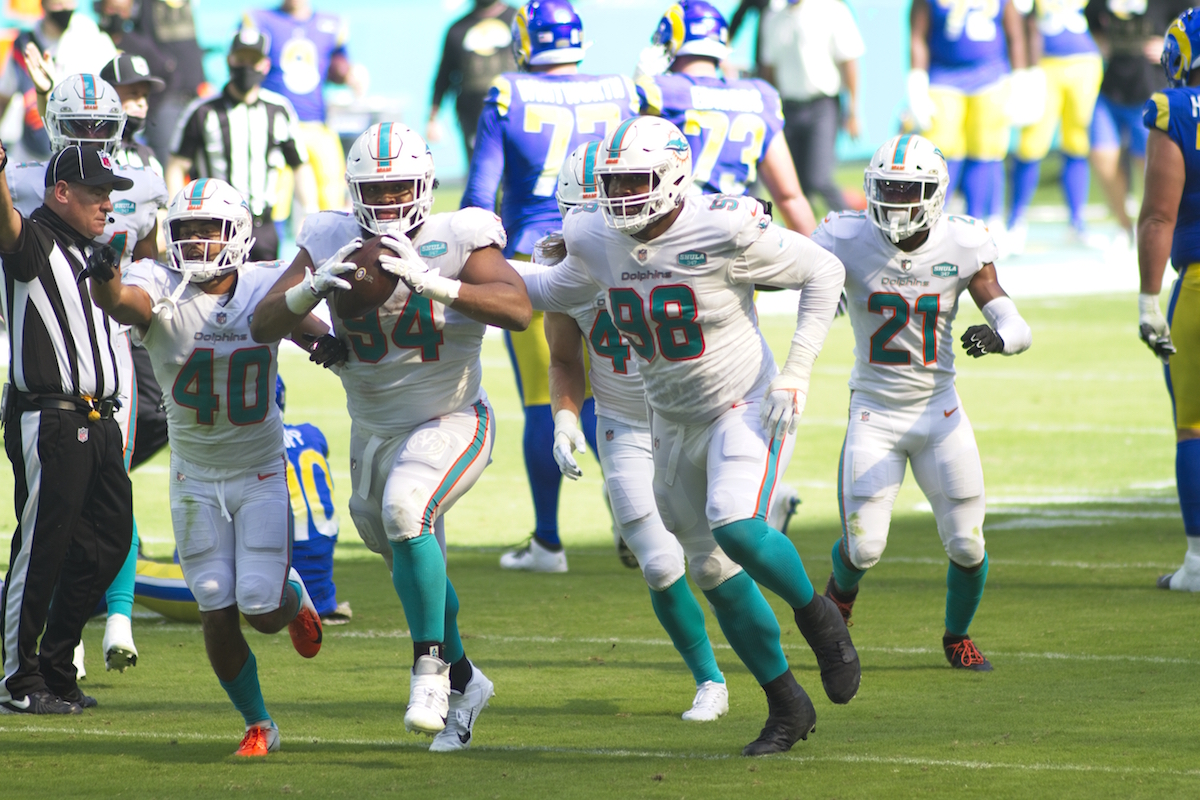 ---
Miami Gardens, FL – What if I told you that Tua Tagovailoa's debut was less than stellar? Now, what if I told you that he didn't look terrible, and the Miami Dolphins went on to win? Now, what if I told you that the Miami Dolphins defense was actually the bigger storyline?
Miami Dolphins Defense
Miami's defense did to Jared Goff what everyone thought Aaron Donald and the Rams defense were going to do to Tua. Two sacks, two fumbles recovered, two interceptions, and two defensive touchdowns! However, the stat that stands out to me is eight quarterback hits, compared to Tua only taking two hits.
Those two hits came early in the 1st quarter. Tua said about getting his "welcome to the NFL" hit, "That was a good hit. That was a good hit. It's football. I tried to step up, make a throw, Aaron Donald swiped at the ball behind me, and I don't know who the guy was that took me off my feet and pretty much body-slammed me, but hey, that's football. I'm not going to lie, I did enjoy getting hit that first time. That was definitely a welcome."
7 – 7*
Way too late stay correct. Miami now leads 21-7 😅

— Lemon City Live (@LemonCityLive) November 1, 2020
What about Tua?
Comparatively, If I'm being honest, Tua could've done nothing noteworthy and the story of the game still would've been about him. Again, he's the shiny new object on this Fins team, but the Miami Dolphins defense deserves all the shine today. Even Tua said so. "…thank God we've got a good defense, so when we do start to string good plays together, we know that we can be able to make plays and then get the ball back and continue to try to do the same." He ain't lying!
The Rams offense played almost double the number of plays as the Dolphins offense played. (92-48) L.A. clearly won the time-of-possession battle. Therefore, the Miami Dolphins Defense was out on the field longer than need be, and it showed. Guys were dropping, cramping up left and right. Yet they still dominated.
We all remember the 0-7 start to the 2019 season. Well, here's Miami sitting pretty at 4-3, above .500! What a time to be alive.
Next up, Miami travels to Glendale, AZ to face the 5-2 Arizona Cardinals, coming off their bye week.
Fins win!@Tua tosses his 1st TD, wins his 1st #NFL game, & survives @AaronDonald97 & that @RamsNFL defense.

Story of the game was the @MiamiDolphins defense! 2 sacks, 2 fumbles recovered, 2 INT's, 2 TD's!

MIA 🐬 28 – 17 LAR 🐏#FinsUp   #MIAvsLAR #TuaLibre

📸@deportetotalusa pic.twitter.com/lSCbq5FVSN

— Lemon City Live (@LemonCityLive) November 1, 2020
Milestones
Jerome Baker needed five tackles to become the 1st Fins player since

Channing Crowder

to total 250 tackles in his 1st three seasons. He got all five needed tackles today.
Tua recorded his 1st touchdown pass, win, and survived Aaron Donald.
📸  Credit: Deporte Total USA
(Visited 99 times, 1 visits today)