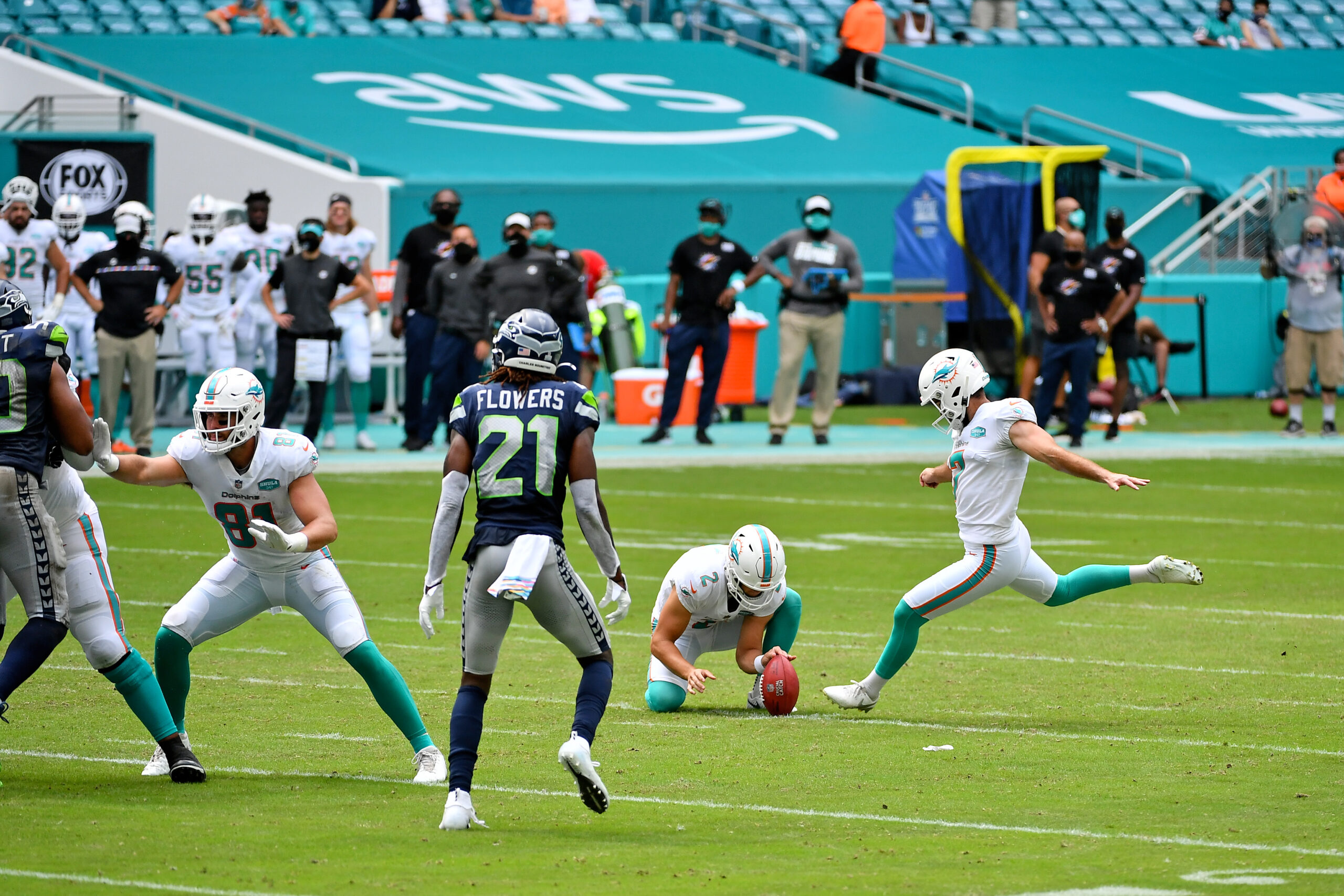 Miami, FL – First, it was great to be back at the Rock! This was the first game I cover since the pandemic began. It was a weird experience, but not as weird as watching Jason Sanders lead the Fins on the scoreboard.
If you were expecting a shootout, think again! You probably expected Seattle to run up the score, and for the Miami Dolphins offense to take advantage of Seattle's weak defense. Turns out only one of those would be true. Miami fell to Seattle 31-23. Gone are the days of the Legion of Boom. Seattle ranked #22 in opponent's points scored per game. Meanwhile, Miami ranks #22 in offensive points per game. Conversely, Seattle's offense (2) and Miami's defense (10) are both ranked in the top 10. That sounds like a recipe for a lot of field goals.
This isn't last year's Miami Dolphins squad. This year Miami actually has a serviceable defense. This year the offensive line doesn't collapse like a house of cards.  This year, Coach Flo is no longer a rookie head coach. The team continues to improve every week, building off last season's growth. They're still far from #goals, but they're headed in the right direction.
Weapon X!@Iamxavienhoward picks off Russell Wilson in the end zone, preventing another Seattle TD!
🏈 Fins 9 – 17 Seahawks #FinsUp #MIAvsSEA pic.twitter.com/UiP8WXmauD

— Lemon City Live (@LemonCityLive) October 4, 2020
So far, three out of four teams Miami has faced were 2019 playoff squads. That being said, Miami lost to all of them, but they've kept each game within striking distance in the 4th quarter. You can attribute that to another year playing together and gelling, but also some key offseason acquisitions. Notably, Emmanuel Ogbah, who won the Super Bowl with Kansas City last season, has made his presence felt. On Sunday, against Seattle, he recorded a timely sack on Russell Wilson. He's also had at least half a sack in each of his previous two games.
Miami's offense also looks much better. Miami's offensive line has been terrible in recent memory. That's not the case anymore. The O-line is giving Ryan Fitzpatrick time to develop plays and make decisions. However, their run blocking is still pretty suspect. There's no reason why Fitzmagic should be Miami's leading rusher. The Fins signed Jordan Howard and Matt Breida this offseason, but it's been Myles Gaskin who's been receiving more touches. Settling for five field goals on good offensive drives is no way to win a game.
Ok @jasonsanderss, you've kicked your way into our hearts. 15 points, now finish him!
Miami outplaying Seattle, but can't get it into the end zone.
Seven minutes left in the game.
Fins 15 – 17 Seahawks 🏈#FinsUp #MIAvsSEA pic.twitter.com/htxutInbwO

— Lemon City Live (@LemonCityLive) October 4, 2020
Miami's going to need their big-name guys to play up to that hype if they want to win these close games against playoff-caliber teams. However, Fins fans, y'all need to be patient. I know you want to set #TuaLibre, but the kid isn't going anywhere anytime soon. Let's give coach Flo the time he deserves and has earned, to keep improving, not only the on-field product but the organizational culture as well. His first priority is to make sure the team and all its moving parts are in the best position to win once Tua is ready to make his first start. Don't fast forward through the montage when the hero learns how to win. That part has the best music.
Next up, the Miami Dolphins offense looks to improve the run game when they face the 2-2 Joey Bosa-less San Francisco 49ers defense. Look for them to solidify the run game with Matt Breida taking on a heavier workload.
The @MiamiDolphins only punted once, but only found the end zone the same number of times, settling for FIVE🖐🏼 field goals.
The lone TD was scored by #Fitzmagic on a 10-yard QB Scramble. He also led the team in rushing w/ 47 yards. Ouch!
Miami falls to Seattle 31-23.#FinsUp pic.twitter.com/WIPOb9s5dL

— Lemon City Live (@LemonCityLive) October 4, 2020
📸 Credit: Jasen Vinlove-USA TODAY Sports
(Visited 55 times, 1 visits today)