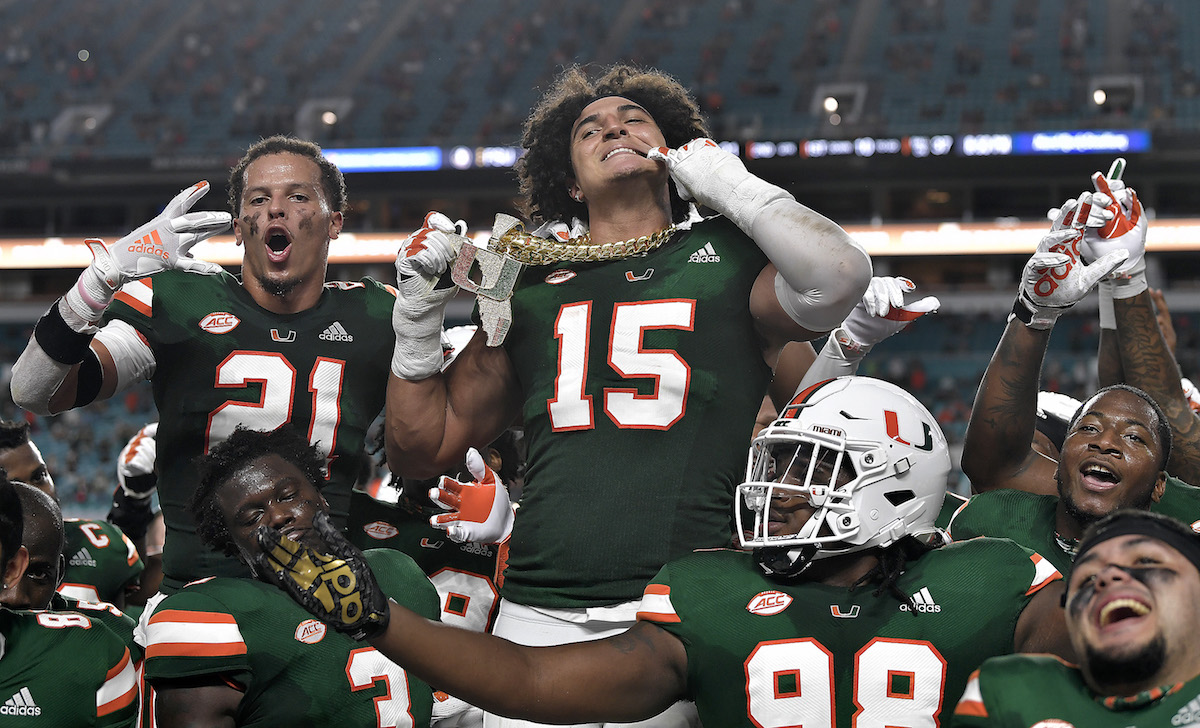 ---
Miami, Florida – The good times keep on rolling in Coral Gables. The Miami Hurricanes crushed FSU 52-10 to win their fourth straight meeting of the rivalry. The two teams met for the 65th time in program history and UM put on quite a show in front of a sellout crowd of 12,806 at Hardrock Stadium. As a reminder, current safety protocols have greatly reduced stadium capacity due to COVID.
Miami surged out of the gates and never looked back. The game was already a blowout by halftime with the Canes way out in front 38-3. UM imposed its will indiscriminately on both sides of the ball. Offensively, they had already generated over 330 yards at the half: 222 in the air and 111 on the ground. The defense, meanwhile, forced three punts, five sacks, and an interception.
Big mood 😤 @CanesFootball pic.twitter.com/N93NARKK5P

— Hard Rock Stadium (@HardRockStadium) September 27, 2020
A dominant performance
Miami got it going early, scoring on their first drive. D'Eriq King connected with Brevin Jordan for the 24-yard touchdown. Florida State responded with a 26-yard field goal. The Seminoles got as close as the Hurricanes' 2-yard line before getting pushed back by a false start on a fourth and goal.
Charging down the field, UM scored again late in the quarter. Cam'Ron Harris ran thrice on the drive including a three-yard dive to help the team go up 14-3. After FSU punted in the early stages of the second quarter, Harris struck again. This time it was an easy 12-yard rush for the score.
Cam'Ron Harris having a big season! pic.twitter.com/0vi18eiCqM

— Gem Drafter (@gemdrafter) September 27, 2020
Mark Pope botched the punt return with under 12 minutes to go in the half, allowing FSU to recover the ball. UM's defense stepped up in a big way, getting an immediate turnover on an interception by Jaelan Phillips on a broken reverse play. Phillips would not finish the game due to getting ejected for two fouls of unsportsmanlike conduct. Both Gurvan Hall Jr. and FSU's Marvin Wilson were later disqualified for targetting.
This play was just bananas. 😤 @NJS_ERA 🤲 @JJPhillips15

📺 on ABC: https://t.co/OyRQdpxAb6 pic.twitter.com/z5d0htI2DE

— Canes F😷😷tball (@CanesFootball) September 27, 2020
Not taking their foot off the gas, King slung it deep to Dee Wiggins on the third play of the drive for the nice 40-yard touchdown. Miami scored 14 more points in the fourth quarter for good measure courtesy of freshman runningback Donald Chaney Jr. and wideout Michael Redding III. N'Kosi Perry took snaps in the fourth, finding Redding for the seven-yard strike.
King finished the night tossing 267 yards including two touchdowns. He also had 8 carries for 65 yards. Both Harris and Chaney Jr. rushed for two TDs of their own.
Tonight's 📊 pic.twitter.com/FmHKVbrEZO

— Canes F😷😷tball (@CanesFootball) September 27, 2020
On offense, the Canes generated 517 total yards, the majority in the air. The defense impressed, causing three turnovers (all interceptions from each of the three QBs) and six sacks. It was UM's second straight primetime win. The No. 12 ranked Hurricanes improve to 3-0 and will now enjoy their bye week before heading out to take on No. 1 Clemson on October 10th.
(Visited 164 times, 1 visits today)