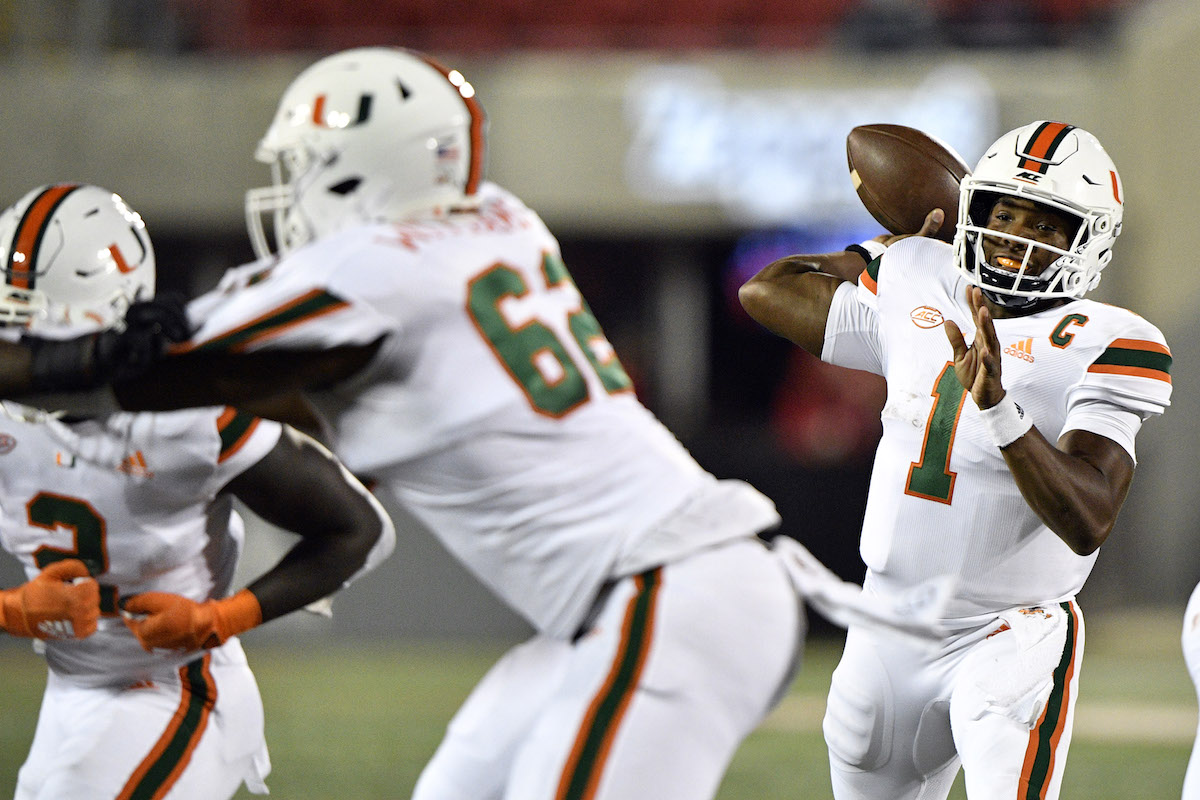 ---
Miami, Florida – It's week 3 and you know what that means, it's time for the Miami Hurricanes and FSU preview. This will be the 65th meeting of the rivalry. Last time, Miami came away with their third straight win over Florida State by a score of 27-10 at Doak Campbell Stadium in Tallahassee, Florida. The Seminoles lost so badly they fired head coach Willie Taggart the very next day. Following a 21-game stint, FSU decided a $17 million dollar buyout was required to avoid another embarrassment. After what happened against Georgia Tech I am not so certain.
Win #️⃣1️⃣#4the404

Full recap: https://t.co/XUgc38Zdnapic.twitter.com/XqnzSlxHJx

— Georgia Tech Football (@GeorgiaTechFB) September 13, 2020
As you likely already know, they replaced Taggart with Mike Norvell who coached the Memphis Tigers for four years. In 2019, he led his team to an 11-1 regular season. Norvell went 38-15 during his tenure. Unfortunately, Florida State will be without him due to testing positive for COVID-19. As a result, tight ends coach Chris Thomsen will lead the way. Offensive coordinator Kenny Dillingham will be the primary play-caller for the offense, a role previously held by Norvell.
FSU comes to town after their bye week, using it to work out the kinks in their offense especially. The passing game didn't break 200 yards while no one in the backfield rushed beyond 40 yards. All in all, the total offense amounted to just 307 yards in their 16-13 loss to the Yellow Jackets. Miami, meanwhile, is riding high off an impressive 47-34 victory against Louisville. The Hurricanes are now ranked No. 12 in the AP Top 25 Poll. UM leads the overall series 34-30, the last time the Seminoles won was on October 8th, 2016. The 20-19 victory was the last of a dominant seven-game winning streak. Here's who to keep an eye on.
Players To Watch
Florida State Seminoles
Amari Gainer (LB) – This will largely center on the defense where the team enjoys quite a bit of depth. Amari Gainer led the way with 10 tackles and 2.5 Tackles For Loss. In 2019 he appeared in all 13 games recording 69 tackles, including seven TFL, 3.5 sacks, two forced fumbles, and a fumble recovery. The redshirt sophomore is a big presence on the field and Miami would do well to counter him wherever they can.
.@AmariGainer with the great TFL.#GTvsFSU pic.twitter.com/iGP0O90MZd

— NoleGIFs (@NoleGIFs) September 12, 2020
Marvin Wilson (DT) – This fella can really put the hurt on UM's offense. Before he got injured last year, Marvin Wilson notched 44 tackles, 8.5 TFL, five sacks, one forced fumble, and a fumble recovery in nine starts. Wilson is likely projected to be a future first-round NFL draft pick and the big man has shown it. Against Georgia Tech he only logged three tackles but the defensive lineman looks primed to be one of the best in the ACC again.
Asante Samuel Jr. (DB) – One of the few bright spots in their embarrassing loss to the Yellow Jackets, Asante Samuel Jr. caught two interceptions. The junior from Sunrise, Florida kept the game from getting out of hand and looks ready to do the same versus Miami. In 2019 he led the ACC in pass breakups (14) and was tied for eighth in the NCAA. He is a legitimate threat to UM's pass attack.
Asante Samuel Jr. || Florida State Defensive Back || 2019 Highlights@godschild3_ @FSUFootball
📼: https://t.co/mFTFrxoYbj pic.twitter.com/uVWYkN536W

— The Breakshot (@TheBreakshot) September 21, 2020
James Blackman (QB) – Coach Mike Norvell is known for his high-scoring offense so I wouldn't sleep on Mr. Blackman. The redshirt junior from South Bay, Florida didn't do too much in the first game of the season tossing 198 yards including a pick and a touchdown. Part of his struggles was due to the offensive line. They allowed three sacks and Blackman fumbled the ball twice. He'll look to bounce back against a daunting Miami defense itching to pull out the Turnover Chain.  James Blackman has a great arm and can play on the move making him an asset in Norvell's playmaking scheme.
Miami Hurricanes
D'Eriq King (QB) – It's going to be a good reign. D'Eriq King unleashed on the Cardinals, throwing for 325 yards and three touchdowns. A powerful showing in their first primetime game of the season. An efficient dual-threat, the opposing defense is going to have their hands full although Asante Samuel Jr. might have something to say to that. If coach Manny Diaz chooses to air it out, count on King for another 300+ yard game.
D'Eriq King ➡️ Will Mallory

Hurricanes get in the endzone first 🌪️ pic.twitter.com/WEc0UEvpIc

— ESPN College Football (@ESPNCFB) September 20, 2020
Cam'Ron Harris (RB) – Another weapon in the vast Canes arsenal, Cam'Ron Harris has rushed for over 100 yards in every game so far. In fact, Harris has amassed exactly 134 yards in BOTH games. What a coincidence, eh? Count on him making the centennial mark for the third time in a row.
Brevin Jordan (TE) – It's good seeing this young man getting thrown to. Brevin Jordan led the team in receptions against Louisville with seven, recording 120 yards and a touchdown. His athleticism is potent and he now has another defense to raise his totals on. I'm not sure if he'll lead in catches again but Jordan looks good for at least 70 yards and another score.
Zach McCloud (LB) – Ah hello Turnover Chain! Zach McCloud didn't force the first turnover of the season (that honor goes to Al Blades Jr.) but he did get Malik Cunningham to fumble in the final moments of the game. The redshirt senior had a good performance at The Ville, collecting nine tackles including one TFL and a sack. Barring any sort of last-minute scratch, McCloud will be looking to be a thorn in FSU's side.
Fitting that the final key play of this game ended up with a Turnover Chain awarded to Miami LB Zach McCloud. pic.twitter.com/f81BIfr2XV

— RedditCFB (@RedditCFB) September 20, 2020
Photo Credit | Miami Hurricanes ACC Media
(Visited 27 times, 1 visits today)