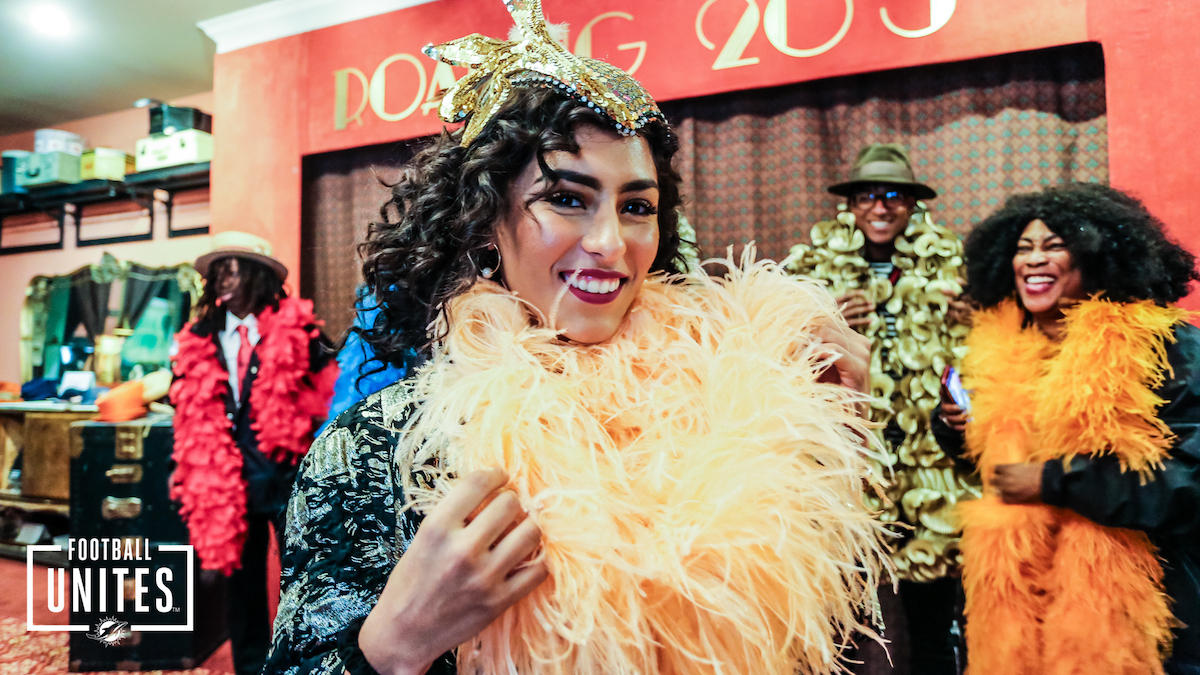 ---
DELRAY BEACH, FL – Miami Dolphins players Allen Hurns, Chris Myarick and Steven Parker, alumnus Lorenzo Hampton, cheerleaders and staff spent the day exploring Palm Beach County alongside local youth, community leaders and law enforcement at the Dolphins' third FOOTBALL UNITES™ Cultural Tour presented by Baptist Health of the season to experience the richness and diversity of South Florida on Tuesday, November 19.
Yesterday, we hosted our third #FootballUnites cultural tour presented by @BaptistHealthSF of the season as we spent the day exploring Palm Beach County. #DolphinsHuddleFor100

— Miami Dolphins (@MiamiDolphins) November 20, 2019
"It's a good experience anytime you are able to get away from football. I love football, but at the end of the day sometimes you need some things to take your mind off it. Just being out here with the kids to experience different cultures — I feel like it's really big for me," Hurns said. "Seeing a different culture, how things were back in the day, I feel like it's so great. Especially growing up in the neighborhood you were born in you are so secluded: you went to school and you played football. But didn't get to see other communities, so coming out and seeing different heritages and different cultures I feel like that is a lot. These kids, they look up to a lot of us and seeing how they are able to come out on this tour, that's great. That's something we need to do more of because growing up in neighborhoods where there aren't many resources, once you're able to see more and be exposed to more, it's a great feeling for kids."
The tour, in partnership with Discover The Palm Beaches, Cultural Council of Palm Beach County as well as Greater Miami and Greater Fort Lauderdale Convention and Visitors Bureaus, began with a visit to the Spady Cultural Heritage Museum and Cornell Museum with a guided exploration through the surrounding historic neighborhoods along the way. The team enjoyed light refreshments from Delray Beach's historic Donnie's Restaurant and concluded the day with a visit to The Wick Theater and Costume Museum to tour their exhibition, enjoy a musical performance from The Music Man and eat lunch.
"Introducing the arts to our youth is a vital part of our mission, so we were delighted to partner with the Dolphins for this educational tour," The Wick Theater and Costume Museum Vice President & Museum Curator Kimberly Wick said. "Cultivating a love of culture and history is a mission we share with the FOOTBALL UNITES™ program, and it was thrilling to see the reactions of today's guests as they explored our Roaring 20's exhibition and experienced live performances. We hope today's adventure will instill in our youth a desire to connect with the cultural arts throughout their lives."
These initiatives align with the organization's goal to level the playing field through the power of teamwork to inspire a healthier, more educated and united South Florida community. Dolphins Chairman of the Board & Managing General Partner Stephen Ross and Dolphins players created the FOOTBALL UNITES™ program as a way to bring positive social change. The Miami Dolphins organization believes it is important to be inclusive of the diversity and aware of the intersections that make up South Florida, uniting groups of different races, genders, sexual orientations, identities, abilities and faiths around the power of football.
MIAMI DOLPHINS FOOTBALL UNITES BRINGS AWARENESS TO OUR YOUTH AND COMMUNITY PARTNERS. NMB-PAL ON THE MOVE….@myNMBPolice @MiamiDolphins @CityNMB @Nationalpal @CityNMB pic.twitter.com/NtisQR9FQa

— North Miami Beach PD (@myNMBPolice) November 19, 2019
These programs connect to the NFL's Inspire Change platform, showcasing the collaborative efforts of players, owners and the league to create positive change in communities across the country and work with RISE – the Ross Initiative in Sports for Equality – to eliminate racial discrimination, champion social justice and improve race relations. Information on the FOOTBALL UNITES™ program can be found here. To learn more about RISE, visit here. Fans can join the conversation with the NFL'S Inspire Change program by clicking here.
Photo Credit | Miami Dolphins
(Visited 39 times, 1 visits today)