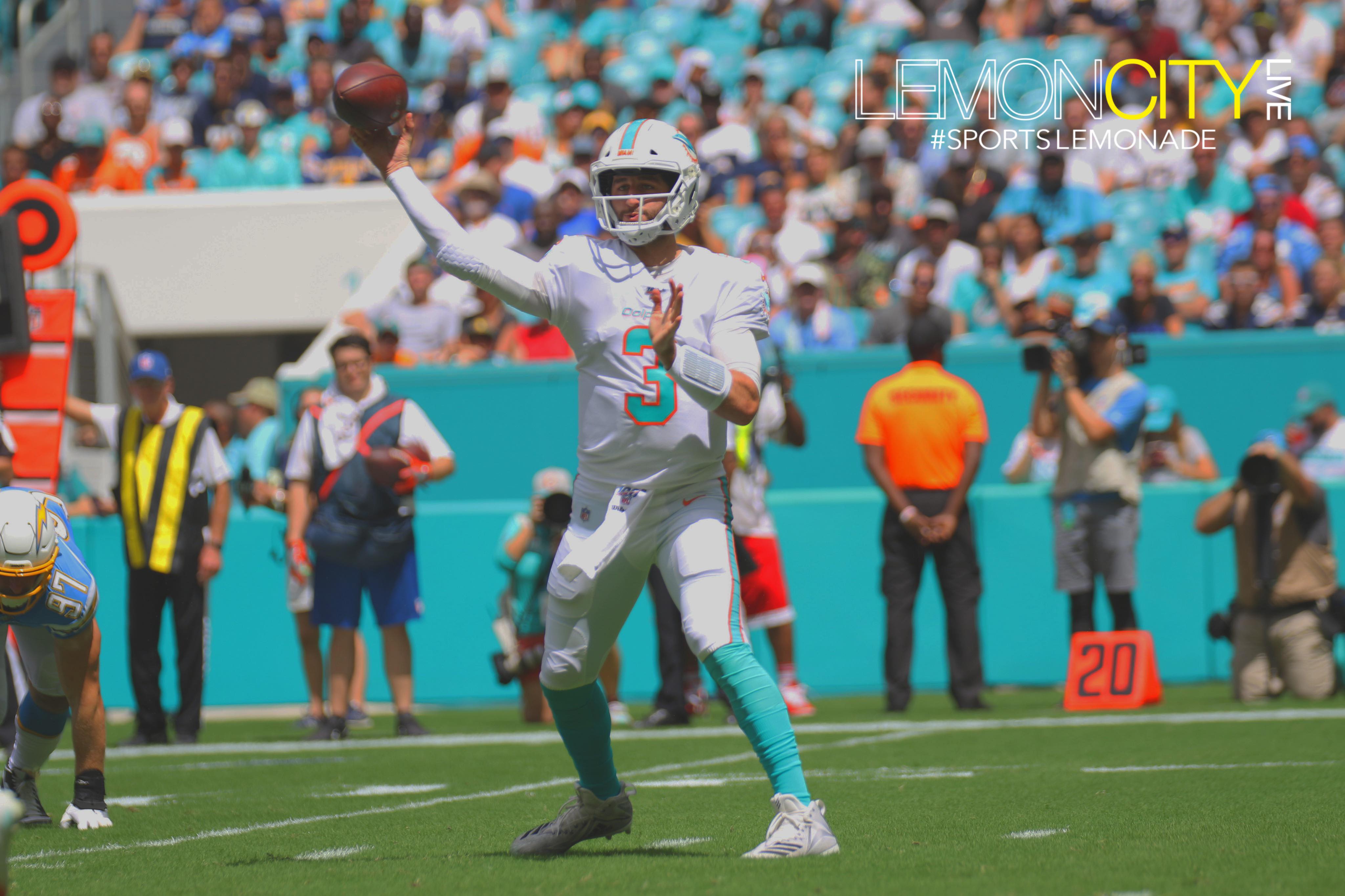 ---
Miami Gardens, FL – A Miami Dolphins game is just what the Doctor ordered for the Los Angeles Chargers. Unfortunately, that's going to be the case all throughout this long season for the Dolphins as they play the role of slump-buster. The Chargers came into this week 4 Miami Dolphins matchup with a 1-2 record, all games decided by one possession. They could easily be undefeated. Such is life in the NFL. Miami, on the other hand, is obviously in tank-mode, No Limit Records style, and all opponents make 'em say uhhh…
The Fins were ranking dead last in total defense through week 3, giving up almost 500 points/game. They gave up 396 today. The lone bright spot in today's game was in the 1st quarter when Miami temporarily held a 7-3 lead after Josh Rosen connected with DeVante Parker on a 34-yard touchdown. Miami went six plays and 75 yards on that drive. It was the 1st time all season that Miami held a lead. That would be Miami's lone touchdown. Josh Rosen would finish the game going 17/24, 180 yards, one TD, and one late interception. A little over three minutes later, LA would take the lead back. Phillip Rivers, no relation to Christopher Rios, connected with Troymaine Pope on a 13-yard touchdown pass, to go up 10-7.
The @MiamiDolphins take their 1st lead of the season! @josh3rosen connects w/ @DeVanteParker11 on a 34-yard pass to take a 7-3 lead!#FinsUp #LACvsMIA pic.twitter.com/o6bWQ4OPJe

— Lemon City Live (@LemonCityLive) September 29, 2019
If you started Rivers, Austin Ekeler, and/or Ty Long in your fantasy football squad today, good job! Ekeler and Rivers would connect twice for a pair of TD's. Their 1st connect came at the end of the first half. That two-minute offense went into full effect and culminated with Rivers finding Ekeler for an 18-yard touchdown pass. Ekeler would later run in the ball for a one-yard goal-line touchdown. Fantasy owners must've loved that! Ty Long contributed three field goals and three PAT's. He hadn't put more than 2/2 before today. Slump-busters…
Miami took the predictable L, 30-10, to start the season 0-4. For the most part, the game was pretty evenly matched. It was a one-possession game until late in the 3rd quarter. Jason Sanders also missed two crucial field goals that would've kept Miami in the game and not given the Chargers a short field with which to operate. The Fins also created zero turnovers. That's a recipe for losses.
The @MiamiDolphins fall 30-10 to the @Chargers to start the season at 0-4.
The #Fins recorded their 1st lead of the season (7-3), but it was short lived.
No one said it wasn't going to be a bumpy ride. #FinsUp #LACvsMIA pic.twitter.com/GCvYV8ngKx

— Lemon City Live (@LemonCityLive) September 29, 2019
Next up, after their bye week, Miami hosts the Washington Redskins in a week-6 matchup of two terrible teams, neither of which have won a game thus far. Washington lost today, 24-3 vs the New York Giants, and they face New England next week, so it'll likely be a battle of winless squads. They'll probably tie.
Photo Credit | Chris Perez
This slideshow requires JavaScript.
(Visited 50 times, 1 visits today)