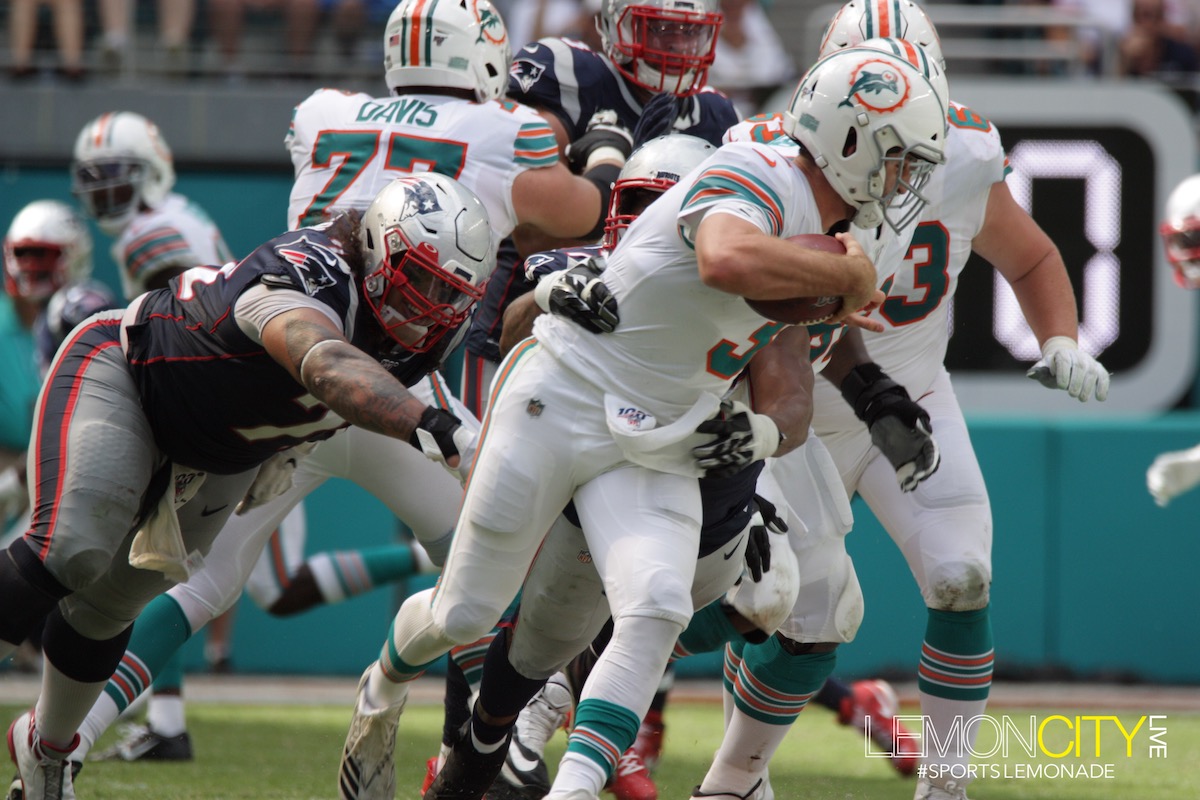 ---
Miami, FL – If Week 1 was bad, Week 2 was absolutely UGLY as the New England Patriots shutout the Miami Dolphins 43-0 at Hard Rock Stadium Sunday. The Fins were nightmarishly outclassed, outgunned and outdone by a superior Pats team.
"I thought our team gave a good effort today," Coach Bill Belichick said. "Obviously, Miami was ready to go and they gave us some problems early but we were able to work through that and played 60 minutes and finished the game."
The defense displayed some heart, holding Tom Brady and the Patriots to 13 points in the first half but the offense just didn't show up today. After three quarters, they could only generate an embarrassing 38 yards.
Let that sink in for a moment.
They finished with 184 yards, much of it achieved in garbage time.
Antonio Brown played his first game with the New England Patriots since being released by Oakland, catching four of eight passes for 56 yards and a touchdown. Sony Michel led the ground game, rushing for 85 yards and a touchdown of his own. Vintage Brady collected two TDs and another on the ground, completing 20 of 28 passes for 264 yards.
BOOMIN' #Patriots pic.twitter.com/KzBoGiZ9Df

— Casey Baker (@CaseyBake16) September 15, 2019
Equally dominant was their defense who made the Fins look like a JV high school football team. Starting quarterback Ryan Fitzpatrick just couldn't get anything going, throwing for only 89 yards and three interceptions, two of them being a pick-6. He was sacked four times. Josh Rosen came in during the fourth quarter but this was merely to get some reps in a game long since over. He made seven of 18 passes for 97 yards, throwing an interception on the last play. The Patriots defense owned the trenches, tallying seven sacks in total.
Miami was two of 15 on third down as New England dominated time of possession (36:30 to 23:30), inevitably tiring out the defense. The Dolphins only achieved a first down 11 times, compared to New England moving the chains 27 times.
The Pats were also impressive in the red zone, going three-for-four.
In spite of today's monumental struggle, coach Brian Flores continued to support his boys.
"I thought they played hard, and I thought they played hard for 60 minutes," Flores said. "We were there for half, maybe two and a half quarters, and then we just couldn't get anything going offensively."
When asked on who the starting quarterback is moving forward, the head coach stated Fitzpatrick is still the starter.
Rosen throws a beautiful deep bomb to J. Grant but bobbled and dropped for the incomplete. Ouch! Would of been Miami's first TD#FinsUp

— Gabriel Garcia (@Gabewritesports) September 15, 2019
As much of a moral victory as it would've been, the Fins had a couple of chances of ending the shutout including a dropped deep ball pass by Jakeem Grant. Preston Williams also dropped a couple of crucial passes. In the final drive of the game, Miami made it deep to the Patriots 8-yard-line. Rosen made a short pass to the left intended for tight end Mike Gesicki, only to watch it get intercepted by Jamie Collins. The exclamation point capping a very bad day for the Dolphins.
The Fins will look to put this game behind them, heading over to Texas to face the Dallas Cowboys in Week 3.
Hispanic Heritage Leadership Award
Prior to kickoff, the Miami Dolphins organization was proud to announce, in honor of Hispanic Heritage Month, Maria C. Alonso as this year's recipient of the Hispanic Heritage Leadership Award. The NFL, Hispanic Heritage Foundation and Nationwide partnered up for the ninth annual NFL Hispanic Leadership Awards, recognizing the contributions of Hispanic leaders in each NFL market.
Alonso received her trophy commemorating her achievements along with a $2,000 donation to United Way of Miami-Dade.
The @MiamiDolphins announced @mcalonso305 as recipient of NFL Hispanic Heritage Leadership Award presented during Dolphins Pregame vs. the @Patriots.
Alonso received her trophy and $2,000 donation to @UnitedWayMiami!
Congrats, Maria & United Way Miami-Dade!#FinsUp #StrongerMiami pic.twitter.com/cdf94i69UF

— Lemon City Live (@LemonCityLive) September 15, 2019
She was born in Detroit, Michigan and raised in Miami, Florida as a first-generation Cuban-American. After a 22-year career with Bank of America, Alonso became president and CEO of United Way of Miami-Dade in August 2017. Her responsibilities include engaging the passion and expertise of individuals, corporate and community partners in support of United Way's mission of building the community. Recently, her organization partnered with both the Miami Herald/el Nuevo Herald and Univision 23 in what's known as Operation Helping Hands, an effort to bring aid and relief to those affected by Hurrican Dorian in the Bahamas and other areas. Naturally, she is also a Dolphins fan.
Hats off to Maria C. Alonso and to both her achievements and contributions to the community.
From Bad to Worse
We're only two weeks into the season and things seem to be spinning out of control for the Miami Dolphins. Forget about trading away players for draft picks in a not so subtle attempt to tank this season. Now there's a player that wants OUT of the organization. Defensive back Minkah Fitzpatrick, last year's first-round pick, has requested to be traded. I guess when you come from a program like Alabama, the disgruntled DB does not want to be a part of a rebuild with a team that has traded away pieces like left tackle Laremy Tunsil and deep threat wide receiver Kenny Stills in an effort to make a splash at next year's NFL draft.
It's been noted that Fitzpatrick has been less than happy with how he's been utilized by Coach Brian Flores and his staff. Other players have voiced similar concerns in the wake of the 59-10 opening game loss to the Baltimore Ravens, specifically the emphasis on the 2020 draft over this season's roster.
When asked about his performance today, Flores gave a good review.
"I thought defensively, like I said, I thought there was good communication, there was good tackling. I thought he played well. Again, he's a very versatile player."
This is pretty much par for the course, and it's going to get worse as the losses and frustration continues to mount. Although no fan should be surprised, the season was lost before it started, the real question is how bad will it get for Miami? We're in Week 2 and the situation is pretty dire. Will other players become more vocal and request to abandon ship? What if Flores loses control of the locker room?
The team is selling that they fully intend to compete this year with their newest coach but no one is buying. It's always been difficult to ask a fanbase starving for relevance in a division long since dominated by the New England Patriots, for patience. Never been a fan of tanking, it makes the season purposefully a waste of time for those who follow the team closely, and forget about the season ticket holders. Sure, you get first dibs on picks which is can be attractive in a promising draft class but you never know what kind of player you're going to get. Ryan Leaf anyone?
Strap yourselves in Fins Fans, we're on the express elevator going D.O.W.N.
Photo Credit | Edwin Garcia
This slideshow requires JavaScript.
(Visited 117 times, 1 visits today)