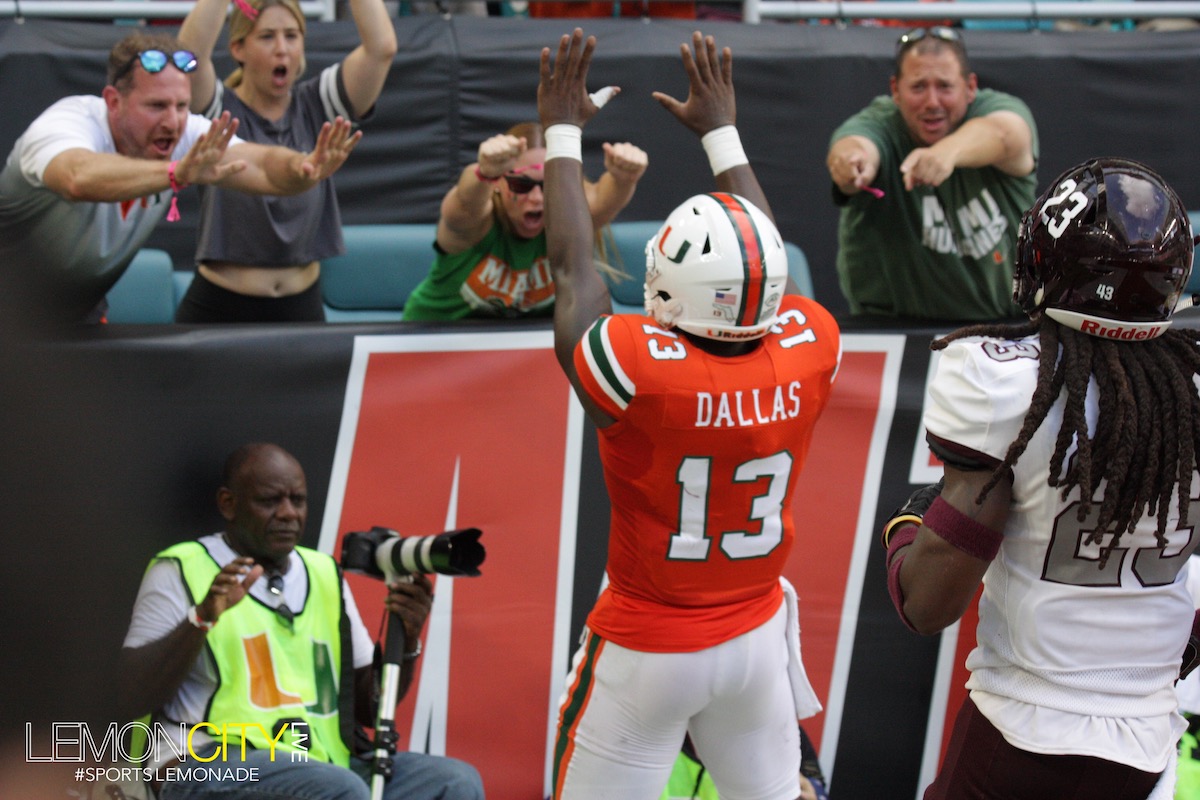 ---
Miami, FL – The University of Miami Hurricanes took care of business in their home opener, obliterating the Bethune-Cookman Wildcats 63-0 Saturday afternoon for Manny Diaz's first win as Head Coach. Canes running back DeeJay Dallas literally carried the day, rushing for three touchdowns including a 51-yard stroll back in the second quarter for a much-needed win at Hardrock Stadium. He accumulated 108 yards on a day where the offense was all over the Wildcats for much of the game.
"He's a guy you want to build the identity of your offense around," Diaz said, offering a glowing review of his player.
He wasn't the only one having a great game.
Quarterback Jarren Williams completed 19 of 24 passes for three touchdowns of his own, accumulating 254 yards with no interceptions.
The Hurricanes did get off to a slow start, scoring only once in the opening quarter on their second drive. Operating from the Wildcats 33 yard-line, Dallas moved up the ball 15 yards, setting up for a Williams pass to K.J. Osborn bringing the Canes to the one yard-line. DeeJay crossed over for the easy score on a drive that lasted four plays.
HALFTIME
Bethune-Cookman 0
Miami Hurricanes 28

Impressions:
–@DallasDeejay carrying the day, 3 TDs. Last time this happened was September of 2018 by Malik Rosier vs Toledo Rockets.
–@CanesFootball 0/5 on Third Down.
-Baxa 4/8 FGs this year#GoCanes #ItsAllAboutTheU pic.twitter.com/WdJJScxT4I

— Gabriel Garcia (@Gabewritesports) September 14, 2019
The defense did their part, keeping Bethune-Cookman off the scoreboard including ensuring that they never invaded Miami territory nearly the entire game. The farthest they ever got was to their own 45-yard line until the very last drive of the game.
The punting wasn't bad either. After UM's first go fizzled out, Lou Hedley and company executed a gorgeous kick, stopped at Bethune-Cookman's one-yard-line applying pressure from the get-go. It was three and out. Their second drive was also halted with a great third and six sack from Gurvan Hall Jr., signaling a very long day for the Wildcats.
Despite the easy victory in what's considered a cupcake game, there were some concerns that stuck out. Miami was 4-for-9 on third-down conversions along with another missed field goal from legman Bubba Baxa. Late in the first quarter, Williams went DEEP, connecting with Mark Pope on the 56-yard play. However, three downs later the squad sent out Baxa for the 30-yard chip shot. It was a cringe-worthy miss. The kicker is now 4-for-8 on the season.
While it may seem like nitpicking considering the final score, the struggle is real. Especially considering how Baxa missed a 49-yard field goal last weekend going wide-left against North Carolina with less than a minute to go. The Tar Heels rallied late, converting on a fourth-and-seventeen keeping their drive alive, capping off a 75-yard march to victory. And don't get forget his blunders against the Gators on Week 0. He definitely has strength but his accuracy and maybe even mental game remains an area that needs improvement. However, Coach Diaz argued that mechanics are another factor.
"You can't just put it all in mental because there is a technique involved, maybe its the way he sets up off the way he takes his steps. You have to analyze the physical side of it as well as the mental side."
Baxa was nine of 12 via field goals last year as a true freshman.
Highlights of today's win:

(📽: @theACCDN) pic.twitter.com/twscEyqwBB

— Canes Football (@CanesFootball) September 15, 2019
Other than that, the numbers don't lie. Miami dominated on both sides of the ball, amassing nearly 600 total yards while the Wildcats put up a measly 137 yards of total offense, including just 76 yards in the air. Despite some struggles on third down, UM was an impressive 6-for-8 in the red zone, enough for 42 points. The defense delivered the shutout of course with two sacks and a fumble.
Speaking of stats, the last time anyone had three rushing touchdowns it was during the previous year by the former UM quarterback Malak Rosier against the Toledo Rockets on September 15.
It was also an incredible day for both Mike Harley Jr. and red-shirt senior Jimmy Murphy, who both got their first career TDs. Harley caught his in the third quarter after a 32-yard pass from Williams.
But it gets better.
With less than three minutes left, Murphy got the handoff and veered to the right, racing into the endzone. Then the partying began. As he was mobbed by his teammates, Murphy made his way over to the sideline only to get knocked down by one of his own. He made up for it with a front flip although it was called for "unsportsmanlike conduct". It was a dream come true for the kid from Avon, Connecticut.
Dreams come true! The redshirt senior #JimmyMurphy scores his first career TD today for @CanesFootball #JimmySZN #CanesFootball #MiamisRudy #WeCallHimRuben pic.twitter.com/ZTpvqR9XKi

— Lemon City Live (@LemonCityLive) September 15, 2019
"We knew even through training camp, that he was going to score a touchdown in a game," Diaz added. He also mentioned that even though it was his first touchdown, it won't be his last.
The coach also didn't know he could flip.
All in all, it was a great game for fans and players alike. The Hurricanes host Central Michigan next week as part of their five-game homestand.
Photo Credit | Edwin Garcia
This slideshow requires JavaScript.
(Visited 79 times, 1 visits today)