Calico Joe
By: Enrique Sierra, Jr.
Your boy enjoys himself the written words, they just do it for me. I love picking up a good book and allowing an author to make me see his world and tell me a story while doing it. I also, obviously, love sports. So, when the two come together, the sportsgasm that takes place… Well, let's just say: avert your eyes.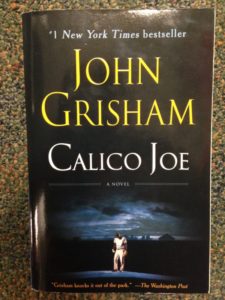 John Grisham's Calico Joe is really good. Trust me, I was hesitant as well. As per the suggestion of a local sports radio host, I decided to check it out. I've read John Grisham's work before and am not a big fan; homeboy just seems to be pumping out the same shit every other six months, somebody slaps a cheesy cover on it, and it gets placed on every end-cap aisle at Target and Wal-Mart. The whole criminal law thing is not for me – which pretty much rules out Grisham entirely. But, nonetheless, I decided to give this one a try being that baseball was involved and it sounded nothing like his other novels.
In the book, Paul Tracey is just an 11 year-old boy growing up and playing little league. Like many other boys, he aspires to be a Major League Baseball player. Also, like many other boys, he has plenty of heroes in the sport that he looks up to. However, unlike many young boys, Paul's father is a pitcher for the New York Mets. In the summer of 1973, as Warren Tracey and his Mets chase down first place, the Chicago Cubs unveil a rookie that'll turn the baseball world on its axes. Joe Castle, from Calico Rock, is taking the big leagues by storm. Tearing up pitchers and flying through the bases, the Cubs are the traveling show everyone must see. Needless to say, young Paul Tracey is mesmerized by the Chicago slugger that is on the greatest rookie stretch baseball has ever seen. Alas, on one fateful day when his idol and his father face-off at Shea Stadium, on a 2-0 count, Warren Tracey would throw a pitch that would change the lives of many and the course of baseball history.
Calico Joe is an extremely easy and quick read that will be gone before you know it. With a mixture of fictional and actual baseball players from the past, John Grisham does an excellent job at making the reader feel the atmosphere in the stadium. The story is told through Paul Tracey and includes a series of flashbacks, as the son of a former major-leaguer recalls his past while dealing with the present.
Surely, baseball is prominent in Calico Joe, but it isn't just about that. Calico Joe is, simply, a really good read regardless of your feelings for the boys of summer. It's a story about fathers and sons, impressionable young minds and the heroes they idolize, and dealing with life as it is handed to you, not as we'd like it to be.
If you're looking for a good book, especially if baseball does it for you, Calico Joe is definitely one worth reading. I'm sure you will not be disappointed.
The Lemon Drop is a weekly segment entertaining whatever the hell comes to the mind of Enrique Sierra, Jr. (Hipster Rick). Simply a sports lover that becomes a little too aroused with the beautiful assembly of words and sports. Please click back next Wednesday for more and feel free to comment or engage us through Twitter, Facebook, and Instagram.
(Visited 116 times, 1 visits today)
About Post Author