Growing up, my two favorite baseball players were Derek Jeter and Ken Griffey, Jr. Griffey was the smooth-swinging lefty, the flashy outfielder, and the guy my favorite game was named after (Ken Griffey, Jr.'s Slugfest for the Nintendo 64). I loved Griffey, he was the shit. But Jeter, Jeter was the guy I wanted to be.
As a Cuban-born baseball fan, the New York Yankees is the only name I was familiar with when it came to MLB, and since I knew MLB was the best baseball in the world, then the Yankees were the best – at the time, they actually were the best, but that's besides the point -. I was never a big kid, still am not big. I was all about good contact when it came to my plate approach and I loved playing the infield, shortstop being my favorite because they get all the glory. The Captain was just that, and, yet, so much more. Not exactly original or unique, but Jeter quickly became the guy I modeled my game after when my family and I migrated to the states in 1998. Jeter was the first jersey of any kind I ever owned. February 4th, 2000 (my birthday), my parents gifted me a way-too-big-replica of Jeter's home Yankees jersey with money that definitely had better places to be spent during those times; I still own that jersey and have never dared to buy another one to replace it. Ok, I could go on, but you get it. Jeter was the man and he was my guy.
The Miami Marlins (previously Florida Marlins) are a National League franchise. In Miami, the Yankees paying the home ballpark a visit is not a regular occurrence. When The Captain announced his farewell season in 2014, I had yet to see Jeter play in an official game. The Marlins opened up their stadium (Marlins Park) in April, 2012 and hosted two exhibition, pre-season games against New York. I attended one of those games and saw Jeter then, but that shit doesn't count; he barely played a few innings and it was spring training. So, one of the all-time sports careers was coming to a close, he happened to be one of my favorites, AND I never got to see him play live?! Fuck that! I was most definitely not going to let that shit stand.
Here's the play-by-play.
In my head – The Yankees don't play the Fish this year. Check the Tampa Bay Rays schedule.
Still in my head – Oh, shit! They play a weekend series in August at Tropicana Field.
Call Manny (a friend who lives in Orlando) – "Dude, Jeter is coming to town for the last time ever. I'm going, we're making a weekend out of it, I don't give a shit that you don't like baseball".
Back to my head – It's happening. Fuck yeah!
Friday, August 15th, 2014, I drive my happy ass up the Turnpike and head to Orlando. The next day we wonder westward to the Tampa Bay/St. Petersburg area for a 7:10 pm start time. Imagine my disappointment when I get to the ballpark and find out Jeter is the Designated Hitter. After a brief panic attack, I realize it's just nice to watch him play in a year where that was no guarantee. In what was essentially a home game for the Yankees – the stands were 90% New York memorabilia -, the man with the 2 on the back of his jersey would pop out in the 1st inning, strike out in the 3rd, and ground out in the 6th. Quite underwhelming, of course, but I was really just happy to say I got to see him. However, we all know "underwhelming" is not really The Captain's style.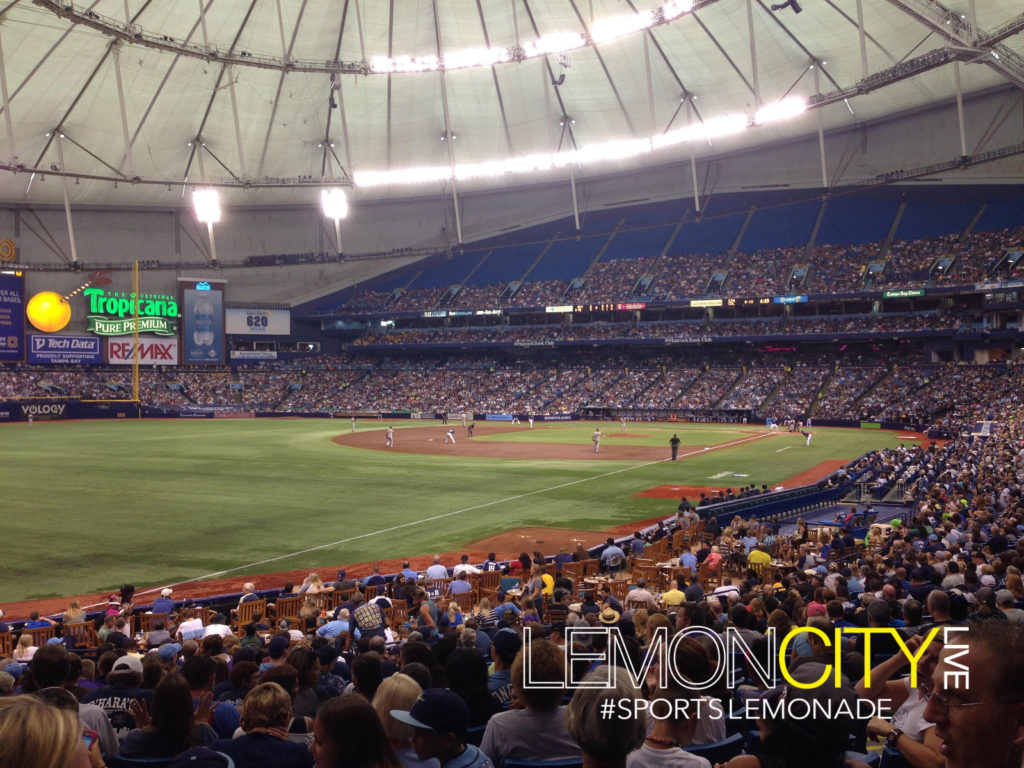 There were four of us at that game (Marky Mark, Great Mike Shark, Big Manny and myself) and while leaving a game early has never been my style, I was not alone, we were not in our city, and a Miami Dolphins pre-season game was taking place that was more meaningful to my cohorts. We really were going to head out of that game around the 8th inning, but we didn't. And Jeter didn't have to get another plate-appearance in that game, but he did. In the top of the ninth, the game was tied 2-2. Brett Gardner led off the inning and put the 8th pitch of his at-bat in play. A groundball to the right side was picked up by Rays second baseman Logan Forsythe and thrown badly to first, which allowed Gardner to go to second. Here comes Jeter. I will say this in advance, I could not have experienced a more Jeter-like moment if I had scripted it, you will soon see why.
With a man on second, top of the 9th, game tied, and no outs, Jeter squared up to bunt. This was no bluff, a man on third with one out would place the winning run a mere sacrifice fly or wild pitch away from scoring. He pulled back on a borderline pitch and it was a called strike. He squared up on the next three pitches as two balls and another called strike followed. The count now 2-2, Jeter was swinging away. He made contact on a 99 mph fastball to the right side headed for the hole between first and second. Just like Jeter to go opposite side, an aforementioned Forsythe came up just short on his diving attempt and the ball found outfield grass. Gardner sprinted around third and headed for home. In a tie ballgame, in the top of the ninth, in what would be my last chance ever to watch him play live, Jeter worked the count and hit an opposite-field game-winning RBI as the cheers became deafening in the ballpark the Rays call home. I mean, honestly, how can I even begin to make up a more perfect sports moment?
Derek Jeter's number 2 was retired this past Sunday, May 14th, 2017 at Yankee Stadium. During the broadcast, many of his glorious moments were discussed. The game-winning RBI in his last Yankee Stadium at-bat, The Flip against the Oakland Athletics, the homerun for his 3000th career hit, the dive into the stands, among many others. In an otherwise meaningless game, it pales in comparison to those other moments and not a lot of people will remember that mid-August game in Tampa Bay, but I will. In a totally perfect Jeter moment, he provided me with a memory for a lifetime. Thank you, Captain. #RE2PECT
The Lemon Drop is a weekly segment entertaining whatever the hell comes to the mind of Enrique Sierra, Jr. (Hipster Rick). Simply a sports lover that will forever own and cherish that Derek Jeter jersey. Please click back next Wednesday for more and feel free to comment or engage us through Twitter, Facebook, and Instagram.
(Visited 140 times, 1 visits today)