Mark Light Field, Coral Gables, Fla. – It was 21 years ago when I was a tall, skinny, lanky kid with a big head cruising the halls of my high school. By that time, any dream I had of playing in the majors was long gone. The only organized baseball bragging rights I had was a 7th grade Miami-Dade County District Championship in softball. I was LEGIT. Back in '96, the Miami Hurricanes played LSU in the College World Series Championship Game. Sadly, all Canes fans remember how that went. There was a runner on third base and two outs in the bottom of the 9th, when Warren "F*****G" Morris swung at the first pitch and hit a line drive homerun over the right field wall that ignited a celebration across all the bayous and parishes of Louisiana, and created a pile of Tigers at home plate. The blast also wrote a cinematic ending for a second baseman who had lost much of that season to injury. It was also his only homerun of that season. That lasting image of Alex Cora laying on the dirt, with his face of disbelief buried in his glove became forever burned in my memory. My face buried in my hands as I watched on TV at home. It wouldn't be the last time LSU would haunt me. More on that some other day.
Canes have rebounded nicely since then. Making 10 trips to Omaha and collecting two more National Championships along the way. The Canes closed out their season today vs Virginia Tech in front of a good sized crowd at Mark Light Stadium. Canes came into today riding a three game winning streak and looking to bust out the brooms vs the Hokies and finish the season strong. The scoring came in the form of a Johnny Ruiz 2-run monster dong in the 3rd inning. Canes held the lead until the 5th when the Hokies finally got to Miami pitcher Jesse Lepore. Tagging him for two earned runs after loading the bases and giving up a two-run double to Hokie second baseman Jack Owens, that just missed the glove of the diving Canes left fielder James Davidson. Another second baseman haunting the Canes? WTF? Miami escapes the inning tied at two. It stayed like that all the way until the 10th, yup, free baseball. Miami brought in Frankie Bartow to pitch the 10th and that didn't end well. Senior Rahiem Cooper doing his best Giancarlo Stanton impression, busted out his boomstick and crushed a 3-run bomb that landed somewhere near Opa Locka. His 12th of the season. Hokies took the lead 5-2.
Canes would not be deterred today. In the words of the great American movie President Thomas Whitmore:
"We will not go quietly into the night! We will not vanish without a fight!  We're going to live on! We're going to survive!"
Bottom of the 10th, Miami came out bats a blazing! Johnny Ruiz stepped up like a boss again and drove in two with a one-out lined single to left center. Following a two out walk to pinch hitter Nico Baldor, Miami third baseman and "Epic Bat Flip King" Edgar Michelangeli stepped up to the plate. What followed was nothing short of magical. With two strikes, Edgar almost knocked the cover off the ball and sent the 1-2 pitch, deep over the left center field wall and gone. BALL GAME!!! WALKOFF!!! CANES WIN!!! MONSTERDONG!!! Cue the bat flip! Suck it, Warren Morris!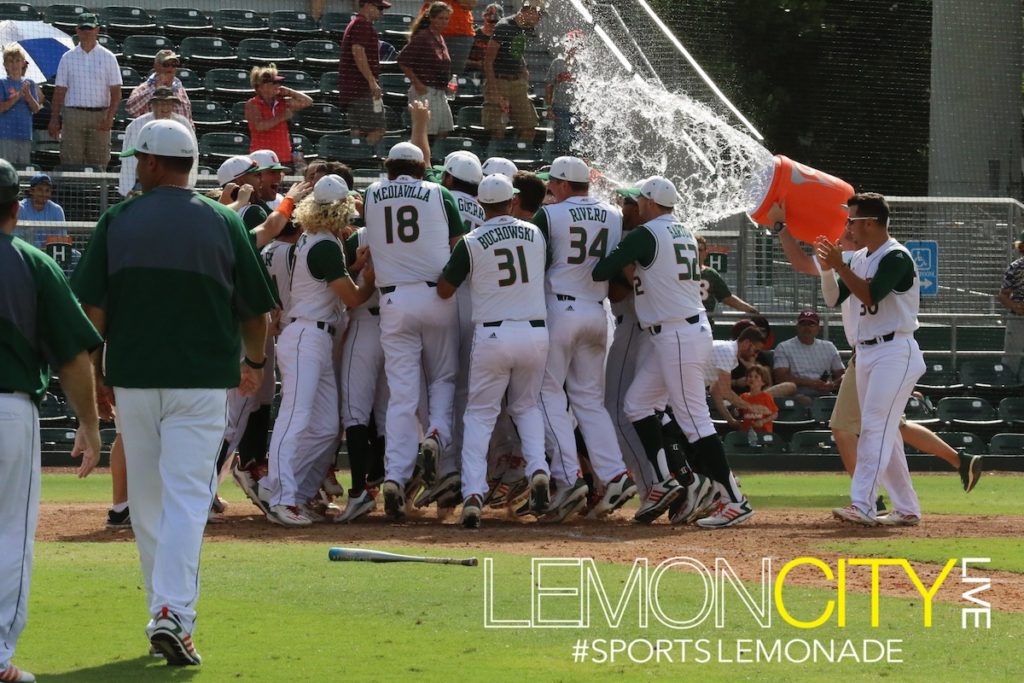 Canes win a thriller in Coral Gables and now head to the ACC tournament in Louisville Kentucky as the 6th seed and will face 3 seed Wake Forest. Canes finish the season with a 29-26 record (16-13 in ACC play). Good luck to the fellas in Kentucky, go Canes!
WALKOFF!!! BALLGAME!!! @CanesBaseball wins a thriller with a ⬇️10 #Walkoff 3-run bomb by @Edmiche16 #Sweep #ImNotAJinx!!! #CalledIt 💪🏻⚾️🍋🔥 pic.twitter.com/AVrqjJk3qU

— Lemon City Live (@LemonCityLive) May 20, 2017
For a complete photo gallery of this game, please CLICK HERE.
Don't forget to follow us on Twitter, Facebook, and Instagram.
(Visited 147 times, 1 visits today)
About Post Author