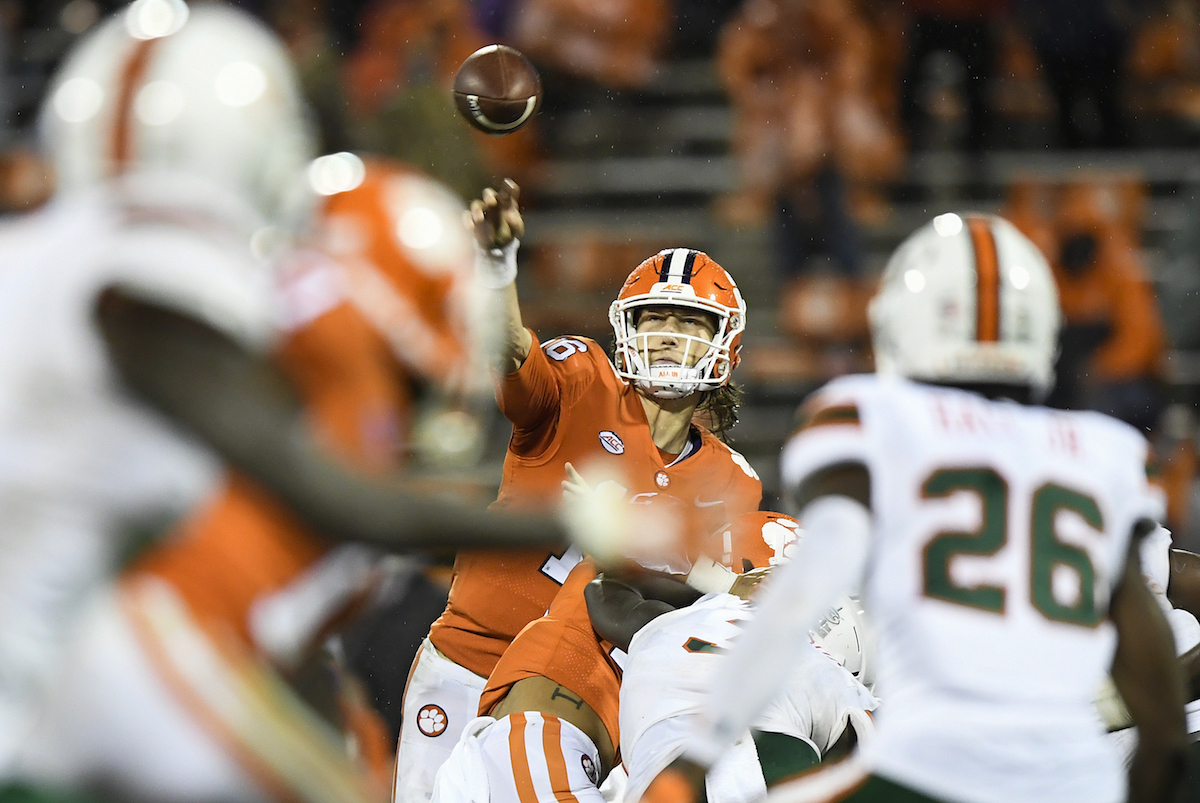 ---
Miami, Florida – The Miami Hurricanes went in with high hopes but were dealt a cold reality in Death Valley. The Clemson Tigers crushed them 42-17. Led by Trevor Lawrence who needs no introduction, the No. 1 team in the country took care of business at home. It was certainly an ugly loss for Miami. In the first half alone, out of five possessions, Miami was forced to punt four times with three drives being three and outs. In fact, the only reason UM had 10 points at halftime was because of a 42-yard field goal by Jose Borregales and a touchdown return by special teams. The Canes blocked a field goal in the waning seconds of the half with DJ Ivey picking up the loose ball for the 48-yard return.
"They're asking for a show, baby… they're about to get one."

Enjoy every second of his highlight… pic.twitter.com/bL4nEHIB1f

— Clemson Football (@ClemsonFB) October 11, 2020
D'Eriq King could not get anything going, held to just 121 yards in the air throwing two picks. He did get a rushing TD in the fourth quarter but by then it didn't matter. Speaking of, the ground game was nonexistent. Cam'Ron Harris got eight carries for three yards (not a typo) while King produced the lion's share for a team total of 89 rushing yards. Although this was largely due to falling behind early, forcing them to ditch the run. In the end, Miami had 210 yards total offense to Clemson's 550. Lawrence remained perfect, generating 292 yards and three touchdowns without throwing an interception. He also nabbed a rushing TD of his own. The junior's only blemish was the fumble he lost early in the third quarter. Travis Etienne had 17 carries for 149 yards, getting the Tigers two more scores.
Clemson had 34 first downs to Miami's nine. They dominated time of possession (38:23-21:37) and won the turnover battle showcasing they are still the best in college football.
Final Thoughts
There ain't no way how to dress this. It was a bad loss for Miami. The Hurricanes tumbled six spots to No. 13 in the AP Top 25, tied for the largest drop in the rankings this week. The matchup between ACC rivals clearly showed UM is not at the level they want to be. Not even close. Falling to 3-1 (2-1, ACC) the Canes will need to shake off the loss, turn the page, and get back to work. They host Pittsburgh and then Virginia, two teams they can bounce back on.
As tough as the defeat was, the team has the tools to overcome this. The U is not back but it is strong and with coach Manny Diaz at the helm, they just have to reload for the next one.
That 4-0 feelin' 😁 pic.twitter.com/P0FuO4HCjU

— Clemson Football (@ClemsonFB) October 11, 2020
(Visited 16 times, 1 visits today)