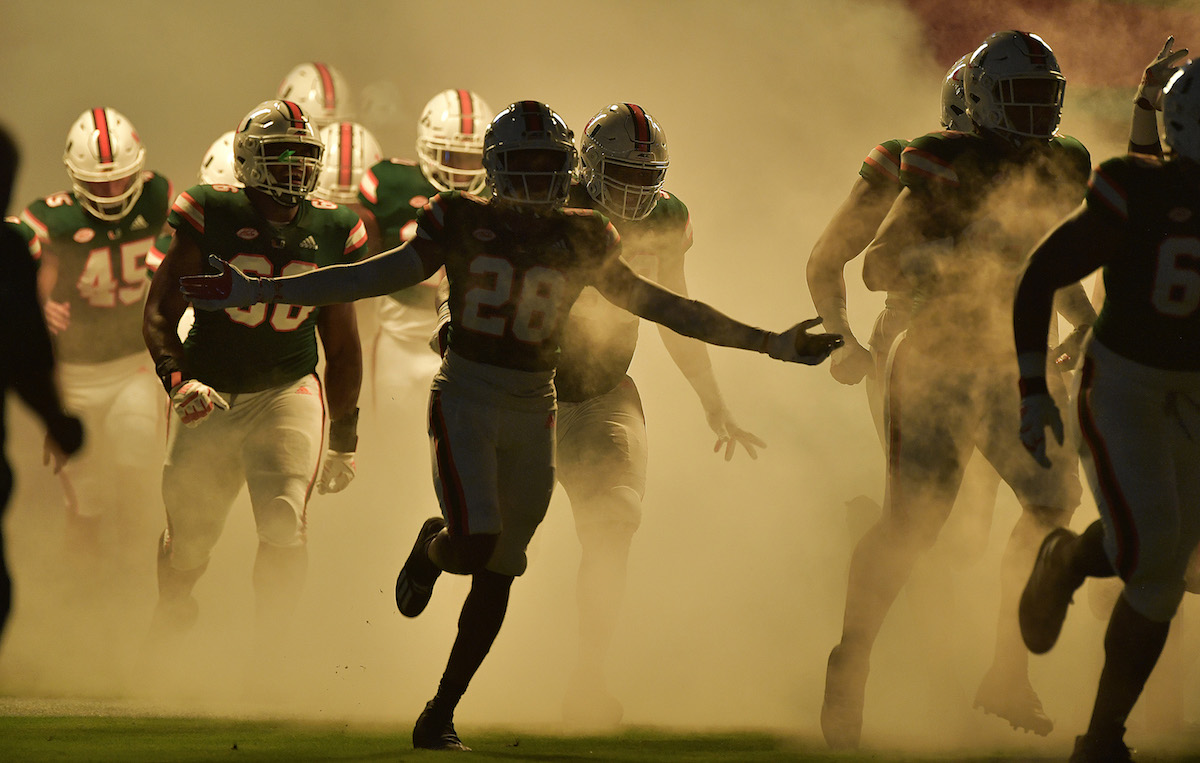 ---
Miami, Florida – It's the game everyone's been waiting for since they released the reworked 2020 schedule: the Miami Hurricanes against the Clemson Tigers. The marquee matchup will be the Hurricanes' third straight primetime game, facing the top team of the nation. Rising as high as No. 7 in the AP Top 25, UM now has the chance to bring down a behemoth. Equipped with both an elite quarterback and running back, the Tigers are Miami's litmus test on their progress under coach Manny Diaz. Is the U back? Not yet. A win here will definitely encourage the conversation but make no mistake, this is an uphill battle. In 2015 the Canes were destroyed 58-0 before getting creamed again 38-3 in the 2017 ACC Championship game.
What a weekend! #ThrowbackThursday to the 2017 Dr Pepper ACC Football Championship Game! #ACCFCG #ACCFootball pic.twitter.com/U2ppAN3YxA

— ACC Football (@ACCFootball) December 7, 2017
Clemson is coming off a 41-23 victory over Virginia. The Canes, meanwhile, enjoyed a bye week after obliterating Florida State 52-10 two weeks ago. In 2020, the Tigers are averaging 42.3 points per game with 1432 yards of total offense (Rush: 484, Pass: 948). That's roughly 6.8 yards per play.
Even keeping it close in Death Valley will be considered an achievement. The Tigers are heavily favored and while the outcome is by no means guaranteed, UM's is staring at long odds. Let's take a look at some of the playmakers of both sides.
Players To Watch
Clemson Tigers
Trevor Lawrence (QB) – This is the guy on everybody's radar. The Heisman Trophy hopeful is the face of the team and for good reason. Trevor Lawrence started the last 11 games in the 2018 season as a true freshman, helping Clemson become the first major college football team in the modern era to go 15-0. He also became the first true freshman quarterback to lead his team to a national championship title since 1985. So far he's thrown for 848 yards including seven touchdowns and zero interceptions. As good as the numbers are this year, he faces a real, formidable defense for the first time in 2020.
Top Plays: Clemson vs. Virginia 🐅🐾 pic.twitter.com/RGwlwjJ7FJ

— Clemson Football (@ClemsonFB) October 5, 2020
Travis Etienne (RB) – If for whatever reason the Tigers struggle in their air, they can always try to pound the ball on the ground. Travis Etienne is a very explosive running back, setting all sorts of records in 2018 and 2019. Thus far Etienne has 39 carries for just over 240 yards and two TDs. He's averaging 6.2 yards per carry and 81 yards per game making him another threat for Miami to worry about. Etienne is full of athleticism, winning back-to-back ACC Player of the Year awards. Don't let him find an open lane, otherwise, be prepared for a very long night. On third down conversions Clemson has a 55% success rate, going 24-for-44.
One question… How?

🌪 @swaggy_t1 pic.twitter.com/5ldBK9U6SZ

— Clemson Football (@ClemsonFB) October 4, 2020
Myles Murphy (DE) – This freshman can hit. Myles Murphy has about 15 tackles on the year including five Tackles For Loss, two sacks, and a forced fumble. Opposing O-lines haven't been too impressive (Virginia, The Citadel, Wake Forest) but it will be interesting to see how he does against Miami's. With that said, this defense is no joke. While the offense has outscored opponents 127-36, Murphy and company have collected 13 sacks in 2020. Teams are 14 of 49 on third down (29%) and the Tigers have yet to surrender a point in the first quarter this year.
B.T. Potter (K) – High scoring or not, IF it's a tight game keep an eye on the kicking. B.T. Potter has been flawless, going 5-for-5 when it comes to field goals (most from 40+ yards) with his longest this year being 52 yards. Potter has nailed all 16 point-after-attempts.
Miami Hurricanes
D'Eriq King (QB) – No stranger to the limelight, D'Eriq King will have to match Lawrence blow for blow. Let's see how Clemson's defense reacts to the dual-threat. If things get dicey in the pocket, King can always effectively scramble to find an open man or keep the ball to himself and gain some yards. Interceptions (if any) need to be at a minimum. In fact, Miami can ill afford to turn the ball over. Clemson has recorded multiple sacks in 25 of its last 26 games.
On Saturday, there was a calmness in the air.

An understanding, for 60 minutes, we had to take care of business.

Well, we took care of it. pic.twitter.com/WewxUKsZ3q

— Canes F😷😷tball (@CanesFootball) September 28, 2020
Cam'Ron Harris (RB) – The Tigers' defensive front will definitely apply pressure on King, but they face an O-line that's been highly effective this season. Cam'Ron Harris will need to step up, showing the offense is not a one-trick pony. Harris has rushed for 311 yards and 5 TDs. While many say this is King's game (and they're right) you get those yards any way you can.
Amari Carter (S) – With Gurvan Hall sitting out the first half due to targetting versus FSU, the task falls to the other safeties. Amari Carter leads the team in tackles (19) with 18 TFL. Trevor Lawrence has not thrown an interception in almost a year.  Alongside Bubba Bolden, the goal will be ending Lawrence's streak that now stands at 314 passes without a pick. His last interception was back on October 19, 2019, against Louisville. He threw two of them.
Al Blades Jr. (CB) – Speaking of, there's another guy wanting to end Lawrence's perfection busting out the Turnover Chain. Al Blades Jr. leads the team with two interceptions and will also be on the prowl as the secondary will try to stop the Tigers from repeatedly marching down the field. Lawrence's streak is the third-longest in ACC history and the defense will have to be all over Amari Rodgers and Frank Ladson Jr., the QB's go-to targets.
No. 3 is just getting started!

🔥 @arodgers_3 pic.twitter.com/VTimNEn73l

— Clemson Football (@ClemsonFB) October 7, 2020
(Visited 36 times, 1 visits today)