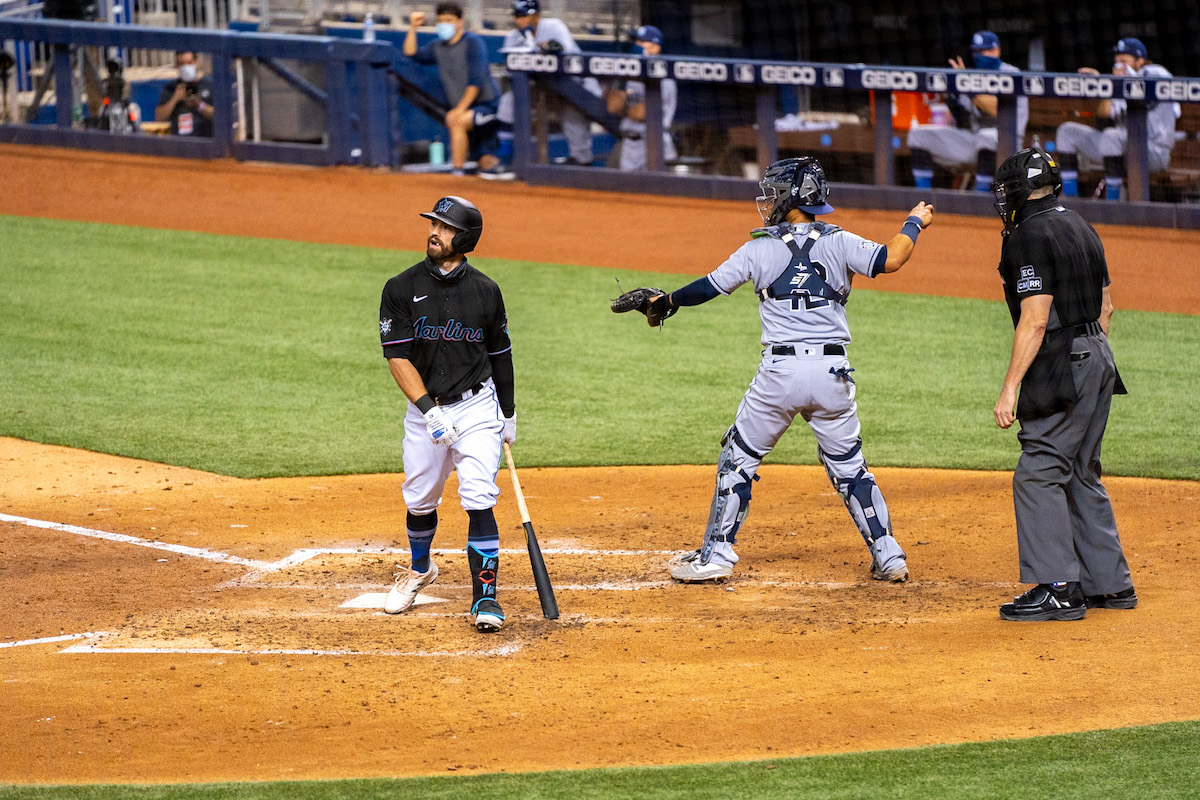 ---
Miami, Florida – Miami's bats finally came alive but it was not enough. On the strength of four home runs, the Tampa Bay Rays sweep the Marlins to take the Citrus Series. Sandy Alcantara returned from the IL (COVID-19) for his first start since Opening Day but the Fish still lost 12-7. Shaking off the rust he was taken deep twice including the first batter he faced. The red hot Rays tacked on two more runs in the fourth before breaking the game open in the fifth.
Tampa Bay loaded the bases ending Alcantara's start, bringing in Robert Dugger who was also returning from COVID. Willy Adames gave him a brutal welcome back via a demoralizing grand slam. Hunter Renfroe hit an RBI double and Kevin Kiermaier smacked a two-run blast to cap off a seven-run fifth, putting the interstate rivals up 12-1. Despite the eye-popping score, the Fish did not go quietly.
Willy Adames – Tampa Bay Rays (4) pic.twitter.com/ovrvSENujM

— MLB HR Videos (@MLBHRVideos) August 30, 2020
Breaking out the lumber, Lewis Brinson and Garrett Cooper hit solo shots chipping away at the lead. Miami had their own big inning in the seventh. Cooper lined a bases-clearing double before being driven in by Matt Joyce who was pinch-hitting for Brian Anderson. Tampa made a pitching change, subbing in Aaron Slegers for Anthony Banda retiring the next three batters. Miami didn't record a hit after that.
The finale of the Battle for Florida was all Rays from start to finish, capping off a very disappointing series. The Marlins' offense was woefully anemic for much of the weekend, squandering quality starts from Pablo López and Sixto Sánchez on Jackie Robinson Day. The interstate rivals wore 42 on their jerseys during the entire slate in honor of the first African American to play Major League Baseball, breaking the decades-old color line.
Dismantling Division
On Friday, the ballclub announced a $420,000 donation to the Jackie Robinson Foundation establishing an annual scholarship. Celebrated later than usual, Jackie Robinson Day comes at a time of great political and social upheaval. Athletes across sports in recent years have taken a stand, joining protests against police brutality. In the wake of the shooting of Jacob Blake in Wisconsin, the New York Mets and Miami Marlins walked out of their respective dugouts, lining up to give 42 seconds of silence before leaving the field. Lewis Brinson stood near home plate (slotted as the leadoff hitter) eventually draping the batter's box with a Black Lives Matter shirt. Similar actions were taken across MLB and in other leagues.
Enough. pic.twitter.com/25SnNMCfBu

— Miami Marlins (@Marlins) August 27, 2020
Some folks voiced their displeasure, which is fine since it's their right to express their opinions. The rub though is they mistakenly think that these players, due to being entertainers, should not be doing this. Trouble is, the athletes have as much of a right to voice their views as anyone else. They certainly earned it. For many, it's to raise awareness bringing up the question of why since it's an issue that's been front and center. It's more making the people aware that these unjust actions will not be tolerated, nor should they be. Like they say, out of sight out of mind. History shows no movement worth pursuing gets anything done if it just stops midway.
On the Shoulders of Greats
Sometimes it takes a very uncomfortable, in your face moment to appreciate the gravity of the situation. The poignant passing of Chadwick Boseman to colon cancer, the same disease that claimed my father, caused me to revisit the film "42". Watching the movie I am reminded of Boseman's greatness as an actor well before we called him T'Challa or Black Panther. I am also reminded just how much Jackie Robinson had to put up with. Detractors looked for anything to bring down Robinson, even heckling to get a rise out of him so they can say he didn't belong. It's what they do you know, demonize. One only needs to look at social media to see how people dehumanize an entire movement because of a radical minority.
In honor of #JackieRobinsonDay,The @marlins and Marlins Foundation are proud to announce a $420K donation to the @JRFoundation.

This will award an annual scholarship in perpetuity to an outstanding African American student from South Florida. #MarlinsImpact https://t.co/VKVj2KYLKY

— Marlins Impact (@MarlinsImpact) August 28, 2020
This sort of adversity is what everyone can relate to, player or no. When people tell you it can't be done, that it's impossible. When you're told to give up. Folks get so used to the status quo, they think there's no other way. So when the world says why it's important to ask why not. Jackie Robinson certainly did. The film serves as a perfect example of overcoming prejudices based on the mere color of your skin. It also serves as a reminder of the systemic racism that permeates to this day in society.
Justice. Equality. Respect. Due process. Liberty. Freedom. Ask any player on why they speak out, even kneel and these are some of the answers you'll get. They do it knowing it will draw criticism and more. But to many, themselves most of all, it's the right thing to do. As such, I tip my cap off to the athletes and coaches who take a stand against what they see as an injustice.
Photo Credit | Danis Sosa
(Visited 281 times, 1 visits today)