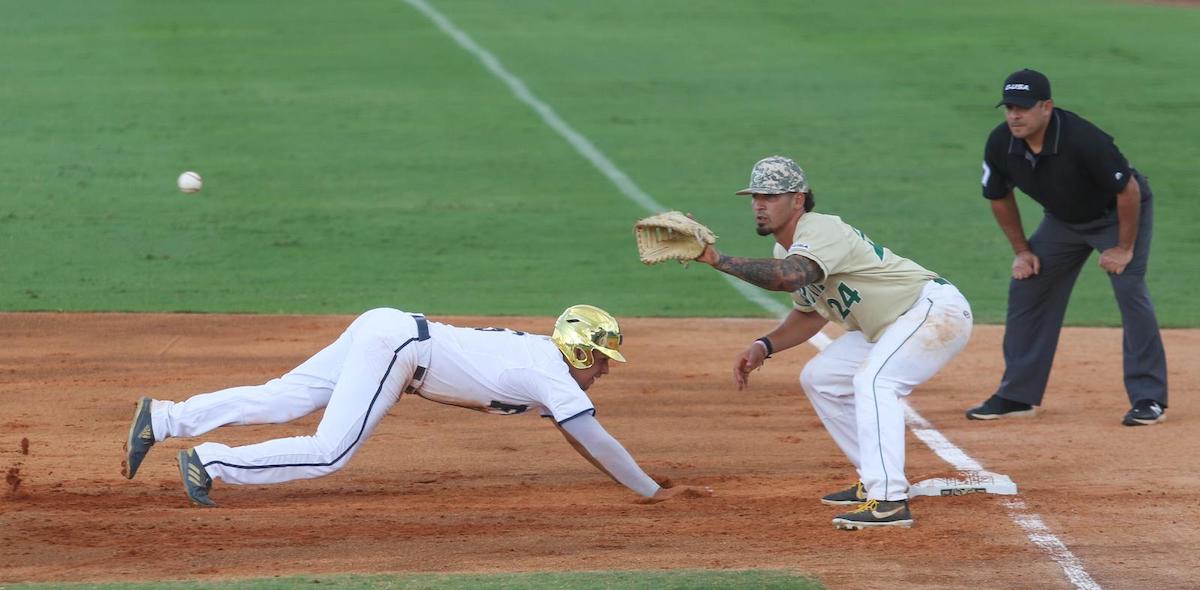 Miami, FL – The FIU Panthers suffered a demoralizing loss on "90s Night" Saturday, blowing a five-run lead as the Charlotte 49ers completed their incredible comeback in a game that lasted nearly five hours and amassed an eye-popping 43 hits. The Panthers collapsed late, sending it into extras at FIU Baseball Stadium. Nick MacDonald (3-3, 3.93 ERA) toed the rubber against Bryce McGowan (2-5, 5.04 ERA), he would not factor into the final outcome.
Charlotte got on the board first after center fielder Todd Elwood made it to second base via a throwing error to first by shortstop John Rodriguez. Harris Yett followed up with an RBI-single, getting thrown out at second, scoring Elwood on the play.
We're underway at FIU Baseball Stadium, the @FIUBaseball Panthers will look to even the series against @CharlotteBSB. Nick MacDonald (3-3, 3.93 ERA) will face off against Bryce McGowan (2-5, 5.04 ERA).

— Gabriel Garcia (@Gabewritesports) April 27, 2019
FIU countered in their half of the first. Austin Shenton singled to tie it up, scoring leadoff man Derek Cartaya. The momentum remained with the home team as the Panthers added two more runs the following inning. Shenton went DEEP to leftfield only to get robbed by Drew Ober. Rodriguez tagged up from third. While Javier Valdes was at the plate, Yett made a snap throw to third base trying to pick off Jarrett Ford, missing the mark. Ford took advantage of the defensive miscue and sprinted 90 feet home to put the blue and gold up 3-1.
Over in the fourth inning, Florida International brought out the lumber. Valdes knocked his eighth rounder-tripper of the season, scoring Shenton to make 5-2 FIU.
It was in the second half of the game where things started to get really interesting.
Panthers starter Nick MacDonald was cruising until he ran into problems in the sixth. Yett kicked things off with a double down the leftfield line, moving into scoring position. He advanced on a passed ball by Valdes. Rafi Vazquez flew out to center, allowing his teammate to score on the sac fly. This sequence would repeat itself to the Panther's detriment much later on. The 49ers struck again when Dominick Cammarata doubled off MacDonald, scoring Carson Johnson to put Charlotte within two. MacDonald recovered to strike out Austin Lynch to end the rally.
The Panthers had a chance to put some more distance between them with runners at second and third in the bottom of the sixth but Juan Teixeira grounded out to the pitcher, keeping it a two-run game.
FIU got a major break the following frame when a bloop from Elwood narrowly landed foul beyond third base. Had it been fair, Charlotte would of more than likely had a runner at third with one out. The outfielder ended up grounding into a double play.  That same inning, Ford singled right up the middle, scoring Rodriguez to make it 7-4. Cartaya and Luis Chavez added two more insurance runs.
Despite the high run output and nearly 20 hits, the Panthers the 49ers hung around, scoring two in the eighth on both an error and a wild pitch and three more in the ninth to tie the game.
Jan Figueroa went in to close the game but struggled to seal the deal. After giving up two straight base hits Tommy Bullock popped out to right, advancing the runner to third. Figueroa retired the next hitter with a groundout but Austin Lynch scored to make it a two-run game.
The 49ers stayed alive when Yett singled past second base, bringing Charlotte to within one. Another passed ball moved the tying run to second, it would haunt FIU. Vazquez pounced on Figueroa with a single down the rightfield line, sending the game into extras.
The Panthers had a golden opportunity in the 13th inning with both runners in scoring position but their chance fizzled as Rodriguez grounded out to end the frame.
Charlotte broke the deadlock in the 14th inning with a sac fly deep to center from Rafi Vazquez, scoring the eventual winning run.
FINAL | Panthers fall in extras.

FIU 9, CHA 10#PawsUp 🐾 pic.twitter.com/aDGEsiAKCa

— FIU Baseball (@FIUBaseball) April 28, 2019
The 49ers improve to 16-25-1 (7-12-1 C-USA). The FIU Panthers drop to 17-25 (7-13 C-USA).
As part of "90s Night" at FIU Baseball Stadium, several old school songs were played including Backstreet Boys, N*Sync, Christina Aguilera, Aerosmith, that music from Space Jam and … Barney. Yeah the AOL Discs were out tonight. There was even a moment where they blasted the old dial-up sound. Talk about going back in time.
Game Notes
FIU ended the night scoring 9 runs on 20 hits and 2 errors.
Charlotte finished with 10 runs on 23 hits and 2 errors.
Derek Cartaya went 4-for-7 with 2 RBIs and 3 stolen bases.
Jarrett Ford went 5-for-7 with an RBI.
FIU struck out 11 times, stranding 14.
Game time: 4 Hours, 53 Minutes
Gus Bus Award
Javier Valdes gets the award although it's a very hollow victory. He went 2-for-3 with a HR, 2 RBIs and a swiped bag.
You're Killing Me Smalls
The relief corps really dropped the ball on this one, Christian Santana and Jan Figueroa let the team down.
[envira-gallery id="16934″]
(Visited 102 times, 1 visits today)