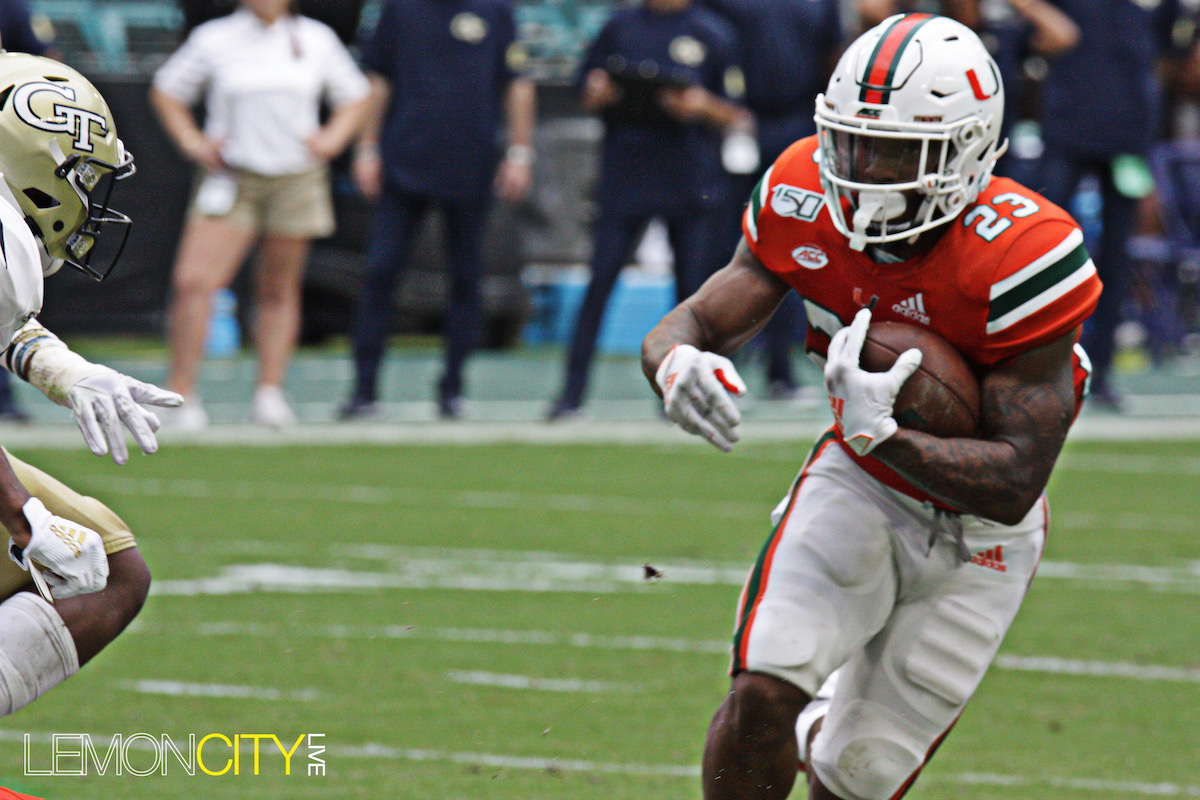 ---
Miami, FL – It's the second game of the young season and UM Football's first test. The Miami Hurricanes will play the Louisville Cardinals on the road. The conference matchup is their first on the schedule and hopes to be highly entertaining. Last year, the Canes arguably played their best game of 2019 crushing the Cards 52-27. But as they say, that was then and this is now. Miami will need to play aggressively on both sides of the ball, defense especially. It's expected this is the week the Turnover Chain makes its 2020 debut. Confidence is high going into Saturday's primetime game as both teams are now ranked, one after another. UM is No. 17 and Louisville is No. 18 respectively, making it one of the events to watch this weekend. Here are the players to keep an eye on with some previously mentioned.
Players To Watch
Louisville Cardinals
Defense: 
Rodjay Burns (OLB) – Burns was second on the team in tackles last year recording 83 already drawing a sack against Western Kentucky. Interestingly enough, he only had two sacks last year but the redshirt senior looks set to easily surpass that mark. When the defense launches their blitz you can count on Burns being in the mix, pressuring the quarterback anyway he can.
Highlights from the season opening win on Satterday night.#GoCards pic.twitter.com/1RXWAaUXgK

— Louisville Football (@UofLFootball) September 13, 2020
C.J. Avery (ILB) – If you think Rodjay Burns was the only threat on defense you would be wrong. Avery led the team with 93 tackles and three sacks. Named Louisville's top defensive player in 2019, if the Hurricanes' offensive line does not keep him in check they could be in for a rough go.
Monty Montgomery (ILB) – Rounding out the trio, Montogomery led the team in sacks last year with five. He already recorded two against WKU and also three Tackles For Loss. Monte Montgomery transferred from Hutchinson Community College in 2019 and has been touted as a fierce pass rusher, adding another dimension to the Cardinals' defense.
Offense: 
Tutu Atwell (WR) – Last year Atwell was tied for the second-most touchdowns in the ACC, tallying 12 TDs while leading the conference with 1272 receiving yards. The junior is one of two deep threats Louisville can utilize against Miami's secondary. In the season opener, he caught seven passes for 78 yards.
Dez Fitzpatrick (WR) – He led the team in receptions against the Hilltoppers, catching four passes for 110 yards and a touchdown. Fitzpatrick played in all 13 games last season, catching 35 passes for 635 yards and six touchdowns. The redshirt senior is another target for Micale Cunningham who threw for 343 yards and three scores (1 INT) to begin the season.
😳 @dezfitz8 😳

💻: https://t.co/X9zzpP3Ltp#GoCards pic.twitter.com/FIR3tL7JrW

— Louisville Football (@UofLFootball) September 13, 2020
Javian Hawkins (RB) – Recording his first rushing TD of the year, Hawkins accumulated the third-most yards in the ACC (1525 yards) in 2019. It's also the most by a running back in school history. Notching 9 TDs he averaged 117.3 yards a game, making the redshirt sophomore a cornerstone to the team's ground strategy. Hawkins didn't hit the centennial mark against WKU, achieving 19 carries for 71 yards, but he's registered eight 100-yard rushing games in his career.
Miami Hurricanes
Defense:
Bradley Jennings Jr. (LB) – As a sophomore, he saw some action playing four games collecting eight tackles and one fumble recovery. Jennings Jr. sat out 2019 recovering from offseason surgery making the 2020 season opener against UAB a special one. The redshirt junior made his presence known, leading the team with six tackles and two Tackles For Loss.
Unfortunately, we did not get to see this year's turnover chain last night. If this chain is not what it looks like it should certainly be the look of the 2021 chain! LOL! GoCanes! pic.twitter.com/93K742VdpO

— Mark Richt (@MarkRicht) September 11, 2020
Quincy Roche (DL) – A redshirt senior from Temple, he totaled 137 tackles, 39.5 TFL, and 26 sacks in the past three seasons. Last year Quincy Roche earned the American Athletic Conference defensive player of the year award and has already nabbed his first sack (27th in his career) as a Hurricane. He'll get plenty more this year, definitely watch him going forward.
The Cornerbacks: Kinda cheated on this one by picking two. Many will be watching Te'Cory Couch and DJ Ivey, especially on how they deal with Louisville's Receiver Corps. This area has a degree of uncertainty when it comes to starting jobs and depending on player performance if the coach sees them struggling, get ready to see some changes. 
Offense:
D'Eriq King (QB) – He can hurt you in the air and has the legs to do the same on the ground. D'Eriq King has strong awareness in the pocket and once it collapses he'll scramble to dig out some extra yards to help his cause. The redshirt senior from Houston collected both a passing and rushing TD versus UAB, looking ready to show why the top brass has so much faith in him as the signal-caller.
.@DeriqKing_'s first TD as a Miami Hurricane! pic.twitter.com/OCJc8ATt1W

— Canes F😷😷tball (@CanesFootball) September 11, 2020
Cam'Ron Harris (RB) – Get ready, Harris and company torched the Blazers with over 330 yards rushing and can very well do the same at The Ville. The junior from Opa-Locka, Florida had 17 carries for 134 yards and two scores averaging a hot 7.9 yards per carry. Can he repeat these numbers? You bet. While this ACC rival is on a higher level than UAB, Cam'Ron Harris might hit the centennial mark again.
Brevin Jordan (TE) – We didn't see a lot of Brevin Jordan in the season opener, but he made it count. Tied for most receptions with just three, he dug up 51 yards and most importantly scored a touchdown. UM went with an overwhelming ground attack but this can change against Louisville, especially with Burns, Avery, and Montgomery, if the Canes air it out the hope is Jordan gets more involved. If he does, you might see him in the endzone more often.
That's good for 6️⃣! Hope to see this a lot more…

📺: @ACCNetwork | 👀: https://t.co/f3SDvxl9FU pic.twitter.com/5Atkzy1j6G

— Canes F😷😷tball (@CanesFootball) September 11, 2020
(Visited 55 times, 1 visits today)