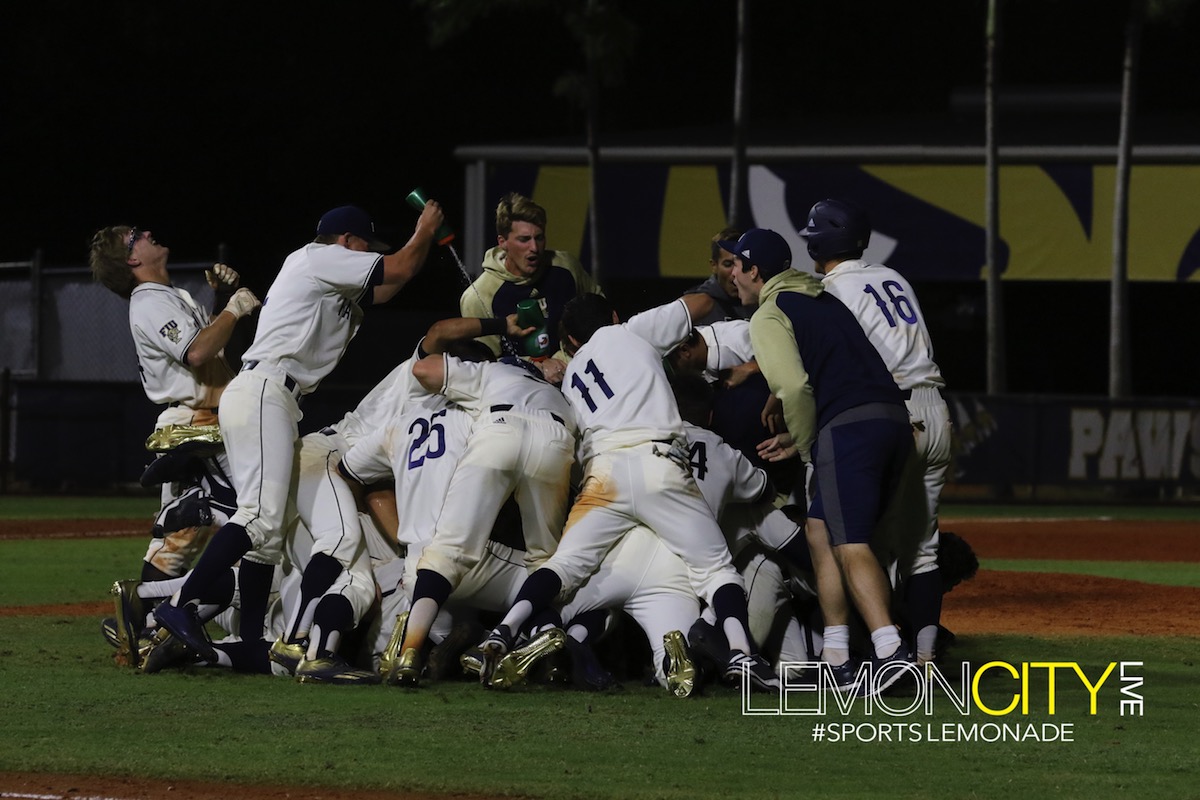 With the clock ticking down towards the commencement of the long awaited college baseball season, our FIU Panthers are brimming with optimism, eager to hit the field to lay claim to being the top dog in the conference. With plenty of questions facing the team, here are some of the storylines for the 2018 season:
Laying foundations
After finishing at .500 during conference play (15-15) and a winning record overall (31-27), FIU has a slew of new faces making up more than half the roster. Let's be real, we're not exactly a powerhouse, but with a Top-15 recruiting class this program is more than ready to make some noise. In fact, our recruiting class includes a gem by the name of Logan Allen, C-USA Preseason Freshman of the Year according to D1Baseball.com. After his Senior year at Orange City University High, Allen was awarded the 2017 Florida Gatorade Player of the Year. And with good reason, during the state semi-finals, he not only threw a no-hitter, but went 2 for 4 going yard once and collecting 4 RBIs. My condolences to Miami Palmetto. One more delicious bit of stats: He went 13-0 during his senior year with a 0.35 ERA. High school or not, that's HUGE!
Logan Allen tabbed Preseason C-USA Freshman of the Year by https://t.co/Ks2BNo0GuB https://t.co/zVrojfznym

— FIU Baseball (@FIUBaseball) January 31, 2018
Rivalries Oh my!
We all love a good rivalry. And I think FIU sent a message to the Canes after winning the season series last year. However, can they do it again? Was it a fluke? The team will have no shortage of juicy match-ups as they go up against the likes of Florida Atlantic, Old Dominion, Charlotte, Southern Mississippi and defending champ Rice. All indicators point to a competitive team vying for the top 4 this season. Move over Owls, it's the year of the Panther. And for anyone wondering about the overall series between the Canes and FIU, despite winning 3 out of 4 last year (Including a 12-1 beat down) as expected UM, regardless, dominates 93-27. This series goes back to 1973 by the way. Time to make up some ground, right? They aren't THAT far ahead.
BallGame! #Walkoff! @FIUBaseball pic.twitter.com/Ym51FUUfqH

— Lemon City Live (@LemonCityLive) March 9, 2017
The Big 3
So you know about Logan Allen, but have you heard about Christian Santana and Jose Garcia? They're all freshman, part of the new core the Panthers hope to mold into a force to be reckoned with. This trio is also among Conference USA's Top 10 Newcomers, by Baseball America. Tapped as the No. 2 in the conference, the righty (Santana) pitched the year before at American Heritage, posting a tiny 0.82 ERA. High school, college, it don't matter, that is impressive. Santana was drafted by the Milwaukee Brewers last summer but opted instead to play here in sunny South Florida. The hurler is expected to both start and work out of the bullpen for the team this season, which brings me to the next rising star. Garcia is seen as the No. 4 freshman in the conference, bringing a mean bat that even mighty Casey would tip his cap to. Hailing from Doral Academy, the young backstop earned both Hitter of the Year AND Class 7A Player of the Year in 2017. His high school stats speak for themselves, a .480 average with 28 Homers and 145 RBIs. While he'll be splitting time with fellow teammate Javier Valdes behind the plate, I still expect great things from him. I expect great things from all of them.
Trio of Panthers Named Top C-USA Newcomers by Baseball America; MacDonald & Myrick also honored https://t.co/Xu4HQKA9U7

— FIU Baseball (@FIUBaseball) February 8, 2018
Retirement or contract extension?
While not closely related to Panthers baseball, their performance this season might influence the fate of FIU Athletics Director Pete Garcia. Garcia was set to retire in July, but now he is looking for a contract extension, according to the Miami Herald. He's been the school's athletic director since 2006, during his over decade-long tenure there have been many struggles by Panthers sports teams, though to be fair a few successes and signs of hope. One of those signs? The baseball team. While there are certainly high points within the men's soccer as well as women's tennis, beach volleyball, golf, swimming and diving teams, baseball may be a factor in tipping the scales towards or away Garcia's future with the university.
BREAKING: Opening weekend starters have been announced! Myrick, Allen and MacDonald will take the mound vs. MIZZOU. First game; Friday at 7:00 p.m.🐾🆙 pic.twitter.com/XSO3yCK0Z7

— FIU Baseball (@FIUBaseball) February 15, 2018
This team has incredible glimmers of hope with whispers of success all around them. Whispers that can turn into a loud, triumphant roar. Just look back to 2015, they entered the conference tournament as the No. 8 seed and won it all. The very first time an 8th seed achieved such a feat. Whether we can regain that magic this season remains to be seen but make no mistake, the boys are motivated and they're absolutely hungry to win.
(Visited 142 times, 1 visits today)