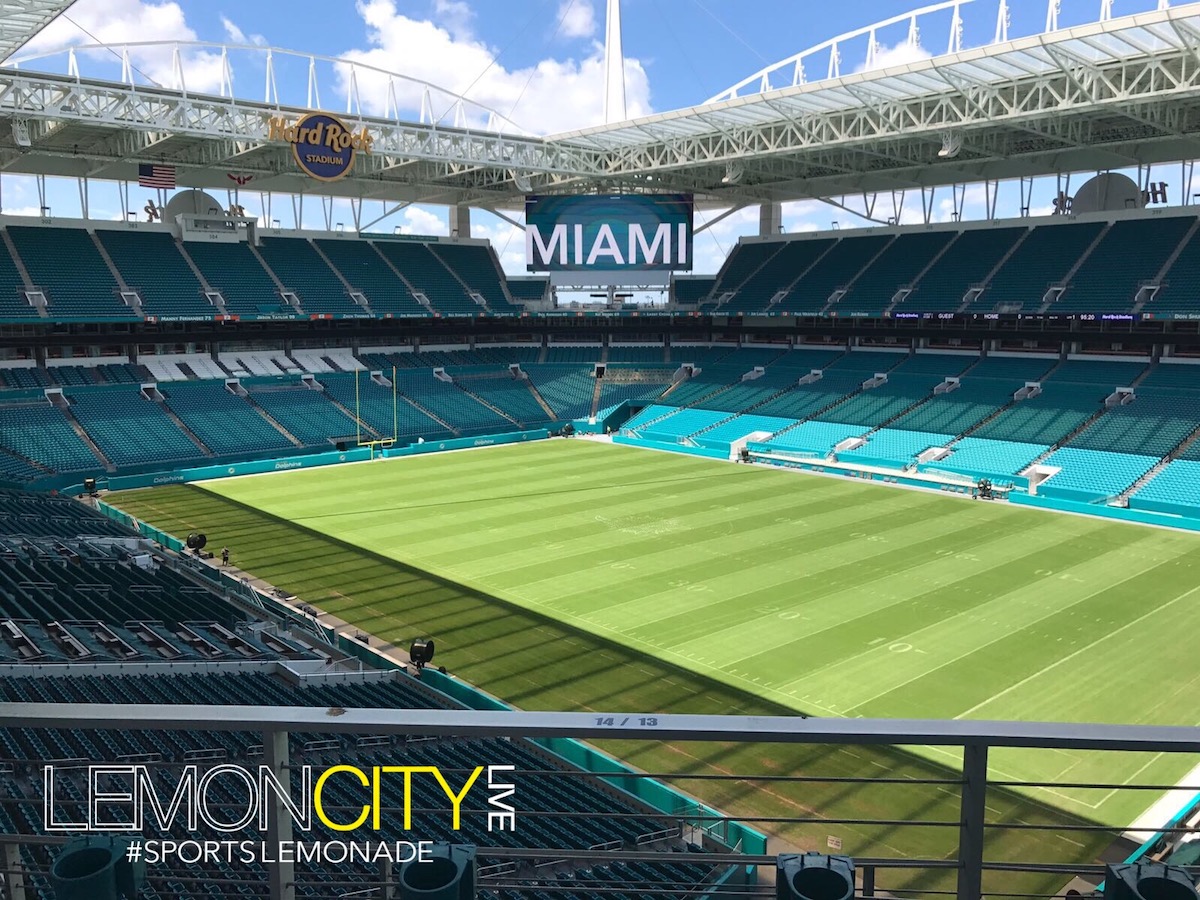 With Ryan Tannehill's season on the line, the question became: What now? The team had Matt Moore as the backup and third stringer Brandon Doughty from Western Kentucky. The Dolphins knew they couldn't go into the season with just 2 QB's, especially with the reality that all it takes is for one member of the O-line; A guard getting overpowered or an offensive tackle charged with protecting the quarterback's blindside to miss his assignment, to result in a catastrophic injury. Heck, players get hurt in non-contact plays just by cutting or with a bad step. It happens, and it happened to Tannehill, it's the inherent danger in sports. So the team did exactly what was expected of them, they found themselves another quarterback and signed Jay Cutler.
Jay Cutler takes the field for the first time with the @MiamiDolphins! 🐬🐬 #NFLTrainingCamp pic.twitter.com/Y8yU7XfLQE

— NFL (@NFL) August 8, 2017
So prior to the beginning of the Cutler era in Miami, several players were being tossed around both in the media and on the internet. Here were some of those mentioned:
Tony Romo
Johnny Manziel
Tim Tebow
Uncle Rico
The first three aren't viable, neither were the last two. Tony Romo was in no way getting out of retirement and depending on what we wanted to do with Moore, Romo was not going to play second fiddle and even less get paid as a backup. Throw in his significant injury history, and you got yourselves a liability. Even if Romo was somehow dragged out of retirement, it would've been for a team that has a rather airtight O-line (Texans, Broncos?). As for Mr. Manziel, I like redemption stories but this kid is too far gone and he just wouldn't be a right fit for the team. From casual observation, discipline is something all coaches look for and given the guy's penchant to party like he's still in college, Dolphins coach Adam Gase would have his hands full. Not to mention quarterbacks need leadership abilities and from what I've seen Manziel would not be a good leader neither on the field nor in the locker room.
Now here comes my favorite guy out of Florida University baby, Timmy Tebow. While the possibilities were hilariously interesting, like picturing this guy wearing a dolphins jersey, Tebow is now committed to baseball and frankly, he should stick to it. Who knows maybe he'll make it to Triple-A in a couple of years, if not sooner. A man can dream.
Dolphins Considered Signing Tim Tebow https://t.co/in6ZwL3Ets pic.twitter.com/Na7Lqt4HTc

— BlackSportsOnline (@BSO) August 6, 2017
So now that we've separated the chaff from the wheat, let's get down to the two legitimate candidates and why Cutler was the better choice. Starting with Colin Kaepernick: The guy led a team to the Super Bowl, calling it a fluke is an insult to the magnitude of both the game of football and everything the championship stands for. And I doubt his opponents on the other side of the ball call it a fluke. Regardless, with the right coach and the right system a QB can go from mediocre to great. Just ask Matt Cassel when he played in Bill Belichick's system for the Patriots. But let's be honest, this isn't about his performance. This isn't about his career. This isn't about his stats. It's pretty much to do with his views.
Cutler meanwhile, like Romo, also retired and planned to go into broadcasting. When he got the call up he was busy preparing for his gig at FOX and for his child's upcoming birthday. What an abrupt turnaround man. Despite his checkered past with the Chicago Bears, he was Adam Gase's pupil and Gase is seen as the quarterback whisperer, hence the high hopes people had for Tannehill this season. Not to mention the two still have a good relationship. This can be a rather beneficial arrangement, Cutler is arguably a better quarterback than Moore despite the latter being capable of holding his own. Trouble is, does Cutler still have it? The 34-year-old walked away and decided to pursue a different career. Sure he knows Gase's system which is a huge plus but is the guy still in shape? Does he still have a fire for the game? It's early, but the Fins needed to make a decision. The season starts in roughly a month. Which brings me back to Kaepernick.
As I previously wrote, I did not agree with Kaepernick's opinion but I supported his right to express it. Let's put this in perspective, the man kneeled. He did not turn his back on the flag, he didn't tear up some draft card, he hasn't punched any women or committed any domestic violence and he sure as heck didn't kill anyone. Whatever point the owners and the teams are trying to make, its been made. Let the man play. Sports is the ultimate meritocracy and he is not the worst option out there in terms of free agent talent. He deserves to be on a team.
There are those who say that if a team were to sign Colin, it would cause a distraction. I hear you and it's a legitimate concern, but I believe the man can clamp that down and give some assurances to management. So what about the Miami Dolphins signing him? While there's fans and even players who no doubt support him, there's plenty here that don't. Folks already hate the guy for his views on the police, and don't forget the rather large Cuban community in South Florida that weren't impressed with the shirt he was wearing displaying Fidel Castro. Fidel, like El Che, ain't cool. Not then. Not now. Not ever. But with that said, he has a right to express whatever views he wishes and whether or not you agree with his outlook, he deserves to be on an NFL team.
So did I personally think the Dolphins should've signed him? Honestly, no. I preferred Jay Cutler due to his relationship with Adam Gase and his familiarity with the system. Do I really want Cutler? Not necessarily, but given the bowl of available QBs isn't too impressive, along with Gase's reputation as a quarterback guru, might as well grab the so-called best candidate out there. Should the team have considered the possibility of signing Colin Kaepernick? Absolutely. We're in it to win it and if it somehow increased our chances, then so be it. Until the man with the fro does something very egregious, my opinion on the subject will remain the same.
In the words of Denzel Washington from the movie Remember the Titans: "Let em play! Let em play! Let the boys play!"
Don't forget to follow us on Twitter, Facebook, and Instagram.
(Visited 83 times, 1 visits today)