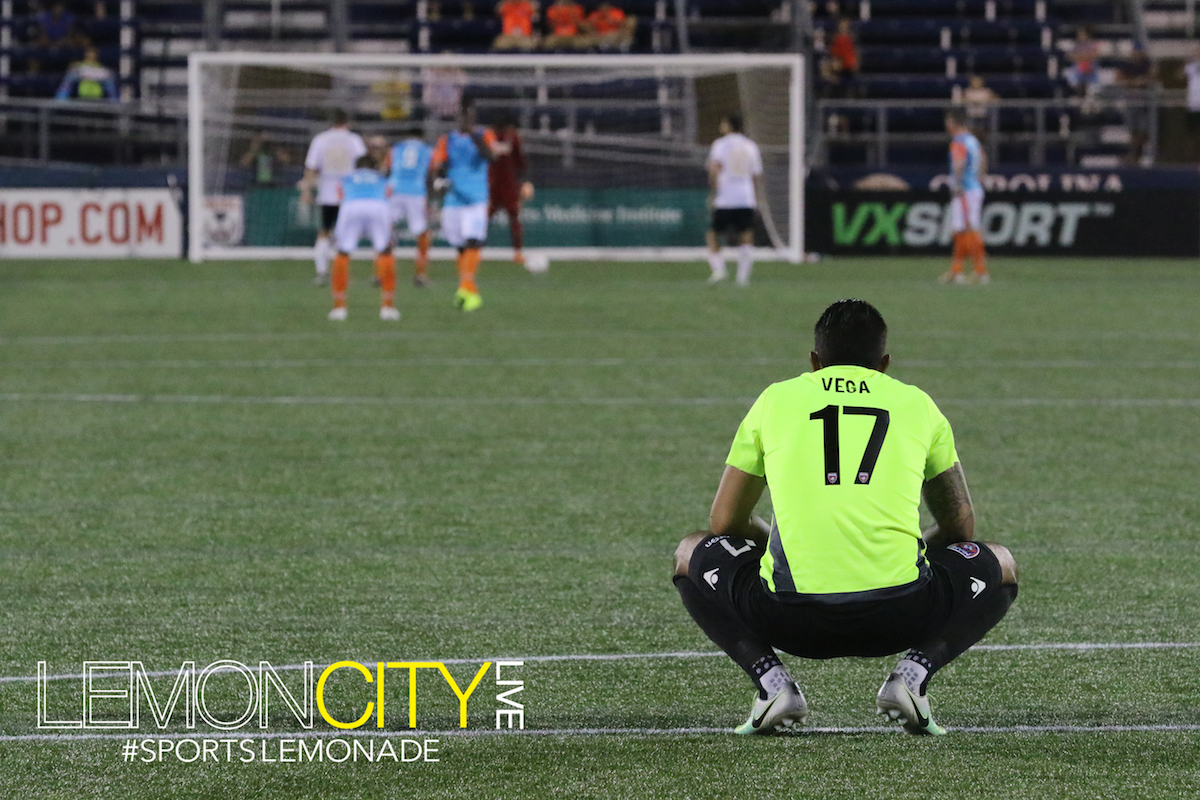 Miami FL – Welcome to the other side. On this side, it's no longer NASL spring. Miami F.C. is not the champion of fall and will now have to work towards that title. On this side, Miami has been eliminated from the Lamar Hunt U.S. Open Cup as of last Wednesday, Aug. 2nd, by the USL's F.C. Cincinnati. So this is it, this is all we have and the only thing the home team has to focus on. As far as the fall campaign goes, it began last Saturday, July 29th with a 1-3 loss at the New York Cosmos. Following elimination from the Open Cup, Head Coach Alessandro Nesta spoke about the to-be-expected championship hangover his guys are currently going through. For what it's worth, he believes a bit of focus and getting back into the swing of things is really all this team needs as he has no doubts about their talent and ability to get it done.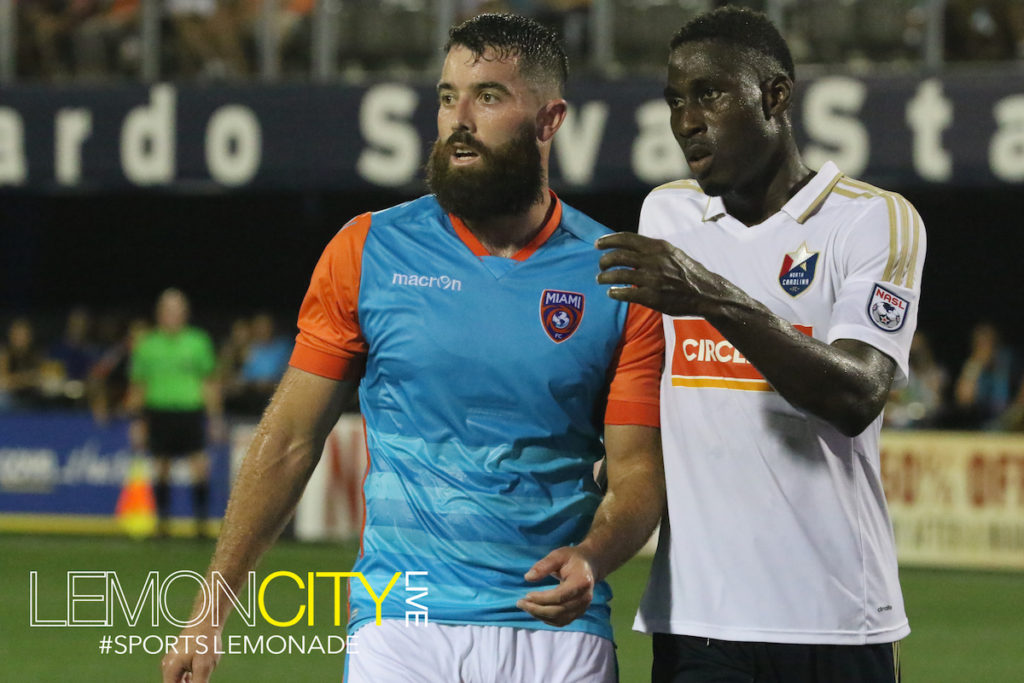 Well, fuck it, let's just call this the dark side for now. I'm no master of suspense so I'll just let you know right now that Miami continued their losing ways today against North Carolina F.C. I will also let you know that this game seemed uneventful until the last 10 minutes came around. It all started off with a cross in the box in the 27th minute by Steven Miller for a poke by Jonathan Glenn to net the first goal for North Carolina. In the 67th, the Miami defense was once again exposed as Marcel Kandziora crossed up Miami GK Daniel Vega with a left-footed strike from outside the box to the right, lower 90.
Lucky goal by @jglenng17 gives @NorthCarolinaFC the early 1-0 lead in the 27th minute #NotImpressed #NoFlair pic.twitter.com/FuKjCQqja4

— Lemon City Live (@LemonCityLive) August 6, 2017
A boring game got "turnt the fuck up" – as the kids say – in the last 10 minutes. Stefano Pinho was taken down in the box in the 86th minute leading to a Michel penalty conversion in the 88th. All right, Miami had a little life and the score was 2-1. But wait, there's more. In the first minute of added time, Calvin Rezende strikes one into the box and Pinho one-touches it around his defender and finds the back of the net with his left leg. FUCK YEAH! Shit was going down at this moment. Stands be rockin'! Make a push for the W or steal a point when all seemed hopeless five minutes previous. All the defense had to do was hold on for… *record scratch*.
Well, it would prove so fitting that the porous defense that was outplayed in this one conceded one more heart-breaking goal before we all got to go home. In the third minute of added time, North Carolina's Christian Ibeagha used his head to make me lose mine. A header wound up being the difference tonight as Miami lost its first home game of the fall campaign.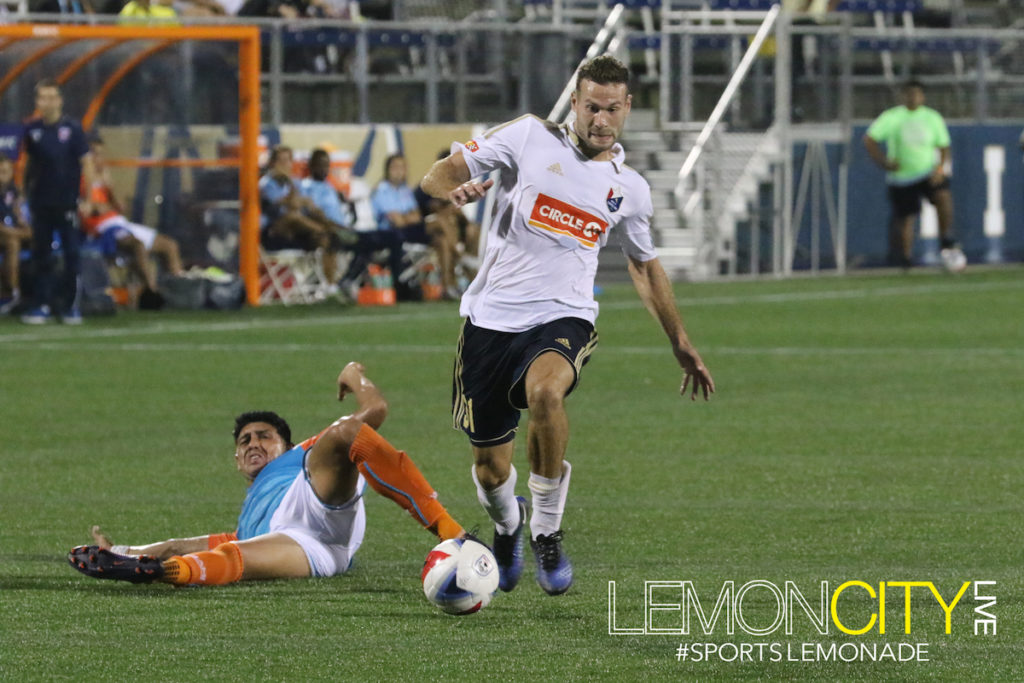 It might seem as if the pull of the dark side is indeed strong, though I'm here to tell you hope is not yet lost. Let's not overreact here, we're only two games into the fall. I understand the added sting of the Cup defeat amounts to a very poor stretch for the squad in orange and blue. However, we must get past that and refocus where the NASL is concerned. That's two games out of 16. With 14 games left, plenty of time remains in the season for this club, one that has proven their winning pedigree not very long ago. Miami had a late game stretch that suggested the champions are simply dormant, not gone. That is not to say I'm making excuses for them, just exercising a little perspective. Be not mistaken, this is shit and it feels like it. The lethargic or otherwise lackluster nature of their current display on the pitch is nothing short of unacceptable. But it seems to me this team, and this coach, might deserve a little breathing room here to prove themselves in the still infant fall season.
Miami will host Indy Eleven next week on Saturday, Aug. 12th, and hope to begin to turn this baby around.
For a complete photo gallery of this game, please CLICK HERE.
Don't forget to follow us on Twitter, Facebook, and Instagram.
(Visited 93 times, 1 visits today)