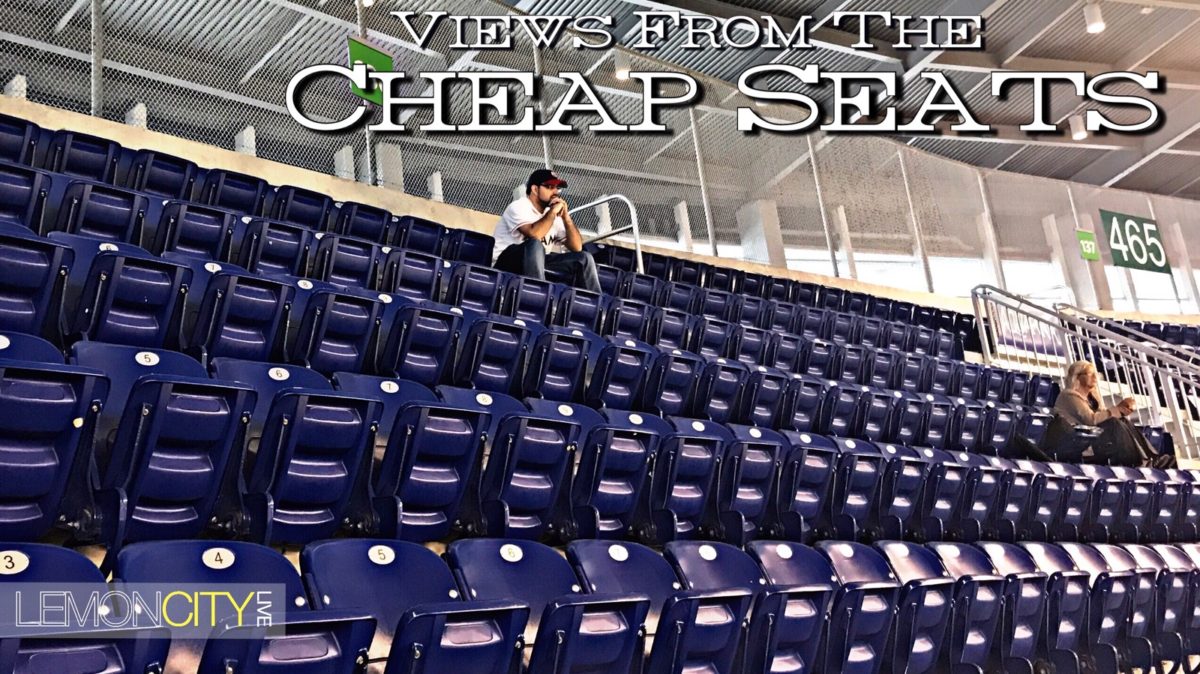 That was one heck of a series! The Marlins went toe to toe with the division leading Washington Nationals and won, taking 2 out of 3 here in Miami. We saw a terrific pitcher's duel in the opener and plenty of offense from the home team in the second and third game, complemented with some beautiful defensive plays from both Giancarlo Stanton and Christian Yelich. Let's quickly review shall we?
Game 1 saw an awesome matchup between South Florida native Gio Gonzalez and our own José Ureña. The two went at it keeping the opposing team off the board, baffling hitters along the way. But it was Gonzalez who took a no-hitter all the way into the ninth before Dee Gordon broke up the no-no. The fans gave the Hialeah native a standing ovation for his superb performance, the epitome of class. Despite playing for our rivals, I was really happy for the kid. Unfortunately for us, the Nats finally broke through despite Ureña's best efforts in the sixth with a Bryce Harper single, scoring center fielder Brian Goodwin. The run was enough for Washington to come away with the victory but boy did Ureña pitch a beauty giving up a mere run while scattering 3 hits on 6 strikeouts. It was a great game overall despite the 1-0 loss.
Such class exhibited by @Giancarlo818 and @Marlins fans last night as they saluted Gio after his gem. pic.twitter.com/sVsFwq9y6u

— Washington Nationals (@Nationals) August 1, 2017
In game 2 of the three game set things started off badly as rookie Chris O'Grady squared off against ace pitcher Max Scherzer. Not only was O'Grady tagged for 6 runs in just the second inning, but he surrendered a 3-run bomb to the pitcher! O'Grady lasted just three frames, setting up a rather long game for the bullpen. As fate would have it, Scherzer unexpectantly left the game shortly after his homerun due to neck spasms, forcing their own bullpen to carry the load as well. He was in the midst of his warm up throws when he gestured to his coach, signaling he couldn't go on. This gave the Marlins an unlikely opportunity to chip away at the lead, culminating in a three-run shot from Marcell Ozuna and an amazing triple from Derek Dietrich to give the Marlins the lead for good, winning 7-6. Kudos to the bullpen on absolutely shutting it down.
On the series and home stand finale, it was all Marlins with Vance Worley pitching a gem going 7 deep and giving up only 2 hits. 2 hits. Vance. Worley. First Adam Conley and now Worley, suddenly our pitching looks mighty fine. I wonder if it's in the water. Gonecarlo doubled in the first scoring Dee Gordon for an early 1-0 lead, followed by more runs in the fifth and sixth. Meanwhile, Christian Yelich had an outstanding night starting with one heck of a defensive play at the top of the fifth, coming up with a terrific diving catch. And he wasn't done yet as both Yelich and Dietrich smacked 2-run bombs to put us up 5-0 after five sets. And his night STILL wasn't over. Yelich laced an RBI double the following inning to put the fish in a commanding 7-0. Washington's bats were completely contained. For almost every time they got a runner on base, Miami countered with momentum ending double plays. It wasn't until the final inning that the Nationals threatened to score. With a runner on first, Brian Goodwin smacked a long ball out into right as Stanton ran over and with a herculean leap, robbed Goodwin of the homerun, preserving the shutout. What a game! What a series! What a team!
"Game over. Thanks for playing!" –@Giancarlo818, probably.#FishWin | #LetsPlay pic.twitter.com/jVM016SoqV

— Miami Marlins (@Marlins) August 3, 2017
Star Performances of the Series
Jose Urena pitched 8-strong scattering 3 hits and allowing a single run while fanning 6. While it was a losing effort, it was an outstanding outing.
Continuing the praise of our arms, Vance Worley makes it onto this series' list going 7 deep giving up just 2 hits which is even more impressive given his opponent.
Marcell Ozuna kept up the good work in the second game, going 3 for 4 adding 3 more RBIs to his resume while making it to the plate twice and yet another homer to his total.
Miguel Rojas swung the hot bat in games 2 and 3, going 2-for-4 and 2-for-3 respectively collecting 2 runs, a RBI and his first triple of the season.
Last but certainly not least, Christian Yelich deserves a spot here for having a monster game Wednesday night going 2-for-3 with 3 RBIs, a double and a homer. Oh, and the golden glove style catch.
This is why @ChristianYelich is a Gold Glover AND a Silver Slugger. 💪#LetsGoFish pic.twitter.com/q4hQ6FHRkh

— Miami Marlins (@Marlins) August 3, 2017
And so the trade deadline came and went. The worst case scenario: the dreaded fire sale, like the 2012 and Y2k apocalypse, never came. Gone are David Phelps and A.J. Ramos. While it is indeed true that trades can still occur after the deadline, the Marlins top brass fulfilled what they had been saying for a couple weeks now: The core would remain intact. What the ultimate motive is and whether our two trades will make any meaningful impact… only time will tell. Personally, as a fan, I am absolutely overjoyed. For a little while longer at least, we get to cheer on our talented Marlins squad that remains motivated and hungry to win. We're almost to .500 folks, and this is in spite of injury and a weak pitching rotation.
The signal management is sending pretty much illustrates confidence in what we have, in other words we will be relying on our bats to keep us afloat. Assuming the rest of the squad stays healthy, it's a pretty formidable lineup even without Justin Bour. The bullpen thus far, after a significant reshuffle, has held its own which is quite encouraging with their latest example coming from this past home series against our division's top dog. I'm still surprised we performed so well. As it is, we stand at 5-4 against Washington with 10 more games to go. The next four being at their house in the coming week, making it a very critical series. In fact considering our remaining schedule, our division games will be important in order to gain some ground, however minuscule, against the Nats while keeping the Mets and the Braves underneath us in the standings. Not to mention, we need to take care of business with easier teams such as the Phillies.
✔️ 5-2 on the homestand
✔️ FOUR straight series wins for the first time since 2015
✔️ Happy flight to Atlanta! ✈️#FishWin 😀☝️ pic.twitter.com/9opS9ptsFc

— Miami Marlins (@Marlins) August 3, 2017
So what do we do now going forward? The first thing we need to do is to get to .500, pretty much everyone, rightly or wrongly, counts us out of the playoffs but you never know since there's plenty of baseball left. If the Marlins can win series after series, they will slowly but surely move up closer and closer to the illusive final wildcard spot. We're 2 for 2 as the wildcard you know. But we need to take this one battle at a time, one game at a time. Once we break even, then we can focus on a winning record and who knows, maybe get lucky and get to the playoffs.
In the end, keeping the core will go a long way for Loria to finally sell the team. Sure he could have done the fire sale to "up the value" of the club, to make it more appealing to sell. And maybe even grab a higher payout with the salary dumps. But who wants to buy a team for a BILLION dollars that not only do you have to build from scratch but you have to win back what little remains of a very jaded and skeptical fan base?
At least with the current state of affairs the new owners would not only have SOMETHING to work with but also enjoy folks still going to the games. These days the stadium isn't exactly empty. Sure it's not like we're selling out every game but the people ARE going to the stadium. Progress and even enthusiasm is being shown due to the top brass' decision of continuity, as demonstrated by the folks of South Florida. Gutting the team would've slashed what little progress they've made and let's face it without the fans, there's just no team.  So let's just sit back and enjoy the ride. Because for now, the Miami Marlins as we know it are here to stay! For now.
Stat of the Week
Through 106 games, the Marlins have accumulated 128 Home runs. They already matched their 2016 season total. Woah. 56 games to go!
Upcoming Games
Atlanta Braves: August 4-6 (Away)
Washington Nationals: August 7-10 (Away)
Views from the Cheap Seats is a biweekly segment where a Miami raised sports nut recaps, screams and analyses a week's worth of games giving a toast, or the finger, to his hometown team depending on their performance. A truly hopeful but always realistic fan putting thoughts to pen to paper and always striving to improve. Be bold, be good, be you.
Don't forget to follow us on Twitter, Facebook, and Instagram.
(Visited 82 times, 1 visits today)