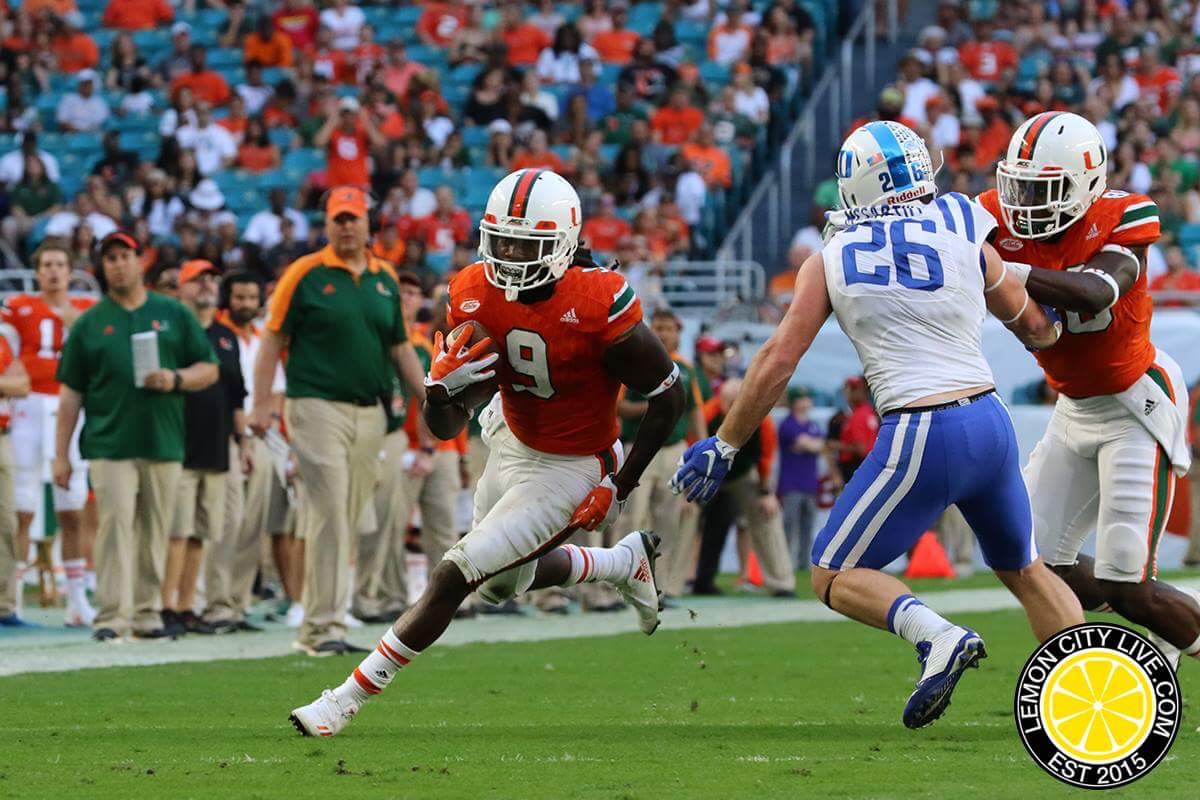 It was an 8-4 record that culminated the regular season last year for the University of Miami Hurricanes. Those numbers seem like such a simplistic, black-and-white way of looking at the end result considering the tumultuous journey that led to that particular destination. An 8-4 record does not, by itself, tell the story of what will be reflected as a year of change in the annals of the Hurricanes program. The year 2015 saw the forward progress of a football team finally free of the looming NCAA presence, the same football team that was presently paying for sins from the past. It saw a changing of the guard as former Head Coach Al Golden was relieved of his duties following a thorough spanking and embarrassing 58-0 loss to the Clemson Tigers. It was under interim coach Larry Scott that we witnessed one of the wildest finishes to any football game we've ever seen with the special teams laterals against the Duke Blue Devils – if you don't know what I'm talking about, 2 things: 1. Where the fuck have you been? 2. Get your ass on YouTube and learn yourself something -. Coach Scott would lead the 2015 Canes to that aforementioned 8-4 record and, let's be real, that was a positive thing. I long for the day I once again spit on the face of an 8-4 record, but far gone are the times we expected much more than that. However, in a year of change there was one thing that didn't, Miami continued its streak of losing bowl games.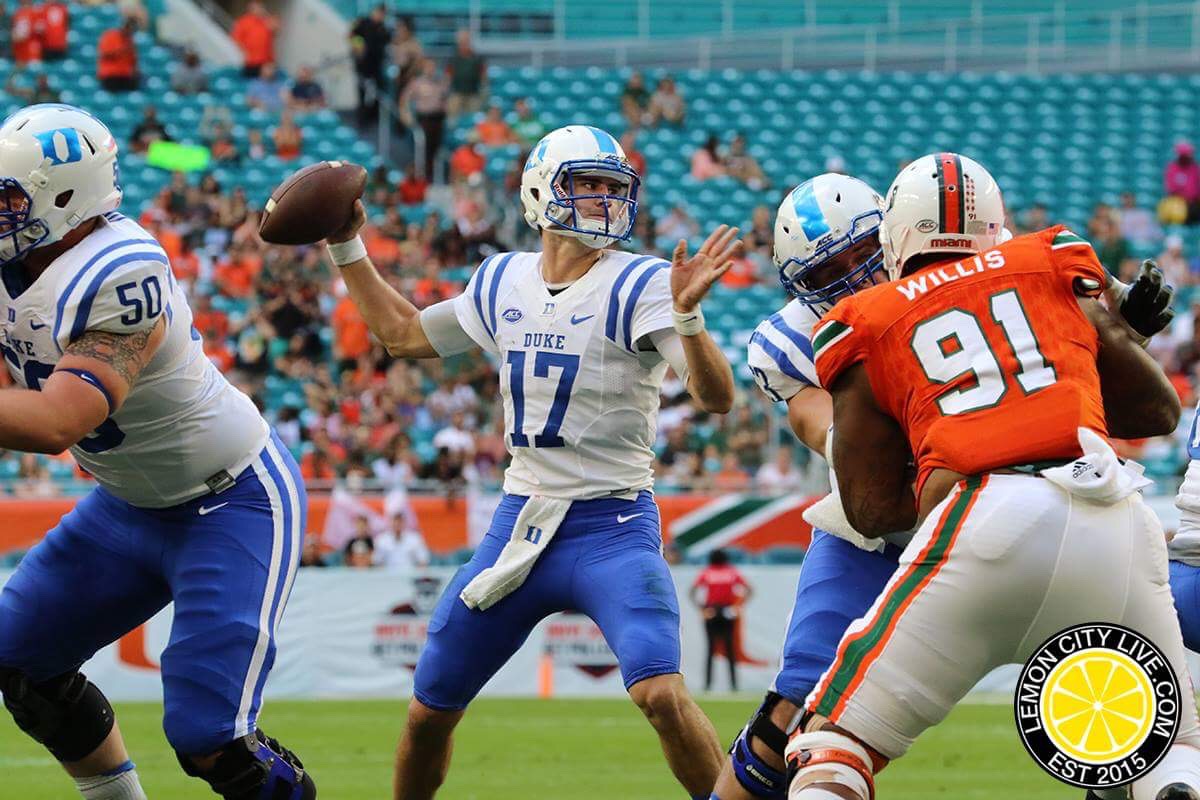 We talked about it on the podcast this week and I'm going to double down here. I know it isn't possible to simply ignore what we've seen and what we have experienced this season as a fanbase, and what I mention next might seem particularly hypocritical considering my above look into the record, but just consider it. The expectations for the Canes under new head coach Mark Richt were never meant to ascend to such a level, it was only following the 4-0 start and a climb to the 10th ranking in the AP Poll that we let it get a little out of control. So, with that in mind, think about the possibility of an 8-4 record once again while the transformation of this program begins. Picture an 8-4 regular season record followed by, at long last, a bowl game win for the hometown team. Well, that is still within reach. A win at home against the eternal rivals Florida State Seminoles would have been nice and given this season a little extra spice, but that didn't happen. So here we are, and I know that we lost ourselves a bit somewhere in the blackout of that four game losing streak, that the season seemed to lose meaning as we continued spiraling (myself included). But I'm pretty sure I'd be hard-pressed to find a real UM fan with realistic expectations that, before the season started, would not have taken an 8-4 record with a bowl win as the result. So buck up, my people, for there's still hope.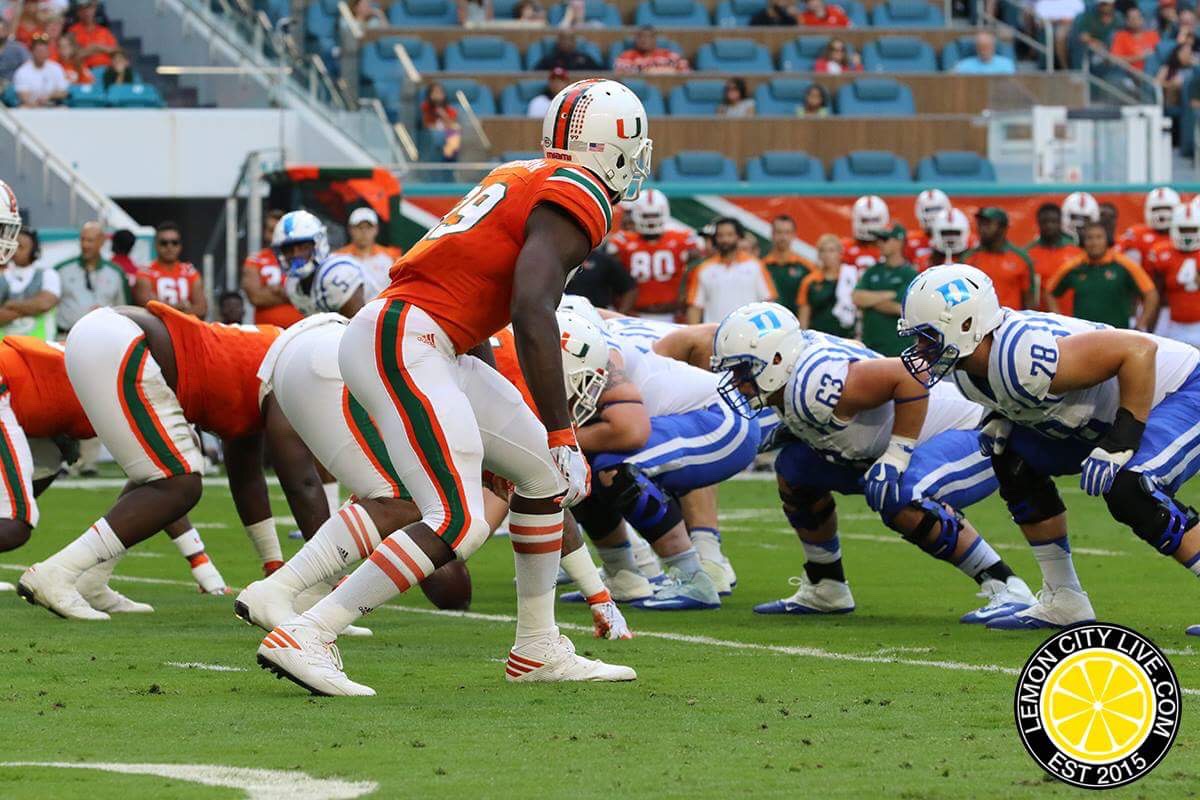 The Blue Devils came down to The Rock to partake in Miami's last home game of the 2016 season. Seniors Corn Elder and Stacy Coley immediately come to my mind due to my belief that they really embodied the "playmaker" persona we've come to appreciate on the field for the Canes, few players from this graduating class will be missed as much. However, as far as the actual game being played, Duke came in sporting a 4-7 record (1-6 in the conference) and with very little resemblance of the football program that has been so competitive in the Coastal for some years now. Therefore, Miami was tasked with making my previously stated vision a reality to get their 8th win and at home against an inferior opponent was the time to get it done. Five straight scoring drives opened up the game before it settled down a bit and the Canes were able to sneak in another Field Goal to make it 16-14 at the half. Miami really put it on Duke and ran away with it in the second half. A few big plays and a poor Duke defense allowed the Hurricanes to easily take this one 40-21.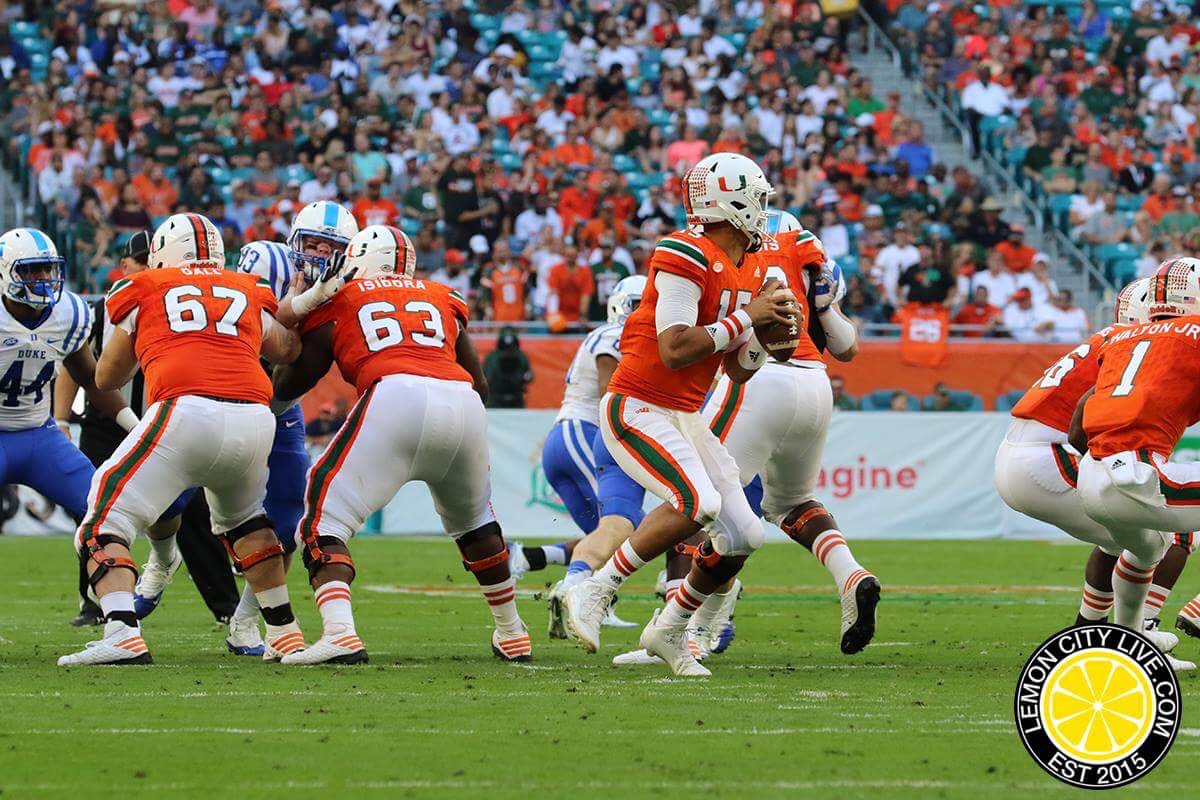 As you know by now, if you did not watch the game, this is not the place to get some play-by-play analysis. I'm going to write about the good shit, so here it is. A few cool things happened in this game, some meaningful and others, well, let's just say they happened. While watching today's game from a freezing press box – seriously, somebody needs to fucking relax with the thermostat – I found myself thinking about a few things. Sure, this was the last time I would see the seniors, in fact, one of those cool moments I mentioned was Coley having a very nice game in the last one he would have at home wearing that uniform (9 receptions for 118 yards and 1 TD). But would it be the last time I would see some of the underclassmen as well? Brad Kaaya, Michael Badgley, Joseph Yearby, David Njoku, and others. I've written before about how the lack of winning for this team is not a reflection of the talent, because in that department they are saturated. Some of these "playmakers" have been the sole reason to tune in on Saturdays once the season has seized to be competitive. Kaaya in particular has been a QB prospect much discussed, here and everywhere else, that remains a mystery for this program.. In this game, with a completion to Coley, Kaaya surpassed the legendary Ken Dorsey in all time passing yards at The U, a record that, in my opinion, says much less about Kaaya's prowess as a passer and much more about the current state of football. A good defensive game is a good defensive game, I don't give a fuck if it's the Blue Devils and not the Clemson offense. A young defense with a lot of young playmakers that will anchor this unit for years to come is something to be excited about, especially when following two touchdown drives to start the game, the Canes defense wouldn't allow another point until very late in the fourth quarter.
Tentatively, we deem this a good season for the time being. A solid 8-4 regular season record needs to be capped off with a bowl game win to really make this feel like a step in the right direction for the program under Coach Richt, but we will cross that bridge when we get there. A true feast or famine type season for the Canes as the highs were really high and the lows were "fucking kill yourself". Yet, the chance remains for us to walk away from this one with some positivity.
For a full photo gallery from this game, please CLICK HERE.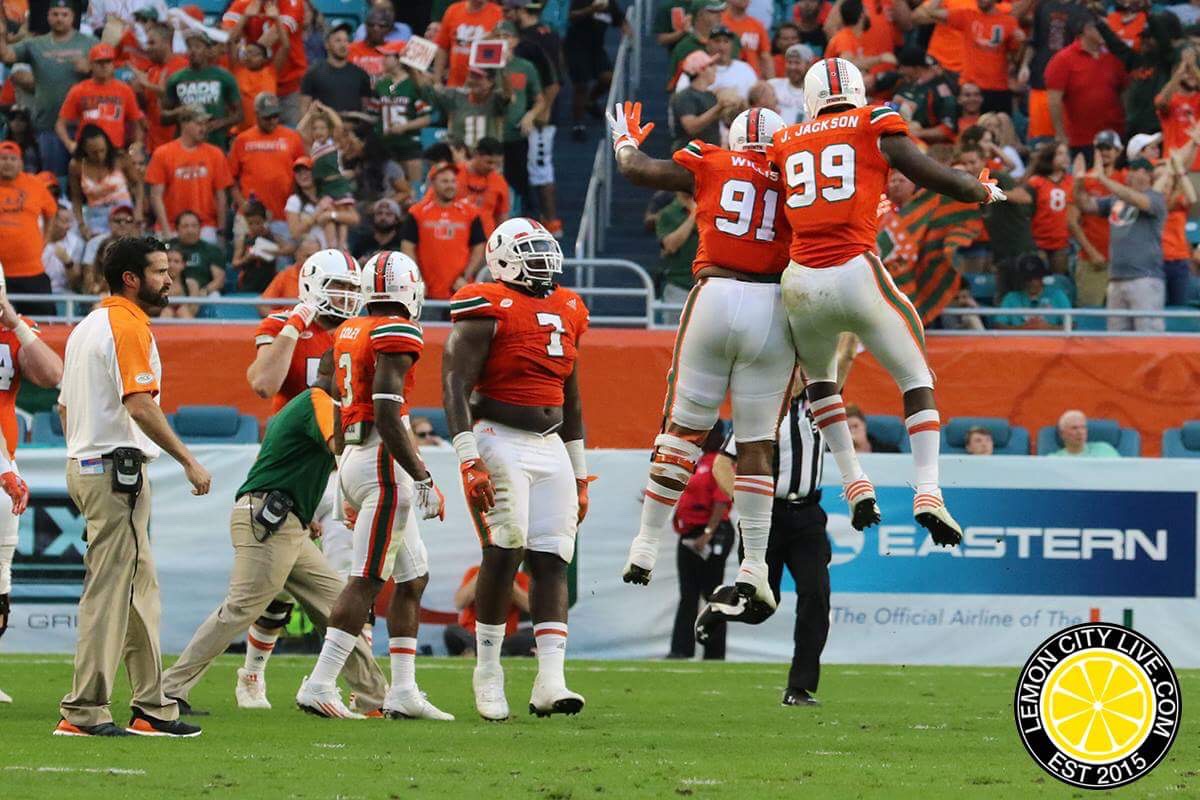 (Visited 92 times, 1 visits today)