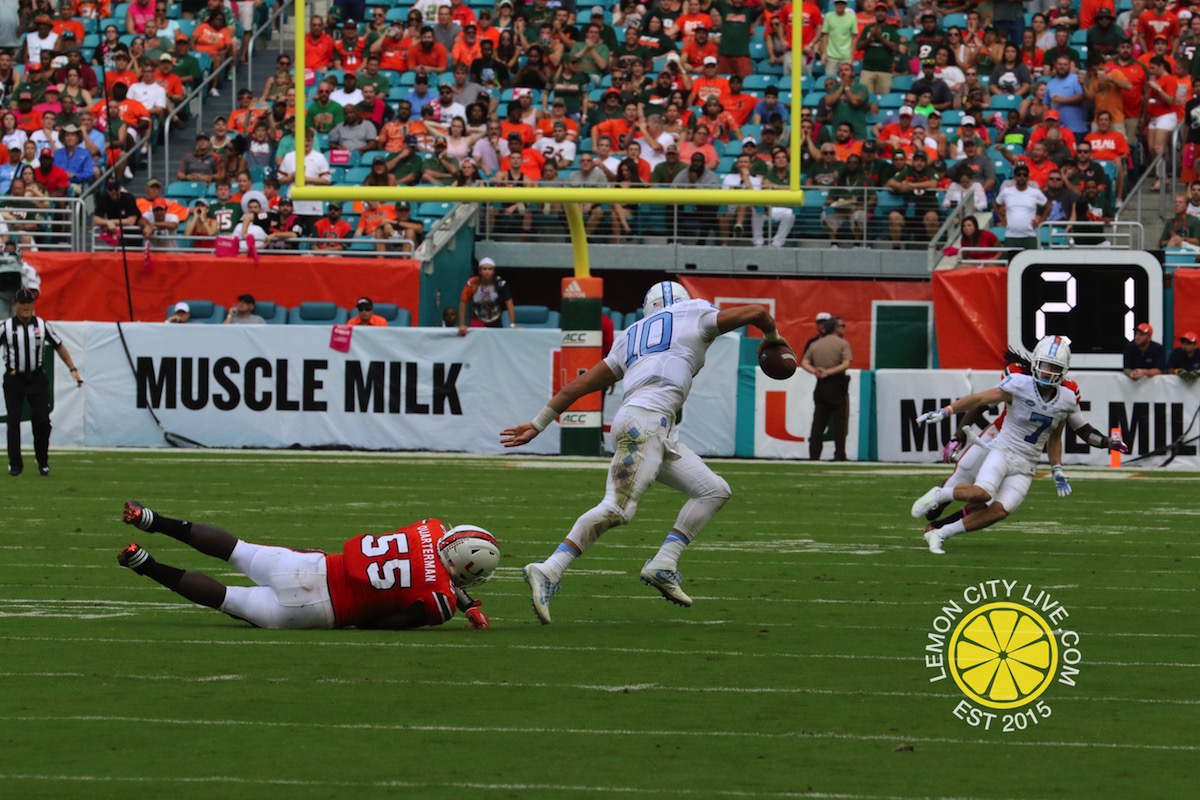 Rivalry game losses are not to be taken lightly. The Miami Hurricanes have followed an unfortunate trend over the past few seasons. Tough losses, particularly those in rivalry games against the Florida State Seminoles, have sent this team spiraling a bit. I wrote last week about the fact that as heartbreaking a loss as it was against Florida State, Miami's goal to win the Coastal was still well within reach and the importance of staying the course and handling the rest of the schedule was the way to make it to the ACC Championship game. The Virginia Tech Hokies are the only team in their division that remains unbeaten in the conference and Miami has an upcoming match-up with them. So, with the North Carolina Tar Heels coming into town, Miami needed to move on from the one point loss to FSU and handle business to stay on track.
Well, fans would like to believe that the Mark Richt era will be defined by moments exactly like this, by games exactly like this. Rallying his team and bringing them back from the emotional depths of a disappointing loss to recover and win a game they were favored in at home is precisely the reason for hiring and paying a championship caliber coach. Alas, game planning is one thing and executing is completely another. Evidently, the practical application would not come as easy to Miami with an opening kickoff blunder by Malcolm Lewis serving as foreshadowing for the rest of the match. A kick that was clearly going out of bounds was caught by Lewis just as it was going out at the 3 yard line. Miami took over on offense then, but if you watched the game you are well aware, Miami never really took over on offense.
Spoiler alert: Miami fucking lost. The final score was 20-13, the Tar Heels left Miami with a win, and I AM FUCKING PISSED! Something is the matter here and I don't fucking like it. I can't quite put my finger on it and it is definitely information that will not make it out of the locker room, but shit isn't right. Richt is an offensive minded coach. He came down from Georgia with guys like Matthew Stafford and Aaron Murray on his resume, he wanted to once again get more heavily involved in the play calling and working directly with the quarterbacks. For three years, I've heard all the sweet nothings I can think of about Brad Kaaya and his abilities and talents as a football player and a leader; so much so, that he's already been linked to first round evaluations for the NFL draft even if he were to declare prematurely. So, I ask again: WHAT IN THE FUCK IS GOING ON HERE?!
Miami never led in this game. In fact, UNC scored on their first offensive drive and the Hurricanes trailed for the remainder of the afternoon. Meanwhile, the supposed "NFL bound" Kaaya completed just 16 of 31 attempts. That's 31 attempts in a game they always trailed while the running back duo of Mark Walton and Joseph Yearby carried the ball 34 times. Look, I get it, Walton and Yearby are beasts and should be heavily featured in any offense. But what about Kaaya? His Offensive Line is putrid, but when he isn't getting sacked, Kaaya's 2016 highlight reel is full of overthrows, underthrows, and a complete lack of synchronization with his receivers. Concurrently, his UNC counterpart (Mitch Trubisky) played like a star today completing 33 of 46 passes for 299 yards while rushing 13 times for another 47. The defense was not good today, but if ever the "bend, but don't break" moniker applied, it was on the field today. The Tar Heels helped Miami out with a few ill-timed penalties, a missed FG, and a turnover on downs near the goal line, but for Miami, when your defense gives up 461 total yards and only 20 points, you'll take it. Coming into the season, a defense that was so young, dismissed some of their better players, and had to adjust under new DC Manny Diaz was supposed to be bailed out by an offense with established playmakers… NOPE!
Look, I honestly don't know what to say here, for I don't know where Miami goes from here. Two tough road match-ups are forthcoming against the Hokies and the Notre Dame Fighting Irish. The Canes need to stop the bleeding before this slippery slope inevitably ends in another crushing, season ending slide. The attendance tonight was announced at over 58, 000, the city of Miami is way excited about the Richt era and it would be unfair to expect a total 180 degree turn for the program so quickly. But we need SOMETHING. Something to give us hope and to look forward to in the way of change. Essentially, we need something to convince us that these aren't Al Golden's Canes anymore.
For a full photo gallery of this game, please CLICK HERE.
(Visited 87 times, 1 visits today)