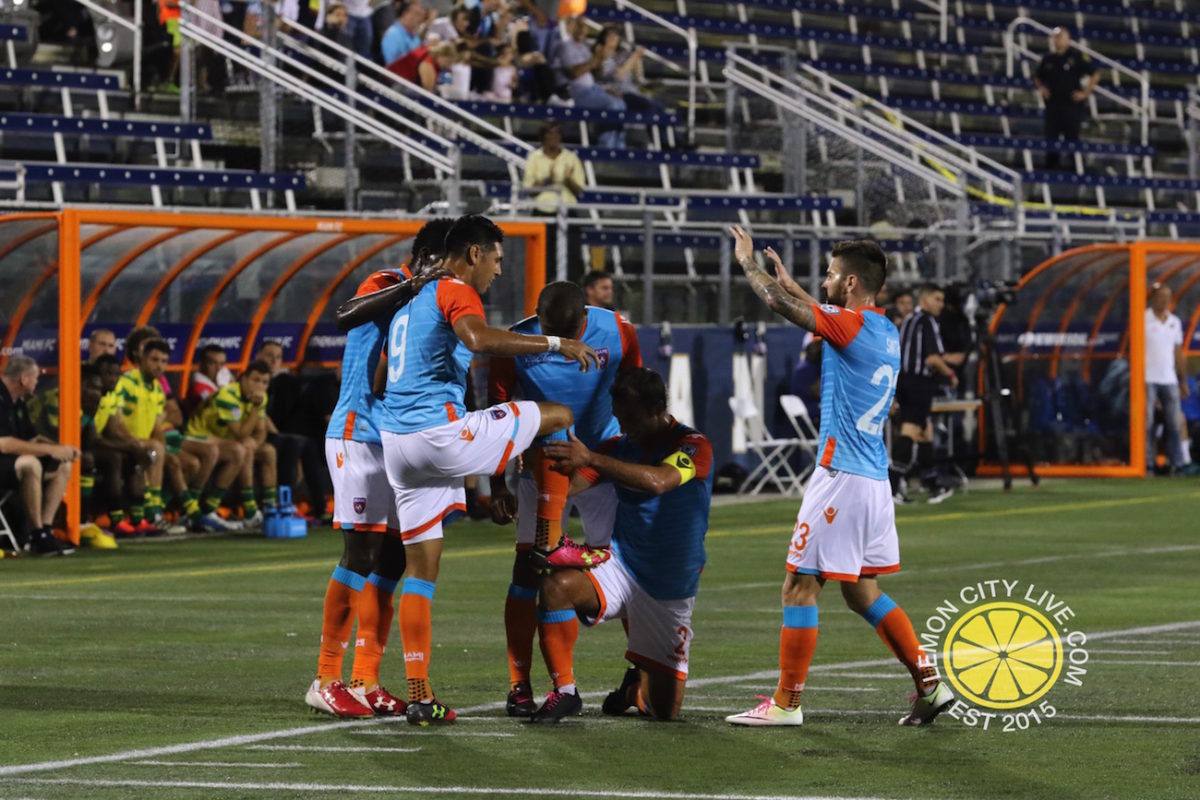 All right, let's forget about the actual soccer for just a second. If you are not overly impressed by this Miami FC organization, you have clearly not been paying attention. I mentioned not too long ago the importance of the only local soccer team in Miami to capitalize on a market starving for the game while Beckham and his group snail pace their way into total apathy from their potential audience. The community outreach and the continuous promotion, along with the game-after-game excitement, activities, and fan interaction make this franchise a joy to have leading the football charge in our hometown. Tonight, Miami FC hosted the Tampa Bay Rowdies. At 8PM on a Friday night, Ocean Bank Field at FIU Stadium was the place to be. A $40 Oktoberfest package resulted in a game ticket with an unlimited German cuisine buffet and Warsteiner beer. But wait, there's more. Calos "El Pibe" Valderrama attended the game for a pre-game meet-and-greet. They also gave away Miami FC scarves to all the fans. Oh, one more thing. No big deal except a Grammy nominated band performing a post-game concert. Locos Por Juana provided the tunes once the match concluded. I mean, are you kidding me?! Seriously! What else can you ask for? Let alone the fact that the team is actually competitive and fighting for a playoff spot.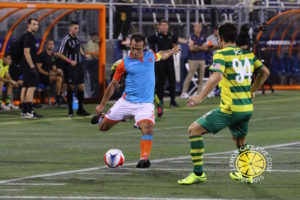 Personally, I don't give a fuck that Miami plays in the NASL and not the MLS, you shouldn't either. The product on the field is really good and a pleasant, over-achieving surprise for an expansion franchise that is still so young. Coming into tonight's match with 36 points and four games remaining, the Orange and Blue find themselves two points back of the last playoff spot in the NASL combined standings (Spring and Fall). Their second to last match at home provided Miami the chance to get themselves the much-needed three points and simultaneously furthering the unlikeliness of their rivals getting to the post-season.
Miami FC's inception into the NASL this year provided the Rowdies with yet another in-state rival. Tonight's match, with the season winding down and the added playoff implications for both squads, the play on the field felt like just that, a rivalry game. An offensive outburst themed the first half as Miami FC got out in front to a quick 2-0 lead. A definite highlight reel golazo for the personal and team archives opened up the scoring as Jaime Chavez one-touch blasted an airborne cross from Blake Smith to the back of the net before the ball ever had a chance to touch a blade of grass; Sportcenter, take notice. Chavez was not done. A through ball assist as Kwadwo Poku snuck behind the back line left #10 to sneak in a 1-on-1 strike past the Rowdies GK (Matt Pickens). Miami held a 2-0 lead in just 21 minutes. In true rivalry form however, this one was not over by a long shot. Tampa would chip away at the lead just 7 minutes later as Eric Avila crossed in a volley to be headed in by Georgi Hristov. The first half would end 2-1.
Miami's offensive energy seemed depleted after the fast start, the goal-scoring opportunities were few and far between in the second half. Instead, a two goal lead for the home team that desperately needed all three points disappeared when a right-footed Juan Guerra strike from the top of the box tailed past GK Mario Daniel Vega and we had ourselves a tie ball game.  Disheartening. Simply disheartening. All of a sudden, a game that appeared well capable of being won found the Rowdies fighting for one point as opposed to Miami holding on for three. The match would end knotted at two and it was obviously apparent that Miami FC let one slip away today.
Disappointing to be sure, Miami FC still has three matches to be played. A two game road trip will be followed by the regular season closer at home on October 28th. FC Edmonton will come into town on Poku bobblehead night and we will find out the official "run to the playoffs" conclusion. A playoff birth was hardly an expectation as this team began their 2016 campaign and letdown seems an unfair assessment if they do not achieve it, but now that we are here, we are greedy and desperately want some post-season soccer.
For a full photo gallery of this game, please CLICK HERE.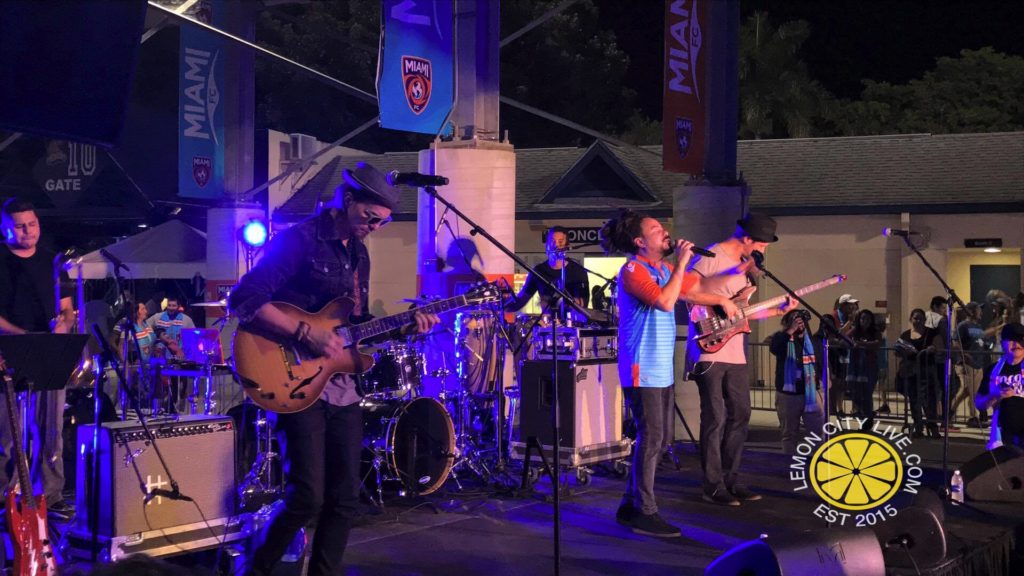 (Visited 104 times, 1 visits today)