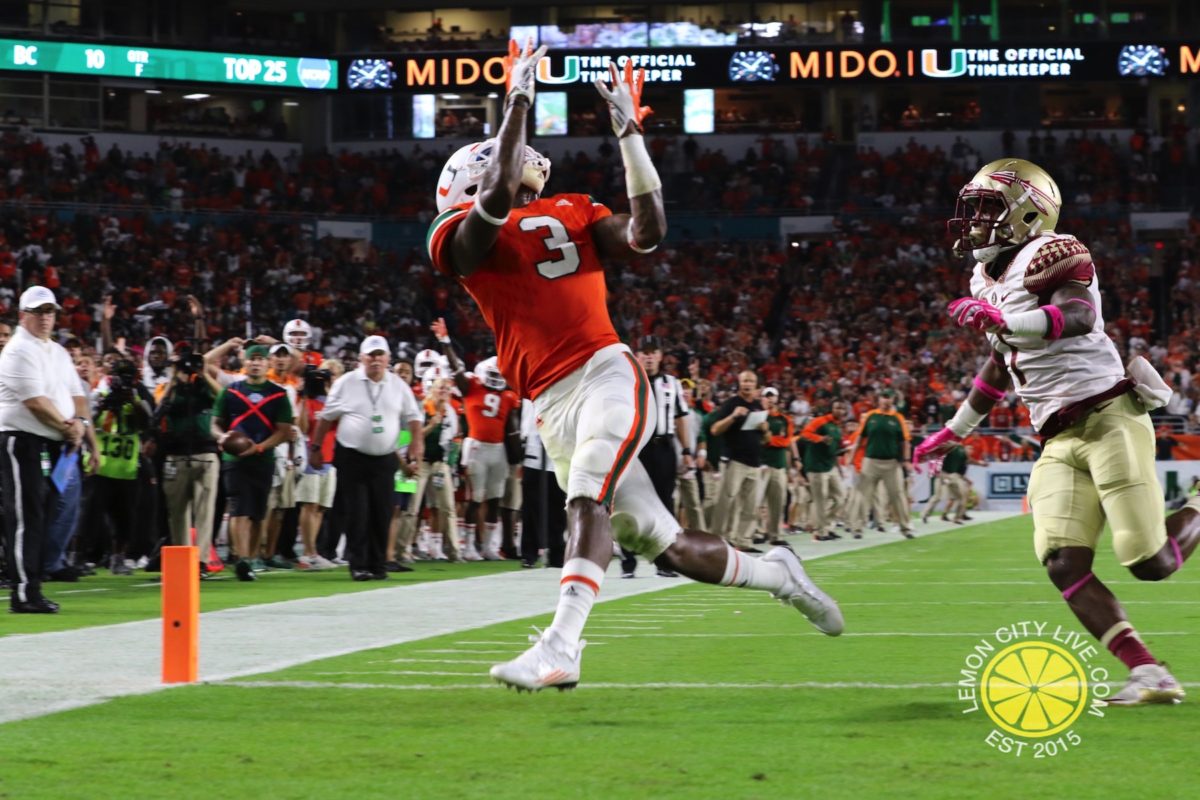 The Florida State Seminoles came into town to take on the Miami Hurricanes. Need we say more? Should you need to be reminded how much weight this rivalry still carries, look no further than a Seminoles team that had a 3-2 record taking on a Hurricanes squad that was 4-0, but has seen 4 unranked opponents and only the Georgia Tech Yellow Jackets game carried some weight, all the while, the match-up still merits primetime ABC football slot on a Saturday night. Arguably the best ongoing rivalry in college football, when the Hurricanes and the Seminoles square off, it's a big deal. The all time series was led by Miami, but only slightly, 31-29. Proven by the endless advertising campaign ESPN rolled out all week, but absolutely confirmed by the all out showing in the Hard Rock Stadium stands tonight, this rivalry is still a huge deal. Hurricanes fans seem to be all in on the Mark Richt era as they almost entirely boxed out the Seminoles crowd and reduced the garnet and gold to a small support system. It was loud and it was lit! A sold out house with an official attendance of 65, 685. The AP Poll's number 23 and 10 teams respectively, Florida Sate and Miami provided a sense of old times on this Saturday night; a nostalgia that has been trying to be repaired as these two power programs regain their perennial status atop the college football landscape.
Public Service Announcement: this is no longer Mark D'Onofrio's Miami defense under Al Golden's coaching. The Florida State offense struggled to get anything going offensively all first half. The Seminoles feature back (Dalvin Cook) and redshirt freshman QB (Deondre Francois) managed very little to put up on the scoreboard. The trio of freshmen LBs of Zach McCloud, Michael Pinckney and Shaquille Quarterman stood tall against the talented offensive unit the Noles brought to South Florida. Miami Senior DB Corn Elder was all over the field tonight as he anchored the secondary, highlighted by a layed-out, flying pass break up on a pivotal 3rd down. On the offensive side of the ball, Miami was hard-pressed to generate points as the passing attack's inefficiency was a theme throughout. However, the surprising ineffectiveness of Miami's usually guaranteed running game forced the airborne attempts to get something going for the Canes. On a night where Mark Walton and Joseph Yearby (a duo Miami can always rely on) rushed 24 times combined for 78 yards, QB Brad Kaaya was called upon to make a few timely throws. Stacey Coley was his favorite receiver all night with a couple of ridiculous catches, mainly a first half overturned toe tap on an overhead 21 yard TD pass in the corner of the endzone. The U would lead in this game 13-0 before allowing a Seminoles FG drive that would send the teams into halftime with a Canes 13-3 lead.
If you are from Miami, and you are a Hurricanes fan, and you've stuck around through everything that has happened since the infamous 2003 Fiesta Bowl, and you take into consideration that this is no longer the Orange Bowl and the glory days, you knew damn fucking well this game was not over. Shame on you if you thought otherwise. Florida State had beaten Miami 6 straight years and they'd be damned if they were just going to roll over on that streak and let Miami take this one. The second half saw Florida State handle the ball first and have the drive end in a punt. Meanwhile, Miami took over and started driving. At this point, things were looking up, FSU's Matthew Thomas was even ejected after a personal foul on Kaaya was deemed "targeting". But this isn't just any game, or simply any rivalry, and in this one, a turning point was imminent. Kaaya's attempt into the endzone was intercepted by Tarvarus McFadden and the Noles would take over from their own 25. Florida State capitalized on the turnover as Francois hit Cook on a wheel route that he would take 59 yards to the house. The Seminoles would score on three straight drives as the glaring weaknesses of Miami's offensive line and the inability to keep drives alive saw this game reach a 20-13 score.
So here it is, boys and girls. If you saw the game, you know what's coming. If you didn't, then get ready for the fuckfest. This is, after all, Florida Sate versus Miami. The Hurricanes manage a much needed defensive stop to hand the ball over to their offense with 3:02 left. An incredible 43 yard punt return by Braxton Berrios perfectly set up his boys at the Florida State 16. After 3 straight runs that yielded very little in the way of positive, Miami found themselves in the game-deciding 4th and 5 situation. Here we go! Richt dials up a pass to the endzone to none other than Stacy Coley. Coley secures the pass on the left side. TOUCHDOWN! KAAYA! COLEY! Lose your fucking shit and rub your fucking nipples. Miami done tied this shit and this is going to be the year we finally take down the Seminoles. All we got to do is kick this automatic extra point. Oh, wait…
Well, I assume you know what happened next. Michael Badgley's extra point is blocked and Miami loses the game 20-19. Just tear my fucking heart out! "I'm hurt, dawg!"
In conclusion… Fuck you, Francois! Fuck you, Cook! Fuck you, Baby Bowden! Fuck you, powers that be that seem to be hell bent on me being fucking miserable every single year when this game happens.
Ok, actually in conclusion, after that quick and necessary venting session… This isn't the end of the world for the hometown Hurricanes. A number 10 ranking was an over achievement four games in considering what we all believed this team would be pre-season, particularly when taking into account the defensive dismissals of Jermaine Grace and Al-Quadin Muhammad. Florida Sate's two early-season losses don't do much to convince me that this is not still a really good football team. If used as a measuring stick, Miami really managed to hold their own against a team that had title aspirations coming into the season. This only counts for one loss in the ACC and Miami must now stay the course to achieve their season long goal of winning the Coastal, especially with the North Carolina Tar Heels making their way down next weekend. Get some sleep if you are able to, Canes fans, for this was just one game and hurricane Matthew is gone, so the sun will rise tomorrow.
For a full photo gallery of this game, please CLICK HERE. For the fans tailgate gallery, please CLICK HERE.
(Visited 116 times, 1 visits today)