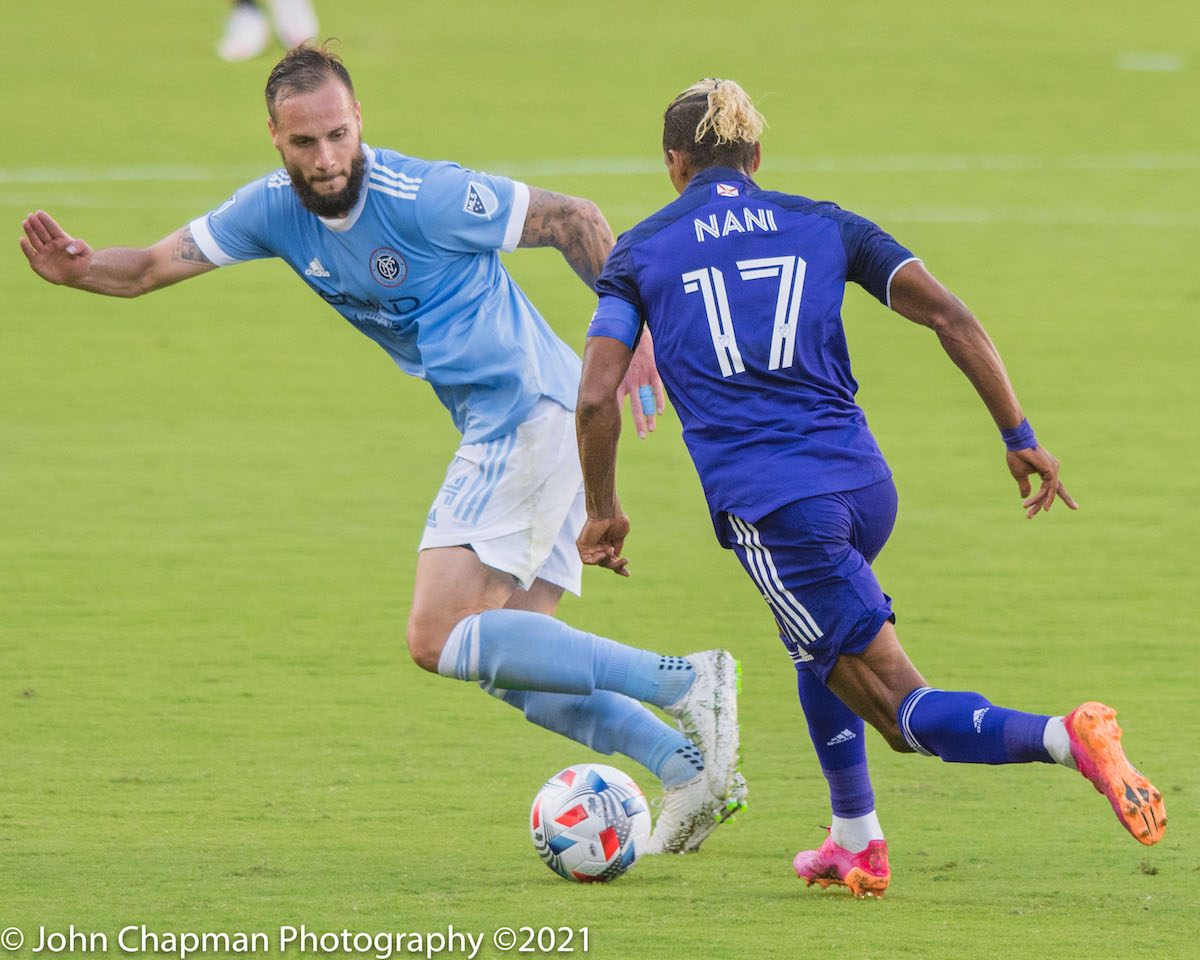 ---
Orlando, FL – Somebody get this man a purple diamond Jesus piece! Nani has become the savior of Orlando as the Lions remain unbeaten thus far. Scoring in his 3rd straight match, o Leão has instructed his teammates to hold on to his mane because this season is going to be a wild ride. The Lions drew 1-1 with fellow 2015 MLS expansion foes, NYCFC, in what should've been celebrated as a victory for the purp boys.
Orlando has now drawn in three out of their four matches. Their only victory came last week vs Cincinnati. Nevertheless, they've only given up two goals in all four matches. However, outside of Nani, you'll be hardpressed to find some offense. It's not for lack of opportunity though. They've yet to play a match where they had fewer shots on target than in any previous match. (3, 4, 5, 5) Needless to say, not every game will be played against newly-minted MLS clubs, like Cinci. All the same, that's a nice trend that hopefully leads to more celebrations from The Ruckus.
And 𝙎𝙏𝙄𝙇𝙇 undefeated in 2021 👊 pic.twitter.com/UUnSJn4YwG

— FOX Soccer (@FOXSoccer) May 10, 2021
When New Yorkers Invade Florida
The first half stayed scoreless. It was like two boxers sizing each other up, reacting to each move they make. Head Coach Oscar Pareja said, "New York has a game model that is not easy to play against. We made a change in the formation a couple of times and we really were consistent and solid in the way we had the initiative in the game."
Just because you figure out your foe doesn't mean your game is flawless. Early in the second half, Júnior Urso found his way into NYC's territory. He left it for Mauricio Pereyra just outside the 18. It was then, in 52′ that Mo sent it left where Nani controlled it and sent the ball into the back of the net.
25 minutes later, NYC found a flaw in Orlando's defense to expose. Ruan seemed to have injured himself in the 1st half and could not start the 2nd. João Moutinho started the 2nd half for him. Moutinho has played maybe five minutes this year since his hip injury and was surely not expecting to notch this many minutes while still finding his groove while returning from injury. NYC's Ismael Tajouri-Shradi dribbles into Orlando's penalty area with only Moutinho to beat and catches João slippin', earning the penalty that would eventually equalize for NYCFC.
¡𝓣𝓪𝓽𝔂 𝓒𝓪𝓼𝓽𝓮𝓵𝓵𝓪𝓷𝓸𝓼!

Desde el punto penal @tatycaste11anos empata el partido para @NYCFCEspanol.#ORLvNYC | 1-1 pic.twitter.com/9Un4hDA7MX

— MLS Español (@MLSes) May 8, 2021
Aside from that one breakdown, the Lions seem to have executed their game plan, but you can never account for injury. That being said, Nani keeps the Lions Unbeaten with the help of his pride. Orlando is off to a decent start, still holding on to that momentum earned last season.
Next up, OCSC travel to our nation's capital to take on D.C. United as the Lions and Nani hope to keep their unbeaten streak alive.
Lions of Pride Rock:
Nani – Three straight games with a goal scored. Slump busters need not apply.
Júnior Urso – Coming off a goal scored vs Cincy to create the scoring opportunity vs NYCFC. He sees the bigger picture like

John Nash

, Governing Dynamics.
📸 Credit: John Chapman
(Visited 10 times, 1 visits today)