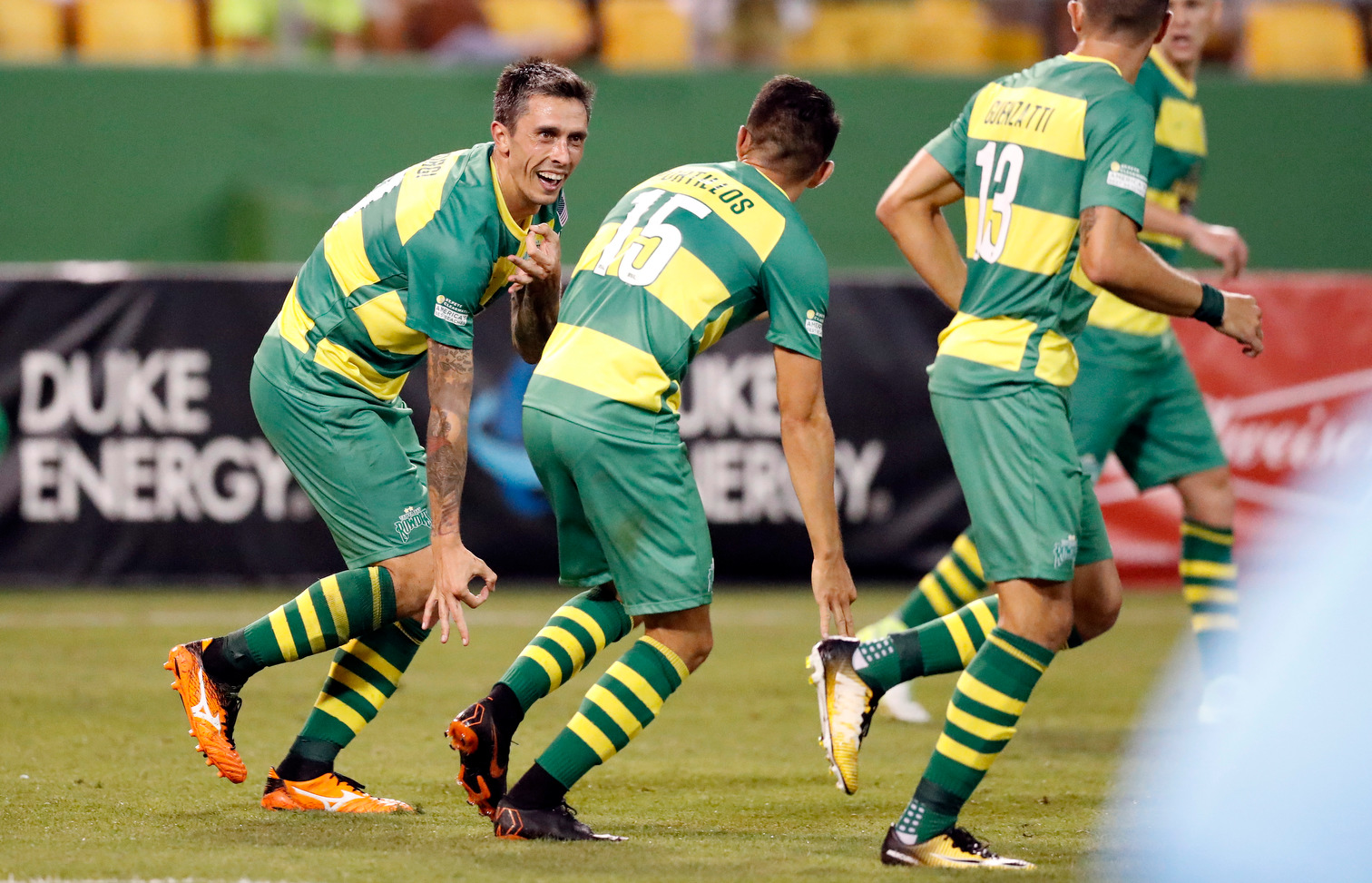 ST. PETERSBURG, Fla. — The Tampa Bay Rowdies faced a tough task Saturday night, trying to bounce back from a humbling 5-0 defeat one week ago against a team in the Real Monarchs that hadn't dropped a point all season.
The Rowdies were more than up to the task though, posting a 2-0 win at Al Lang Stadium, their third win in as many home matches this year.
Tampa Bay (4-2-0, 12 points) got goals from Joe Cole and Georgi Hristov in either half to send the Monarchs (4-1-0, 12 points) home with their first loss of the season. Hristov's goal was his 57th strike for the Rowdies, tying Derek Smethurst for the Rowdies' all-time scoring record.
It was the Monarch's first loss in 10 regular-season matches dating back to last season, when they won the USL regular season title.
HIGHLIGHTS presented by @FlyTPA – Rowdies defeat @RealMonarchs 2-0 on Saturday night, with goals from Joe Cole and Georgi Hristov. pic.twitter.com/SHGLJ9LeV7

— Tampa Bay Rowdies (@TampaBayRowdies) April 22, 2018
"They (Real Monarchs) are far and away the best team we've played so far," Rowdies Head Coach Stuart Campbell said. "That's no disrespect to any of the other teams we've come up against so far, but they're an excellent team. It was a very good performance by us and we had to be at our very, very best to get these three points."
In a meeting between two of the top teams in their respective conferences, genuine scoring chances were few and far between for the first 70 minutes of play. The teams combined for only five shots on target all night.
It wasn't until the 40th minute that the Rowdies broke through, with captain Joe Cole outmuscling Real center back Michael Gallagher to set himself up with a one-on-one against Monarchs goalkeeper David Ochoa.
The Rowdies' veteran was always favored to win that matchup, though Ochoa did nearly win the ball off Cole's feet. Cole took another few steps sideways before a simple finish into the open net gave Tampa Bay a 1-0 lead just before halftime.
The Rowdies got off to a hot start in the second half, but Real slowly gained its footing and took control of the game away.
Out here supporting the local boys @TampaBayRowdies for the first time! Crazy atmosphere! GO ROWDIES! #MLS2STPETE pic.twitter.com/OeSkdszDau

— Jose De León (@JDL_87) April 22, 2018
Tampa Bay goalkeeper Cody Mizell preserved the Rowdies' narrow lead with a save in the 66th minute and his team rewarded him with a second goal just four minutes later.
Cole fed a through ball to Georgi Hristov near the corner of the box and Hristov tied Rowdies' history with a first-time shot that beat Ochoa and went into the far netting for a 2-0 Rowdies lead.
"I'm happy," Hristov said. "I want to dedicate this goal and this win to David (Najem), who was injured a week ago. This is for him. I'm happy for the win and I'm happy that I tied the record. … Most important, I'm really happy the way we played against a very, very good team."
Georgi Hristov on tying the Rowdies all-time scoring record on Saturday night:

"I am happy I tied the record, but most important, I am really happy the way we played against a very good team." pic.twitter.com/XeNPfWMg1x

— Tampa Bay Rowdies (@TampaBayRowdies) April 22, 2018
The Rowdies could've added a third goal a few times in the dying minutes of the match, but the job was already done and Tampa Bay was back to winning ways having seen off one of the best teams in the Western Conference.
Now, the Rowdies hit the road for a series of matches in Charleston, Harrisburg and Richmond before returning home to face the Pittsburgh Riverhounds in their next USL home match on Saturday, May 19.
In our last 16 regulation home matches, we have 1⃣2⃣wins, 4⃣ties and 0⃣losses. In those matches, we've outscored opponents 3⃣2⃣to 6⃣. 😳😳😳

— Tampa Bay Rowdies (@TampaBayRowdies) April 22, 2018
Photo by Matt May/Tampa Bay Rowdies
(Visited 166 times, 1 visits today)