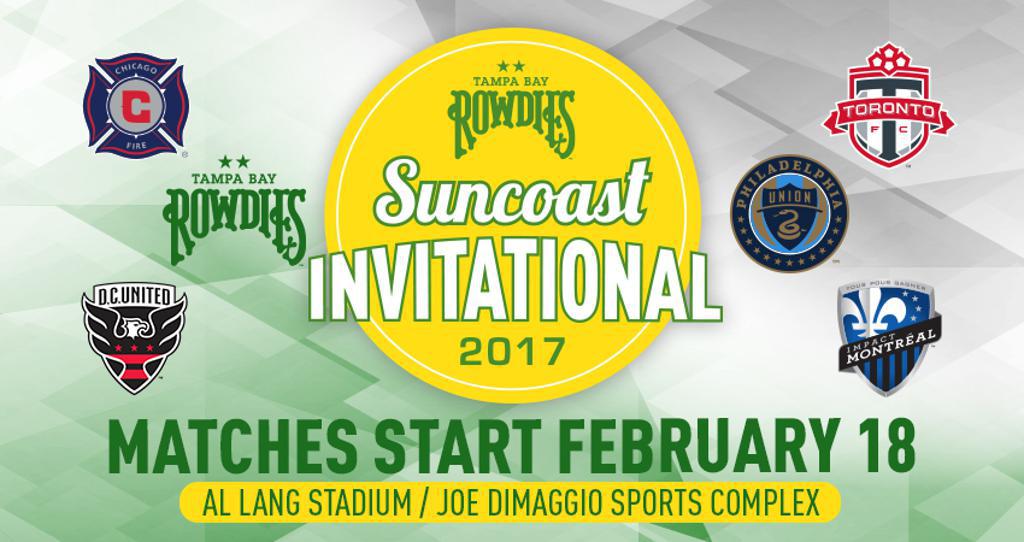 Chicago Fire vs. Toronto FC
Philadelphia Union vs. D.C. United
Tampa Bay Rowdies vs. Montreal Impact
Please allow me to explain. Degrees of bad lessen or worsen something, but we are still dealing in the realm of shit. I say this in an attempt to help comprehend the overall experience of the Tampa Bay 2017 Suncoast Invitational. This weekend, as opposed to last, was no doubt a much more successful effort in the hosting of MLS teams in St. Petersburg. However, as I alluded to before, less bad does not mean good. The stands were still, for the most part, sadly empty. Let me be clear, this is in no way an indictment on the Tampa Bay Rowdies organization for they have put on a solid product. The MLS teams came out, star power and all, the Al Lang Stadium facility was as immaculate and beautiful as ever, and even the now USL home team put forth a spectacular showing on the pitch – a hard fought 1-0 loss and a 2-1 victory against two legit MLS squads is not too fucking shabby -. I feel it bears mentioning, even at the expense of being the party-pooper, the people of Tampa and St. Pete must be better than this. Please try to imagine the MLS approving a franchise in a place that continuously struggles to show up when the goods come to town. While I hope to be mistaken on this, it does not bode well for the people of the bay. Now, if you would be so kind, let us place that aside and discuss a wonderful day of soccer and other shenanigans.
Let me ask you something. When is a whupping not a whupping? Consider a half where Toronto controls the ball damn near the entire time and still goes into the break down 3-0. The star power was out for the team from the great white north, but Sebastian Giovinco, Michael Bradley, and Jozy Altidore yielded very little in the way of results. If ball possession and overall aesthetically pleasing soccer was taken into account when tallying up the final score, then Toronto would be taking home the W. But this isn't fucking Vietnam, there are rules here. Chicago managed to get out on a couple of counter-attacks. The first goal was a rocket! Chicago's Juninho blasted a right-footed strike across the area for a GOLAZO! The second would come on a penalty drawn by Michael de Leeuw and scored by Nemanja Nikolic. de Leeuw would be a common theme in this one as he netted the next two goals for Chicago on their way to a pre-season finishing 4-1 win over Toronto. As for last year's MLS runner-up, Toronto would pull, for the most part, the starters at the half and wrap up their pre-season. Big names the likes of Altidore and Giovinco were heavily featured in that first half as Toronto had plenty of opportunities in the box as well as free and corner kicks; USMNT captain Bradley was staying back and holding down the midfield. Fellow national teammate Dax McCarty was across the pitch on the Chicago side, although his lone contribution to the scoresheet was a yellow card; homeboy got angry at the ball and booted that motherfucker out of the park after the whistle, the referee had a little something in his pocket for him and it wasn't candy. All in all, a very satisfying game to start a beautiful Saturday afternoon/night of "futbol" in sunny St. Petersburg.
On to the next one. Oguchi Onyewu better consider himself lucky that I was not able to get a hold of him following this match-up. Fuck the fact that he actually scored a goal in this game (not really going to discount it, but we'll get back to that), I'm talking about the more pressing questions here. Like, as a guy nicknamed Gooch, what better authority to finally get a ruling on a classic Lemon City discussion on the proper name for that specific area of the nether-regions? I understand he might be biased to gooch, but what about taint, or choad? What is the proper name for the fleshy fun patch?! Some things need to be talked about. However, if you twist my arm, the aforementioned Gooch did in fact have a goal in this one. Kind of a cool fucking story for a guy who has fought back so hard against injuries. He gets to a goal in the last pre-season game he got a chance to start in. For the most part, this match was dominated by D.C. as an underwhelming Philadelphia team was able to put a couple on the board to make this one seem closer than it actually was. Patrick Mullins scored a beauty for his squad as he juked left from the top of the box and put a bending left footed strike into the back of the net. In the interest of household names, national team player Alejandro Bedoya was sent off in the 90th after a second yellow, he was a little feisty.
As the second game was nearing its end, and night fell before I even realized in the Tampa Bay area, the last match of the night was set to take place. The hometown Rowdies were gearing up for Montreal. Excuse me, but I was a little busy creepingly staring at the guy to my left. Holy shit, this son of a bitch HAS to be in the Conan O'Brien gene pool. From looks to mannerisms, I couldn't take my eyes off him on the off-chance he would break into the string dance at any second. And while on the subject of doppelgängers, a relative of Dwight from The Office was in the crowd, and younger, heavier, Mark Richt was definitely also in attendance (#MakeTheUGreatAgain). On the subject of the game, the Rowdies fans were getting, well, rowdy (*rim shot*). The hometown faithful are distracting the shit out of me as I type this very sentence. These motherfuckers came out with their bass drums, their flags, and, most importantly, their intoxication. The contemporary youth would describe such a scene as #Lit or #WhiteGirlWasted. Either way, shit was going down, just not on the field. Not much action until the 34th minute when Tampa was able to get one in and then IT WAS ON! If I thought this rag tag bunch refused to be silenced before… A favorite of ours (Chelsea connection), Joe Cole nets it off a Deshorn Brown free kick. It gets better, those same names get involved just 6 minutes later to make the game 2-0. A low ball in by Luke Boden is struck by Cole, saved by Montreal GK Evan Bush, but as the ball ricocheted in the box, Brown turns around and blasts that baby to the back of the net. Remember before when I said it was on? I was wrong. After that second goal, it was most definitively ON! Pretty fucking cool sight as the home audience was losing their shit. Fathers and mothers raising babies, people shaking their nipples, and the alcohol continued to heavily flow and be consumed. Isn't that what the beautiful game is all about? Yes, yes it is. In the 71st minute, Montreal finally got on the board as Ignacio Piatti takes and scores a penalty. The home crowd disagreed with the call and I agree with them, mostly because I truly believe it, but partly because the goal didn't quiet them down, it only made them angrier and I won't be sacrificed for their sins. In summation, I didn't die, the game ended 2-1 and the people were elated.
Well, I had a great fucking day and enjoyed myself thoroughly. Lemon City as a whole enjoyed its time in the in the Suncoast Invitational. And while we all know that is what is truly important, I still fear for the hopeful MLS future of Tampa Bay. I am mindful of their effort, but I refuse to let it ruin my experience. High quality, compelling soccer took place in our little geographical peninsula. Superstars, national stars, players whose jerseys we own came down and spent a couple of weekends displaying their skills and it was an all out blast. What more can we ask for?
For a full photo gallery from this event, please CLICK HERE.
(Visited 94 times, 1 visits today)