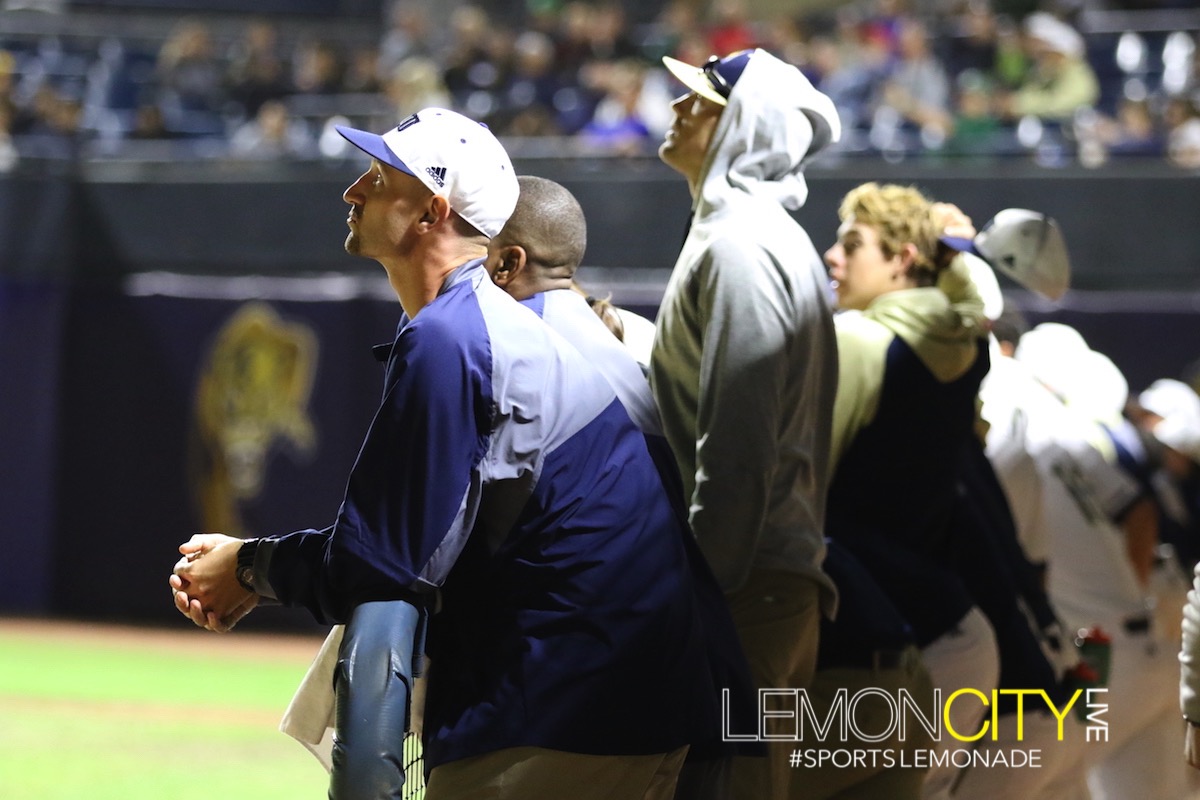 College Baseball – FIU Panthers vs Manhattan Jaspers 3/3/2017
First, this is our first time covering baseball, and how cool is it that FIU has this sweet on-campus baseball stadium to go along with their football, soccer, and softball stadiums and basketball arena?! We give FIU a huge Lemon City round of applause for creating a campus atmosphere where sports fans can watch some quality live games, like today's game! You probably would've thought it was a home game for the Manhattan Jaspers, as they do field some hometown guys, like Saint Brendan alumni, SS Jose Carrera.
Next, wtf is a Jasper? Well, their mascot is named after Brother Jasper of Mary, F.S.C., who served at the College in the late 19th century, and was their first baseball coach. He also served as their first athletic director, and founded their first band (we all know Prodoucher FunGus loves the band), amongst other things. I bet Roary could kick his ass, though.
Here's a fun fact! According to gojaspers.com, The Official Site of Manhattan College Department of Intercollegiate Athletics, "During one particularly warm and humid day when Manhattan College was playing a semi-pro baseball team called the Metropolitans, Brother Jasper noticed the Manhattan students were becoming restless and edgy as Manhattan came to bat in the seventh inning of a close game. To relieve the tension, Brother Jasper called time-out and told the students to stand up and stretch for a few minutes until the game resumed. Since the College annually played the New York Giants in the late 1880s and into the 1890s at the old Polo Grounds, the Manhattan College practice of the "seventh inning stretch" spread into the major leagues, where it has now become a time-honored custom practiced by millions of fans." How's that for some Lemon City #Storytime?!
Back to the game, FIU gave up the first run off an error by their SS, Irving Lopez, in the 1st inning, as Jasper's SS, Jose Carrera got on base, and was later brought home by First Baseman, Michael Pfenninger. In the second inning, FIU leveled the scoreboard as Kenny Meimerstorf walked, and advanced to third the old-fashoined way, singles and sacrifice grounders, only to be batted in by Christian Khawam. In the fourth inning, Manhattan would increase their lead 2-1, in pretty much the same fashion. Center Fielder, Adam Genners walks, and advances by singles and sacrifice ground-outs. Except that Genners would suffer an injury, allowing Richie Barrella to come in and score as his pinch-runner. In the sixth inning, FIU would once again level the scoreboard, as DH, Javier Valdes, batted in Derek Cortaya, but would leave a runner on third base, with Valdes getting caught stealing for the second out and Kenny Meimerstorf striking out to end the inning. This would come back to bite them in the ass. Base-running was not FIU's strong suit today, as Christian Khawam was also caught stealing at third base. Maybe the 3rd base coach sneezed and they thought it meant steal? Either way, Sniffles McGee shouldn't come to work if he's under the weather. The game would need more than nine innings to decide a winner. Ten to be exact. FIU seems to be having some communications issues because they failed to throw a guy out, at first base, after a bunt. FIU first baseman, JC Escarra moved in to field a bunt by Manhattan's Paul Genners, but pitcher Robert Garcia had a better angle, so he played it. The problem is that second baseman, Derek Cartaya didn't make it to first base quick enough to back up his boy, so Genners made it safely to first. He would advance to third off of sacrifice grounders, and would eventually be batted in by second baseman, Matt Forlow, as he squeezed one in to the left-field foul-line gap for a double.
That would be the deciding run for Manhattan's victory. FIU better figure out their communications issues as they fall to 2-6 with some tough games coming up, including 3 more games against the Jaspers this weekend. Aside from the loss, the game was a lot of fun. FIU Stadium is a sweet place to catch a ball game, and hopefully scope out some future MLB talent.
For a full photo gallery from this game, please CLICK HERE.
(Visited 102 times, 1 visits today)