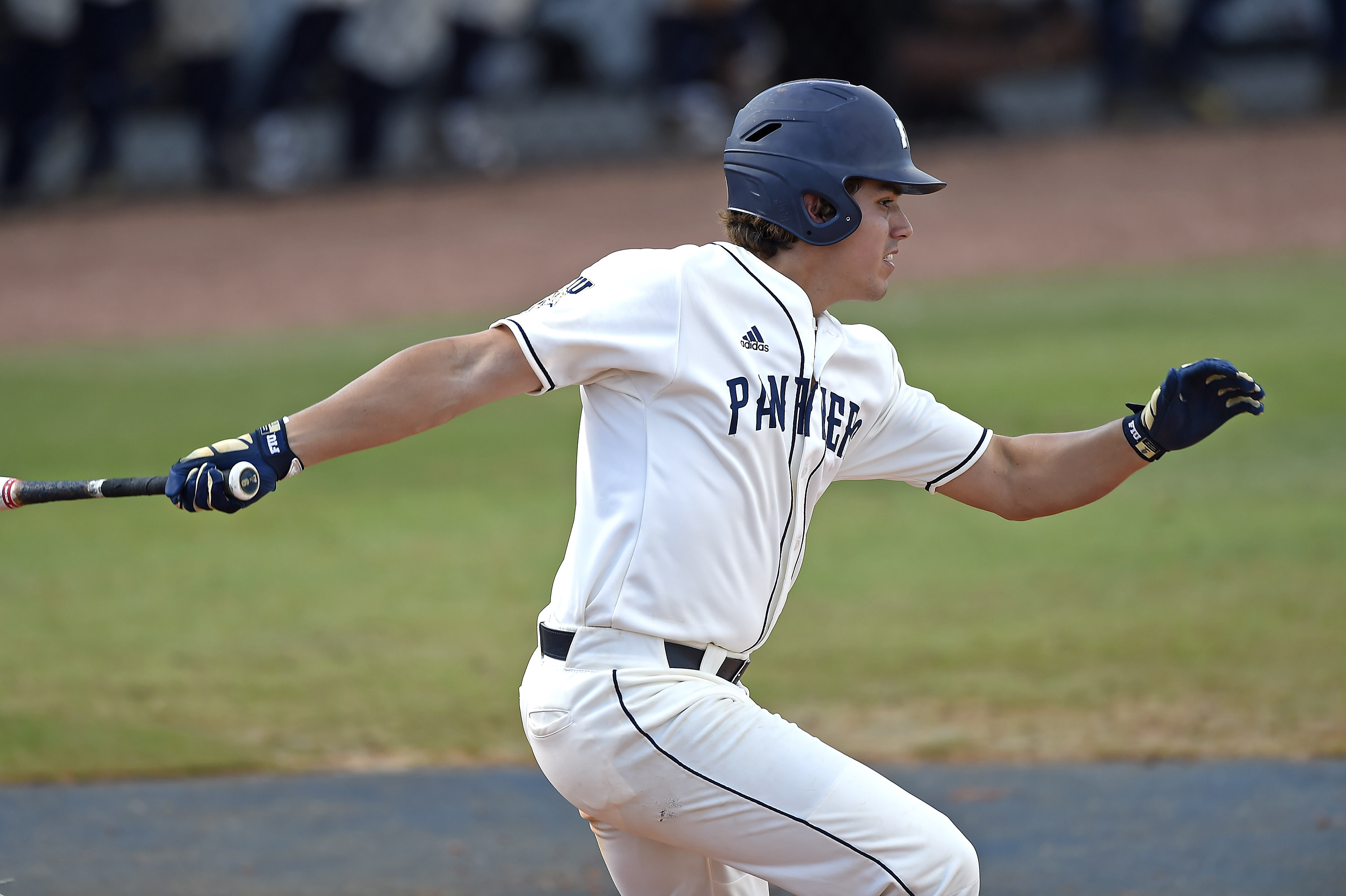 Miami, FL – When Austin Shenton lifted the ball over centerfield in the first inning, the FIU Panthers had already won.
They just didn't know it yet.
The Panthers obliterated the George Mason Patriots 16-0 on the strength of four longballs and dominant pitching at Infinity Insurance Park (Formally FIU Baseball Stadium).
It was the first-ever meeting between these two teams and also the first of the day's doubleheader. It's definitely one for the history books.
Andres Nunez (0-1, 4.15 ERA) took the mound for FIU, going up against fellow righty Bryce Nightengale (1-1, 5.93 ERA). One of these guys was about to have a long day.
The Panthers displayed some serious power not seen since Wednesday night's game against the Canes with Shenton smacking an absolute bomb over the centerfield wall to put FIU's first run on the board. The sophomore would swing for the fences again, this time with a 3-run shot in the seventh, his fifth of the year, as part of an 8-run hit parade thoroughly putting the game out of reach.
Shenton had himself a day as well! #PawsUp pic.twitter.com/rJdBlA8F0z

— FIU Baseball (@FIUBaseball) March 11, 2018
https://platform.twitter.com/widgets.js
The blue and gold switched over to some small ball in the second inning with Diandre Amion leading off with a base hit. Kobe Lopez came up next, laying down a nice sac bunt to move the runner to second. Juan Teixeira followed up, hitting a fly ball to shallow left, allowing Amion to get to third for Derek Cartaya. Teixeira would go yard for the first time in the season later on. Cartaya took advantage of the situation with an RBI single, scoring Amion. The Panthers could've added more to their early lead with runners at the corners but big man Shenton hit into 4-6-3 double play. His terrific day was only just beginning.
After two uneventful innings, Nunez ran into some trouble in the third.
It seemed that he was well on his way to ending George Mason's turn at the plate. With Tim Turner racing towards home, he scooped up the comebacker and tossed it to Javier Valdes for the second out. And that's when the problems started. Patriots center fielder Frank Sturek was walked followed by Logan Driscoll getting beaned to load the bases (With a wild pitch in between), setting up a showdown with the first baseman, George Mason senior Trevor Kelly. The kid worked through the pressure and Kelly struck out swinging ending the threat and preserving the shutout.
Nunez went six strong allowing a single hit, whiffing six. The bullpen continued where Andres left off, sending in Everett Hurst, keeping the Patriots off the board.
Have a day Nuñez! #PawsUp pic.twitter.com/2TtBZkvAct

— FIU Baseball (@FIUBaseball) March 11, 2018
https://platform.twitter.com/widgets.js
FIU widened their lead with a 3-run fifth which included another homer, this time from Lorenzo Hampton Jr., adding two more RBIs to his total (11). It was his fourth bomb of the year.
Any hope of a Patriot comeback was burned to ashes in the seventh and then scattered to the wind in the eighth with a combined 11 runs on 9 hits, torching George Mason's bullpen.
After losing their first eight contests, George Mason had been on a four-game winning streak heading into South Florida. Needless to say, its come to an effective end. With Game 1 in the books, FIU improves to 8-7 while George Mason falls to 4-9.
Two words
Dom-Inate 😂
Two more words
Paws Up! https://t.co/VnsG60mTyE

— Lemon City Live (@LemonCityLive) March 11, 2018
Player of the Game
Austin Shenton. I mean really? Was there any doubt? Austin Shenton went 4-for-6 with 2 doubles, 2 home runs tallying 4 RBIs.
Stat of the Game
FIU's 16 run barrage is the highest of the season, adding to the squad's growing reputation of a very potent offense. The "Pour it on Posse" as some call it.
Game Notes
Lozreno Hampton Jr. finished the series opener 1-for-4 with a homer, driving in two RBIs.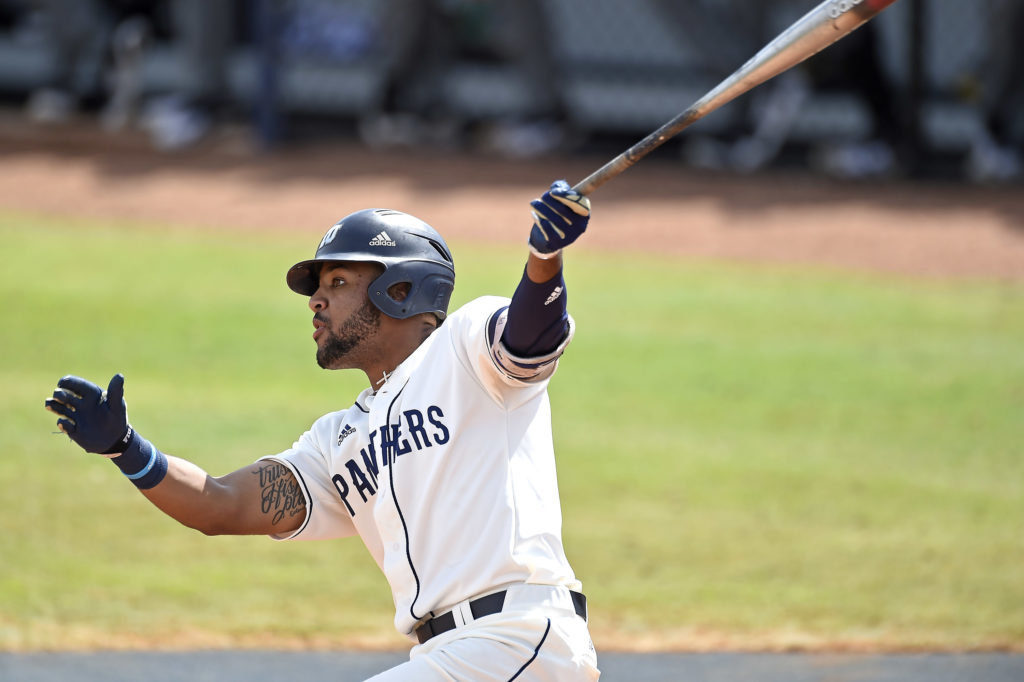 FIU's visit to Port Charlotte was limited due to rain, splitting the first two games played (Both rain-shortened)  while the third was postponed, resulting in today's doubleheader.
FIU lost to St. Joseph University 3-2 before bouncing back to defeat Western Michigan 4-2 at Port Charlotte.
In his last outing, Nunez lasted 4 and 2/3rds giving up 4 runs on 7 hits on 6 strikeouts.
After the doubleheader, FIU closes the series Monday afternoon before heading back to Port Charlotte to face Rutgers for a midweek matchup. They begin conference play next weekend against Charlotte.
Photo Credit: FIU Baseball
(Visited 206 times, 1 visits today)