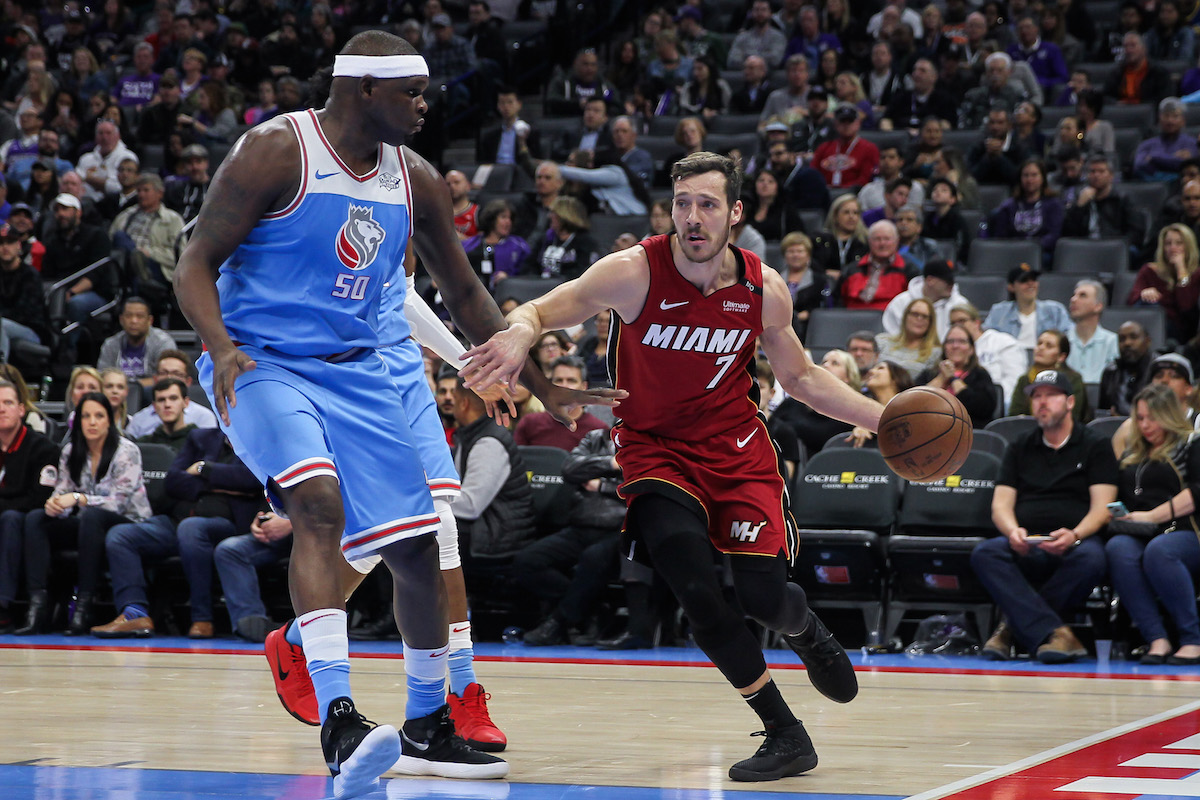 Miami, FL – It's so typical of the Miami Heat to lose a winnable game against a bottom feeder like the Sacramento Kings. This is Miami's 2nd loss this season against the Kings, completing the cross-country sweep. For a squad that preaches "defense", and is a top-10 ranked defensive team, it's difficult to see how they could give up 123 points (even if they did play one overtime period) to the 28th ranked offensive team in the League. The Heat allowed six Sacramento players to score in double figures. This was the 2nd straight loss for the Heat, and not coincidentally, the 2nd straight game that Miami allowed their opponent to reach 100 points first.
The Heat came out strong, putting up 31 points in the 1st quarter, as you'd expect against the Sacramento Kings. However, with Dwyane Wade, Josh Richardson and Hassan Whiteside out with injuries (really?), Miami would have to reach deep into their bench for some depth. The Heat also had six players scoring in double figures, led by Goran Dragic, who put up 33.
#MIAvsSAC: HEAT out to an early 12-10 lead over the Kings.#TheDragon is 🔥so far, scoring half of Miami's points.

— Miami HEAT (@MiamiHEAT) March 15, 2018
The Kings dominated the 2nd quarter. Miami only made 7 of 19 field goals (ouch), four of which were three-pointers. They were also 2 of 6 from inside the paint. Wayne Ellington had a better shooting percentage from the three-point line. He was 6 of 17. At the half, Miami was down 52-59.
In the 3rd quarter, the Heat shot 5 of 11 from three. James Johnson hit three of them. He also had three assists, two steals, two rebounds and a block in the period. That kept Miami from falling too far behind, because they shot 5 of 14 from inside downtown. Miami shot just over 41% last night, while Sacramento shot just over 51%. It's hard to win that way.
With three key guys out, Goran stepped it up big time in the 4th. Miami went in down 79-91, but cut into the lead off of Goran's 15 4th-quarter points. Wayne Ellington also had a big 4th quarter, draining three of six 3's in the period. But not all that's well ends well.
Goran is showing no quit in Sacramento! #TheDragon has scored 10 of his 26 here in the 4th quarter. #HEATCulture pic.twitter.com/M6qL9cBXjY

— Miami HEAT (@MiamiHEAT) March 15, 2018
Coach Eric Spoelstra, himself, said that the Heat did not have a consistent defensive game, and with a four-point lead, and less than a minute remaining in the game, they relied on that defense to put the game away. Unfortunately, Miami has a turnover problem, and after James Johnson was called for an offensive foul, it gave Sacramento a chance to cut into the 4-point lead. The Kings came back down and Buddy Hield, off an assist by Bogdan Bogdanovich (Why is his name just a shortened version of his last name?), hit a three to bring the game to within one point with 33 seconds left. Both teams would waste a possession, and with just over three seconds remaining, Kelly Olynyk was fouled. He missed one of two, leaving the door open for Sacramento to tie, or win it with a three. Who else? None other than Heat killer, De'Aaron Fox, comes up big, scoring a floater from inside the paint to tie it up and send it to overtime. 111-111
OT in Sacramento!

We're keeping up up a little later… HEAT & Kings are tied at 111. #MIAvsSAC

— Miami HEAT (@MiamiHEAT) March 15, 2018
At that point, the Heat were tired and deflated. They were outscored in overtime 8-12, and lost a game they should've won. After the game, Dragic said "we need to start playing sooner…you cannot just turn the switch on…" That means that they have to put the full effort from beginning to end, and follow the game plan. Wade returning gave the team a nice spark, and him coming off the bench has definitely helped that 2nd lineup, but they can't revert to relying on him how they used to back in the day. That D-Wade isn't coming back. Sure, we might see flashes of it (no pun intended), but it is no longer the norm. The young guys need to take the reigns from father prime and run with them!
Fell in OT despite a huge night from Goran. pic.twitter.com/Lg1tNZHtWe

— Miami HEAT (@MiamiHEAT) March 15, 2018
📷Credit: Sergio Estrada-USA TODAY Sports
(Visited 185 times, 1 visits today)