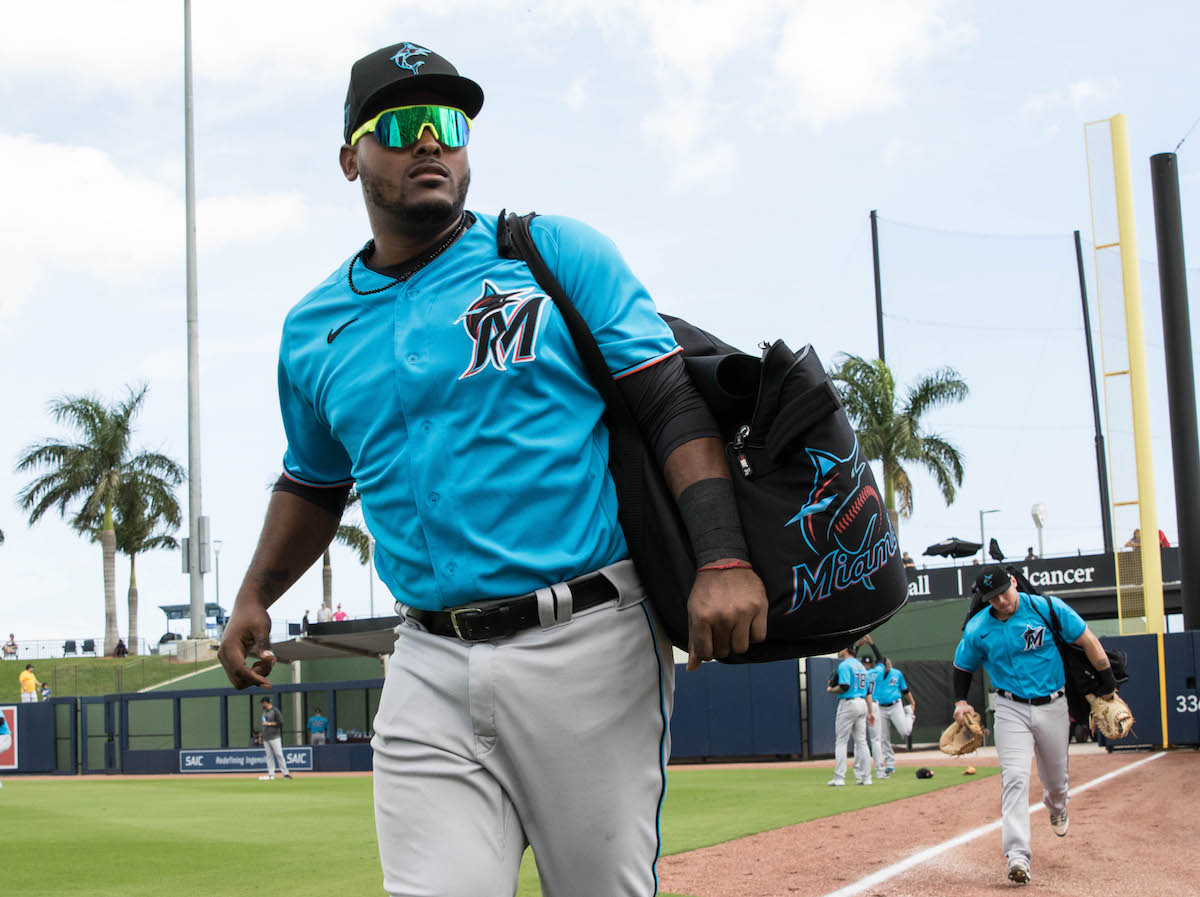 ---
Miami, Florida – The Miami Marlins are heading into Spring Training lagging behind the competition and the 2021 season looks to be a painful one. When we last saw them on the field their needs were plain to see. Fast-forwarding to now, they haven't done enough. Not even close. Taking a look at the rest of the division, the fanbase is in for a hard fall back down to earth. Firstly, let's take a look at some of the moves they did make.
Starting near the top, the Marlins did not renew Michael Hill's contract, naming Kim Ng as their new general manager. She makes history as the first-ever female GM in MLB. Moving from there, the Fish decided to pick up Starling Marte's $12.5 million club option for 2021. Marte made an immediate impact after the team traded for him last summer during the shortened season. While the outfielder's option was picked up, the same could not be said for Brandon Kintzler. Miami declined the closer's $4 million club option and Kintzler elected free agency.
By the end of November, the Marlins added their 13th and 17th ranked prospects (Infielder José Devers and outfielder Jerar Encarnación respectively) to the 40 man roster. José Ureña was designated for assignment, replaced by right-handed reliever Adam Cimber, acquired via trade with the Cleveland Indians for cash. The team also signed 18-year-old shortstop Yiddi Cappe who ranks No. 10 on MLB Pipeline's list of the Top 30 international prospects. This was a highly touted move because of his potential as a glove-first athlete with a powerful arm. Outside of that, Miami reinforced their bullpen with Ross Detwiler and Anthony Bass, DFA'ing Jordan Yamamoto.
Catch up right now on an all new Beyond the Bases with @Marlins right hander, @AnthonyBass52: https://t.co/M3Vx5UsjT6. #305OnTheRise // #JuntosMiami pic.twitter.com/UJQInHkD5N

— Marlins Radio (@MarlinsRadio) February 4, 2021
Does any of this convince you that the Marlins will compete in the stacked NL East? Not me.
Needs Unmet
Sure, there were a lot of other moves such as multiple deals to avoid arbitration, other signings to minor league contracts, and invites to spring training but these were the highlights. Going into the offseason, the Fish had needs in three particular areas: addressing the catcher position, improving the bullpen, and adding another bat. They arguably checked off one of their needs in relief with Bass and Detwiler although the question now is, who will be the closer?
Finding improvement behind the dish has been on the to-do list for some time now. Prior to the start of the 2020 season, Jorge Alfaro was seen as the everyday catcher. It became Francisco Cervelli instead with appearances from Chad Wallach. Cervelli retired leaving the team with two options, both struggled at the plate last year. The Fish did add veteran catcher Sandy León to a minor league contract and an invitation to spring training. He played for the Boston Red Sox when they won the World Series in 2018.
They will add another bullpen piece. Ng has given the impression they are pretty much set with the position players. Personally ? I'm not so sure as they continue to gauge the FA & trade market. We shall see. https://t.co/u5iUOSLj4O

— Craig Mish (@CraigMish) February 3, 2021
The starting rotation looks great but similar to last year, all eyes will be on the offense. Marte will hopefully add some much-needed pop at the plate but this is not enough. The hitting was at best average in 2020 and its weakness was made painfully clear when the Atlanta Braves swept the Marlins in the NLDS. So far, this is giving me reason to believe that the organization is either banking on someone stepping up, having a breakout year or they want to trade prospects for starting talent further down the line. Trouble is that for the latter, the front office has been relatively quiet. They've done a fine job assembling a very impressive farm system but if the intent is to grab impact players like Marte, it hasn't happened.
Left Behind
So what have our division rivals been up to? A LOT. The New York Mets snagged Francisco Lindor and signed James McCann  (a catcher via free agency) while also adding Trevor May. The Philadelphia Phillies locked up J.T. Realmuto and Didi Gregorius. The Washington Nationals, meanwhile, added veteran southpaw Jon Lester to a starting rotation that already has  Max Scherzer, Stephen Strasburg, and fellow lefty Patrick Corbin. The Nats also traded for big bat first baseman Josh Bell and re-signed 36-year-old Ryan Zimmerman.  They also landed top free-agent reliever Brad Hand on a one-year deal.
Biggest offseason acquisition for NL East teams:
Braves- Charlie Morton
Phillies- JT Realmuto
Nationals- Josh Bell
Mets- Francisco Lindor
Marlins- Anthony Bass

One is not like the other. This isn't a dig on Bass. I think he could be a good bullpen arm for Miami but that's it? https://t.co/Tx1N1dCqfL

— Hector Rodriguez (@Hector_Baseball) January 30, 2021
And the NL East division champs?
Well, the Atlanta Braves were one win away from getting to the World Series. The team has largely stayed the same with moves geared towards building on their success. One example is reinforcing their young starting pitching. Atlanta also made a deal with Marcell Ozuna despite no universal DH this season. His offensive output outweighs his defensive liabilities.
So do you still feel confident about the Marlins?
Final Thoughts
Ey, the offseason is not over, and there's still time to make moves but the trends from the other teams don't bode well for the Fighting Fish. Remember, there are no expanded playoffs this year. Right now, a third-place finish in the division is the best-case scenario, and even this is seen as wildly optimistic. Are we even going to have a winning season?
There are deficiencies the team really needs to address and I feel the roster is only marginally better. Our payroll cash is lacking, this is very true, but they can make up for it with their stocked farm system. If the front office is going to make a move, the time is now. Miami is in one of the best divisions, this isn't the NL Central. If they wait until summer to pull the trigger, it may be too late to become buyers with playoff contention long, long gone.
Orioles won arbitration case over Anthony Santander. He will make $2.1M. Marlins are interested, maybe more interested now. @Feinsand 1st

— Jon Heyman (@JonHeyman) February 5, 2021
(Visited 53 times, 1 visits today)