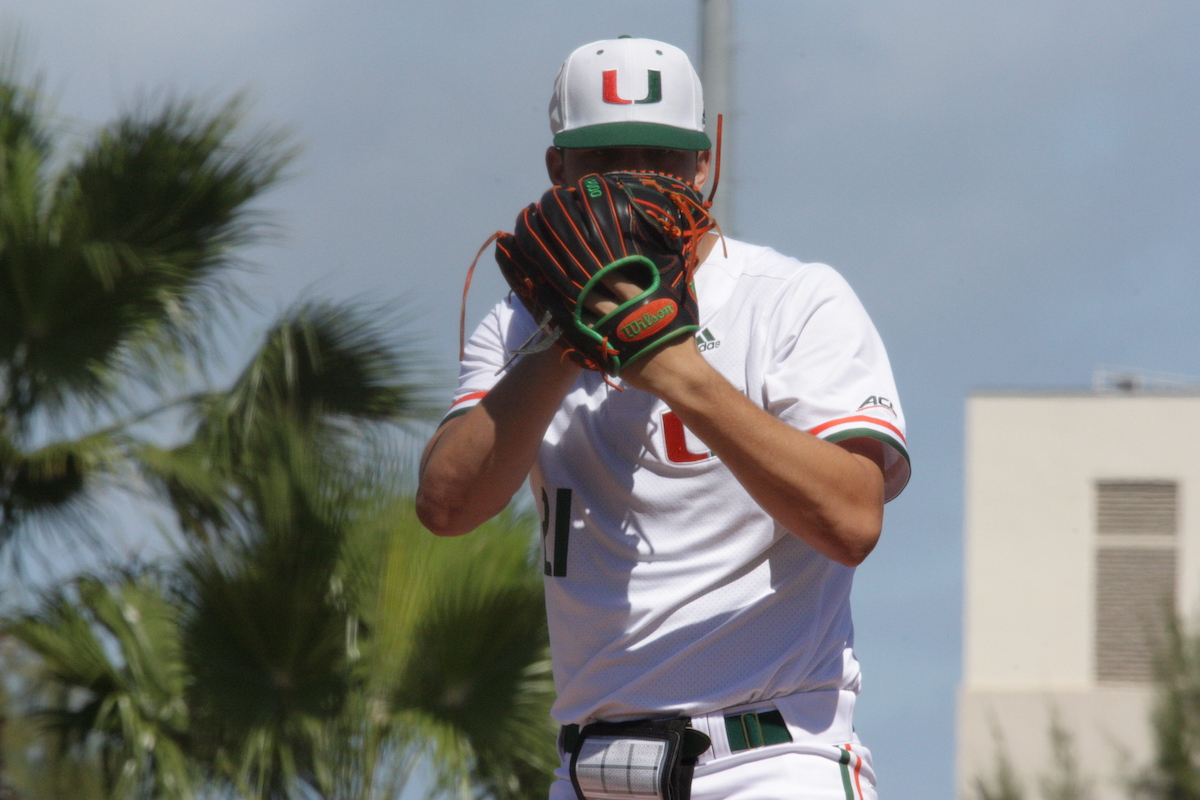 ---
Miami, Florida – It's that time again folks, the Miami Hurricanes baseball season preview. A showcase of the squad hoping to earn a trip to Omaha. It's been nearly a year since the fans last saw them. A lot has happened since then.  The COVID-19 pandemic upended the sports world (and everything else), bringing all activity to a screeching halt. 16 games in, the 2020 season was canceled. The NCAA then made the decision to grant an extra year of eligibility for student-athletes in light of the coronavirus outbreak. The shortened MLB draft saw three Canes players selected with two more signing as undrafted free agents.
Slade Cecconi. Chris McMahon. Freddy Zamora. Brian Van Belle. Tyler Keysor. All elevated to the pros.
Most notably, Miami's entire weekend rotation will not be returning. After fierce competition among eight players for these four starting spots (including midweek games), the starters are set. The incoming 2020 recruiting class looks to make a name for themselves, eager for some playing time. So without further ado, let's look at both the returning players and the new faces of this year's Miami Hurricanes baseball team, leading off with UM's two All-Americans.
Opening Day is just a week away and we are hard at work getting ready for our season! pic.twitter.com/gYKJRs9hJy

— Canes Baseball (@CanesBaseball) February 12, 2021
The Veterans
Alex Toral
The big man himself. Awarded D1 Baseball Preseason All-America honors and named to Baseball America's Preseason All-America first team, Alex Toral is a slugger. The first baseman is one of the top power hitters not only in the ACC but in the country. In 16 games last year he went yard five times with 16 RBIs. Back in 2019, he led the conference with 24 HRs ranking third-best in all of Division 1 baseball. For 2020, he had a .296/.435/.593 slash line, leading the team in slugging with the second-best on-base percentage. Toral's presence in the heart of the order will make the middle part of the lineup a scary one for opposing pitchers. He also earned Preseason All-America accolades from Collegiate Baseball and Perfect Game.
Adrian Del Castillo
Regarded as one of the best hitters in the country, Adrian Del Castillo is considered a top prospect in the 2021 MLB draft. Last season, Del Castillo led the team with a .358 batting average playing in all 16 games. He was also tied for the most hits (19) and runs scored (13). The catcher is one of the biggest offensive weapons the Hurricanes have to offer. When he gets a full season in, Del Castillo is a one-man hit parade. In 2019, his slash line was .331/.418/.576 recording 12 homers, 72 RBIs, and 58 runs. He even found other ways to get on base, drawing 32 walks. The backstop also has four preseason All-American accolades, every one of them as first-team recognition.
Daniel Federman
UM's go-to closer turned Friday night ace. When he's on the mound, opposing batters will have a hard time hitting against him. Daniel Federman has protected many leads and fulfilled his charge of getting outs. His past performances have earned him a spot as a starter. Last season he made seven appearances, going 0-1 with a 1.62 ERA in nearly nine innings of work. He struck out 11 while only giving up two runs and seven hits in that span. In 2019 he made 35 appearances, notching 48.2 IP going 3-5 with a 2.73 ERA, whiffing 60. Federman was even better the year before. Let's see how he does versus the Florida Gators.
We've got three great veterans leading the way in 2021, @AdrianDelCast, @FedermanDaniel and @AlexT_20 🙌 pic.twitter.com/HbxEQBDwZ2

— Canes Baseball (@CanesBaseball) February 13, 2021
Jordan Lala
2020 was a disappointing one for Miami's leadoff man. Jordan Lala struggled at the plate, batting only .232 in the pandemic shortened season. I remember when he started the year 2-for-11 and only got one hit in the entire weekend series versus the Florida Gators. Lala recovered in the last home series against Pittsburgh, salvaging his numbers. He struck out 13 times in the season but the Tampa native led the team in walks with 15. Even when Lala couldn't get a hit, he still found ways to get on base. Despite his low numbers in 2020, the outfielder is a proven speedster on the basepaths, nabbing 28 stolen bases back in 2019. Hopefully, he will bounce back as expectations remain high.
Anthony Vilar
Rounding out this list is one of the U's core infielders. Anthony Vilar started all 16 games at shortstop, taking over for the injured Freddy Zamora. Slashing .297/.361/.469 Vilar smacked two dingers, five doubles, and 15 RBIs in 64 at-bats. He led the Canes with six multi-hit games and managed to swipe three bases in the small sample size of a shortened season. He was very much on track in surpassing his freshman year numbers (.291/.416/.414, 12 doubles, 5 HRs, 39 RBIs) with 2021 ripe for a breakout season. Whether at the top or in the heart of the order, expect Vilar to contribute in a big way.
New Guys On The Block
Jake Smith
Say hello to this hard-throwing righty from Chapel Hill, North Carolina. This is a fresh individual looking to contribute with his arm. Jake Smith is a transfer from State College of Florida. In 2020 he was named Pitcher of the Year and for good reason. Smith went 5-1 with a 1.57 ERA, notching 59 strikeouts in over 40 innings of work. He also tossed two complete games, not bad. When facing conference opponents, he was lights out in the shortened season, brandishing a perfect 0.00 ERA. Opposing hitters looked helpless, hitting .077 against him.  The power pitcher was selected in the 21st round of the 2018 MLB Draft (pick No. 617) by the Philadelphia Phillies, opting for college instead. Coach Gino Di Mare has said that the program is very fortunate to have recruited this competitive young man.
Jake Smith grew up in the heart of Tar Heel country, but he is ready to dominate for the Miami Hurricanes.https://t.co/0VlRfMw2a4

— Canes Baseball (@CanesBaseball) September 15, 2020
Yohandy Morales
A highly touted freshman. Nicknamed "Yoyo", Yohandy Morales could be UM's next starting shortstop. He's a local from Braddock where he was a three-time team captain of the varsity squad. In his high school career, Morales hit .359 with 19 doubles, three triples, eight dingers, and 50 RBIs. For 2020, his batting average was .500 with two doubles, four round-trippers, and 14 RBIs in the shortened season.
Nicholas Regalado
The righty attended Monsignor Pace for two years before transferring to Columbus. Nicholas Regalado posted a 10-1 record with a 1.02 ERA, recording 89 K's in over 62 innings pitched during his two seasons at Columbus. In junior year, Regalado posted a razor-sharp 0.60 ERA, going 9-1, and threw two no-hitters earning him Dade County Pitcher of the Year (2019). For the Miami Lakes native, playing for the Hurricanes really is a dream come true. Initially, he didn't stand out much at fall practice but his great mentality began to show, the kind of toughness the program looks for. He learns from failure and overcomes adversity. Regalado wields the off-speed stuff like the slider/cutter and the changeup, complementing his two-seamer that rates in the low 90s.
Alejandro Rosario
Now, this guy is a flamethrower. He brings the HEAT. Alejandro Rosario is an incoming freshman that can hit the high 90s. According to coach Di Mare, he attended one of Rosario's high school games and the youngster was hitting 99 mph. He kept up the power in fall practice as well. The righty helped Miami Christian achieve back-to-back state championships in 2018 and 2019. In his varsity career, hurler tossed over 142 IP, going 13-3 with an impressive 1.67 ERA, collecting 165 strikeouts. Rosario is also one of the weekend starters.
A trio of Miami natives are ready to represent their hometown school as three of the top freshmen in the ACC! pic.twitter.com/i6xFFyX2Kp

— Canes Baseball (@CanesBaseball) February 10, 2021
Victor Mederos
Another impact player. Victor Mederos is our next right-handed pitcher who throws into the mid-90s. Mederos attended Coral Reef (2017), Monsignor Pace (2018-2019), and Westminster Christian (2020). After four years of high school ball, Mederos went 8-7 with a 3.68 ERA. He tossed over 78 frames and fanned 128 hitters in that span. Ranked 59th overall by Baseball America for the 2020 MLB Draft, he's got size and a great arm. Not only does he rely on his fastball but the Cuban native wields a nice curveball and a power slider getting a lot of swings and misses. Interestingly, one of his favorite players is Jose Fernandez. Mederos rounds out the starting weekend rotation.
Jamar Fairweather
This youngster excelled as a two-way player at local powerhouse Westminster Christian. In his high school career, Jamar Fairweather was great at the plate hitting .345 with 11 homers and 68 RBIs. On the mound, Fairweather accumulated a 15-6  record with a 2.76 ERA, pumping 155 Ks in over 131 innings pitched. He did not pitch as a senior. In the abbreviated 2020 season, the South Miami native hit .258. Originally slated to FIU before ever playing a high school game, Fairweather de-committed because he felt that he decided too soon without exploring other opportunities. Growing up a Hurricanes fan, he hopes his improved slider can be an asset to the team.
"I am excited to get the opportunity to step on the mound and help this team win games." – @Jamar_F_7

📰: https://t.co/jw3itmFc98 pic.twitter.com/d6Gmys12NK

— Canes Baseball (@CanesBaseball) February 11, 2021
Peeking at the schedule
UM is slated to play 50 games this year, 36 of them against conference rivals. I won't sugarcoat it, this looks to be one of the most challenging schedules in quite a while. The Hurricanes have a doozy right out the gates with a road series against the Florida Gators, the best team in the country. They were unanimously ranked as the preseason No. 1 after finishing 16-1 last year.
ACC ⚾️ is almost back!

For the 3rd straight year, @LouisvilleBSB has been selected the preseason favorite by our 14 head coaches.

More info » https://t.co/GcxDvOXkUz pic.twitter.com/EGgMuUeiDZ

— ACC Baseball (@ACCBaseball) February 11, 2021
Miami wasn't the only one within the conference grabbing attention from numerous publications. The Atlantic Coast Conference fields a lot of deep talent with No. 6 Louisville (we end the season at their house), No. 12 NC State, and No. 14 Virginia. Even the nonconference games will not be easy. The Canes will go up against Florida Gulf Coast, FAU, and even crosstown rival FIU. UM will face everyone in the ACC with the exception of Notre Dame. On top of the tough schedule, COVID adds a big degree of uncertainty. Outbreaks have hit many teams, both at the college and pro level, including the U's football program. The Hurricanes are favored to win the coastal division. These are the four series I'd mark on the calendar:
At Florida Gators, Feb. 19-21
At NC State, Mar. 5-7
At Virginia, Mar. 26-28
At Louisville, May 20-22
Notice they're all road games. The key to Miami's success will be winning away from Mark Light Field, something the team will have to be great at. This goes double for the brand new rotation. Barring any COVID complications, it's looking like an exciting year for Canes baseball.
(Visited 89 times, 1 visits today)