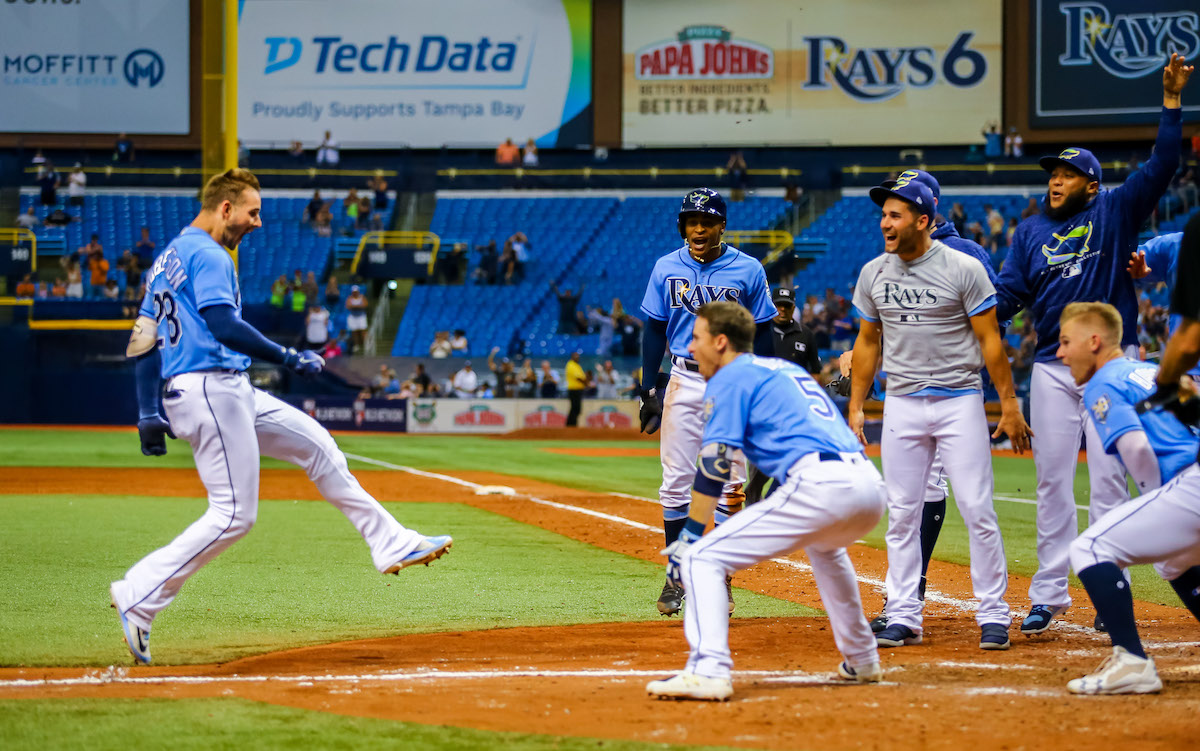 And we're back! Back on I-75 heading north, straight to Tropicana Field and ready for the start of the second half of the baseball season. The Rays kicked off part two of the season against their in-state rivals, Miami Marlins. After a surprisingly successful and rather unconventional first half, the Rays look optimistic to continue their positive ways. The same can, kind of, be said about the Marlins as well – a team many predicted to have a historically bad season that would easily surpass the 100 loss total. The Fish actually find themselves sitting pretty compared to preseason expectations. But, these are the Marlins, a team full of youth and inexperience, and there's still plenty of baseball left to be played.
Last we checked in with the Rays, we were praising what Cash an Co. were brewing up in Tampa. Not sure what new flavors to expect in the coming weeks, but it seems this first batch of the second half didn't ferment as expected. Marlins took the series with the Rays needing some late-inning drama in the finale to salvage a win.
Eovaldi cookin' early. 🔥#RaysUp pic.twitter.com/W8FSnRVOfu

— Tampa Bay Rays (@RaysBaseball) July 20, 2018
Game one featured a pitchers duel for most of the night, between hard-throwing right-hander, Nathan Eovaldi (and his incredible spin rate statistics) and Marlins right-hander, Dan Straily. The game stayed tied at one until the seventh, when the Marlins exploded for five runs, capped off when Derek Dietrich pulled a 79.3 mph curveball for a three-run monster dong, his second bomb of the night. The only other time Dietrich hit two home runs in a game came at Cincinnati on June 20, 2015. Guess ole' 32 Double D's was due. (Maybe the best Instagram handle in the game) In the ninth, with the Rays trailing 6-1, they rallied off Marlins reliever Javy Guerra, who committed a one-out error on Jesus Sucre's comebacker that loaded the bases. Drew Steckenrider surrendered a three-run triple to Mallex Smith and C.J. Cron lifted a sacrifice fly. After Adeiny Hechavarria's single, Adam Conley entered, yielding a single to Jake Bauers. But Conley — with the count full — struck out Daniel Robertson halting the Rays rally for his first career save.
Oh, *that's* the moon landing we're celebrating today. pic.twitter.com/QYxmTcXXrM

— Miami Marlins (@Marlins) July 21, 2018
Game two saw a dominant performance from the young Marlins hurler Pablo Lopez. In what was the best start of his young career, Lopez allowed just three hits and an earned run in six innings of work. Rays could not muster much of anything all night. The lone bright spot came in the ninth when Ji-Man Choi crushed a bomb off the Marlins closer, Kyle Barraclough. Marlins take the "W" and the series with the 3 – 2 win.
The finale gave Rays fans something that amazingly has never happened in the 20 year history of the franchise. A walk-off grand slam! Yeah, that has NEVER happened in Rays history. Fish jumped to an early four-run lead that carried into the bottom of the ninth. Jake Bauers doubled off Kyle Barraclough to start the winning rally. C.J. Cron followed with a single to center before Ji-Man Choi singled to center to score Bauers and cut the lead to 4-2. After a walk loaded the bases, Rays manager Kevin Cash sent Daniel Robertson to the plate as a pinch-hitter. Robertson, who was in the middle of an 8 for 45 slump, connected on a 1-0 pitch, sending Rays fans into a frenzy. Ball Game! Walk-off! Grand Slam! Rays Win! The loss cost the Marlins their first series sweep of the season and a chance to extend their winning streak to five straight, which would have been their longest in more than two years.
Bases-loaded, two outs, down two.@D_Robertson28: Is that all? pic.twitter.com/EyQbSNGaHA

— Tampa Bay Rays (@RaysBaseball) July 22, 2018
Now the Rays will host the Yanks for three before taking off to Baltimore for a four-game weekend series.
See you tomorrow, man! https://t.co/OjXM01ErWE

— Tampa Bay Rays (@RaysBaseball) July 22, 2018
Did you know?
Sunday's win gave the Rays a 57-56 all-time advantage, and it snapped a three-game losing skid.
Photo Credit – Mary Holt  |  Instagram  |  Twitter
[envira-gallery id="13198″][envira-gallery id="13228″]
(Visited 197 times, 1 visits today)