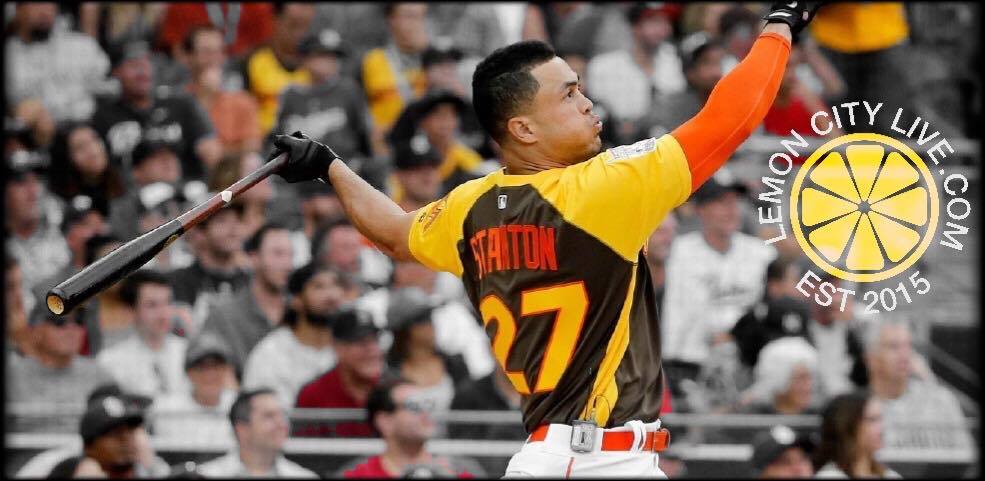 *Before I begin, the term "Monster Dong" was originated in one of my favorite radio shows of all time (Hochman and Zaslow with Joy Taylor and Brendan Tobin 6-10 AM on 790 The Ticket in Miami) and I want to give them full and properly deserved credit for it. It is a hilarious way to describe mammoth HRs.
Giancarlo Cruz Michael Stanton is a mythological creature born of the tears from broken down Miami Marlins baseball fans. Their agony and anguish fertilized the earth to create this beautiful beast sent to save the franchise. His majestic 6'5″, 250lbs frame is that of a modern day Adonis, roaming ballparks and wreaking havoc in the hearts of fans and professional pitchers alike.
Stanton's Monster Dongs are the stuff of legends. We are but mere mortals placed on this Earth to witness the greatness in bat speed and tenacity of this superhuman's swing. Ozzie Guillen once said Giancarlo would kill someone someday. That Castro loving son-of-a-bitch may have been wrong about a lot of things (like his entire life), but he was on the money with this one. You mark my words, one day, Stanton will turn on an inside fastball and rip that motherfucker down the line, godspeed be with that unfortunate fan/runner/3rd base coach/umpire/3rd basemen who shall henceforth have his name tied with baseball's first decapitation.
Giancarlo Stanton has hit 203 glorious HRs in his young, but extremely impressive, baseball career. So, on this Top Ten Tuesday, we will take a look back at his most jaw-dropping Monster Dongs.
Honorable Mentions:
Spring Dong
March 10th, 2014
Ah, yes. Spring training, the epitome of who-gives-a-fuck-but-let's-watch-anyways-because-we-miss-it baseball. If it wasn't for the moments that allow us to look forward to the up-coming season, what would be the point? Well, Stanton had one of those moments.
The ball he launched over the left center scoreboard, and didn't land until it hit the batter's screen of another field, was estimated to be more than 500 feet in distance.
Go-Ahead Dong
August 1st, 2011
Giancarlo Stanton has hit 5 Grand Slams in his short career. They have all been eventful and all have spots in this list. Those no-good assholes, the New York Mets, have been on the bruised losing end of 2 of them. The first of which, took place in Citi Field, in the top of the 10th inning, in a 3-3 ball game.
10. Ding Dong Mitt
July 7th, 2010
Giancarlo Stanton is a South California native and, as such, loves going back to the Los Angeles area to play his hometown team. The Dodgers have fallen victim to a fair share of Stanton's HRs, but none more memorable, at least in my mind, then the towering drive that would find its destination right into the catcher's mitt of the Dodger's bullpen.
Your browser does not support iframes.
9. Hanging Dong
July 23rd, 2016
Jacob deGrom and his stupid hair felt compelled to "cross-up" Big G with a 2-0 slider. Where everything went wrong is that he left it middle-in and hung that baby in the sweet spot. deGrom would not see that ball again until it banged off the left field scoreboard.
Your browser does not support iframes.
8. Dodger Dong
May 12th, 2015
"Hitting it out of the park" is not simply a figure of speech with Stanton. Giancarlo literally hit a HR out of Dodger Stadium, a ball that was so fucking crushed, Scott Van Slyke barely moved in left field.
Your browser does not support iframes.
 7. The Long Dong
May 6th, 2016
The Philadelphia Phillies, in the bottom of the 8th inning in Marlins Park, experienced the true meaning of a no doubter. A 490 foot bomb that sailed over park just left center field, this ball was damn near close to exiting the stadium all together ruining some poor bastard's roof. So far, this is the longest HR in the infant history of Marlins Park.
Your browser does not support iframes.
6. The Longest Dong
August 17th, 2012
Stanton has had, and most definitely will have, longer home runs than this one, but the longest regular season HR distance recorded for Giancarlo so far was a shot to dead center in Denver, Colarado. I'm not much for trusting these estimates anyways, but the supposed measurement was 494 feet.
Your browser does not support iframes.
5. Dong For The Mommas
May 13th, 2012
On a Mother's Day Sunday, in the bottom of the ninth, with a pink bat, bases loaded, in a 4-4 game. A 95 mph fastball blasted deep aaaaand GONE! BALLGAME! GRAND SLAM!! MONSTER DONG!!!!
Your browser does not support iframes.
4. First Dong
June 18th, 2010
As he was then referred to, Mike Stanton was about as exciting a prospect as an organization could have. I mean, come on! A statue of a man who is 20 years old and launches 500 foot Monster Dongs?! The arrival of Stanton to the majors was a much awaited one. However, just as awaited and unexpected, was his first HR, which took quite some time to happen. Say what you want about Stanton, but his flair for the dramatics will not be denied. Stanton's first career home run was a high-arching shot that just snuck over the left field wall in Sun Life Stadium for a 1st inning Grand Slam against Florida's other baseball franchise, the Tampa Bay Rays.
Your browser does not support iframes.
3. Northwest Dong
April 18th, 2014
In a 4-4 tie, in a game that 2 of the Mariners' runs came on a Stanton error in right field, in the bottom of the ninth with the bases loaded, after an overturned challenge on a play at 3rd base, Stanton stepped up to the plate. In reality, all he needed was to drive a ball to the outfield or hit one hard past the infield as there were no outs. But, on this night, Giancarlo gripped the bat tight on a 1-2 count and said "fuck it". A breaking pitch left over the middle of the plate was scorched and wouldn't land again until it was on the opposite side of the fence.
Your browser does not support iframes.
2. Line Drive Dong
June 16th, 2014
This particular phenomenon has happened more than once. Giancarlo Stanton has such raw, natural strength and hits some of the hardest balls you will ever see. The added bonus here is that it was an opposite-field 2-run HR for the Fish. But, the real element of awe here is how low the ball was hit and how fast that shit got out. Stanton has the ability to hit line drives that, seemingly, the infielder will jump for to try to catch and they will just keep rising until the inevitable result, a pimped out trot around the bases and the shaking of the head of the helpless victim (the pitcher).
Your browser does not support iframes.
1. Grand Breaking Dong
May 21st, 2012
Jamie Moyer's nightmares, on a daily basis, consist of Giancarlo Stanton's Monster Dong repeatedly crashing and causing sparks to spray down all over him, a la Roy Hobbs in The Natural.
It was the bottom of the 4th inning with the bases loaded and old-man Moyer did the unthinkable, he served up a 3-2 cookie to Stanton. A crack of the bat that simultaneously cracked 49 year-old Moyer's back, the 462 foot blast exited the plate at 122.4 mph (the highest recorded since the inception of the tracker). The shot would not actually land but rather smash into the left field scoreboard and take out a couple of electric panels in the process. Jamie Moyer has yet to confirm my suspicion that this was, in fact, the reason his ancient ass finally retired.
Your browser does not support iframes.
What is this Giancarlo Stanton being, exactly? Perhaps we'll never know. Part god, part extra-terrestrial, part Terminator sent to the past to fuck shit up? For now, all we know is that Monster Dongs are his thing. He loves to hit them and we love to experience them. There is no safe place inside or outside of Marlins Park when Stanton is at the plate. Protect the children and hold your loved ones.
(Visited 239 times, 1 visits today)