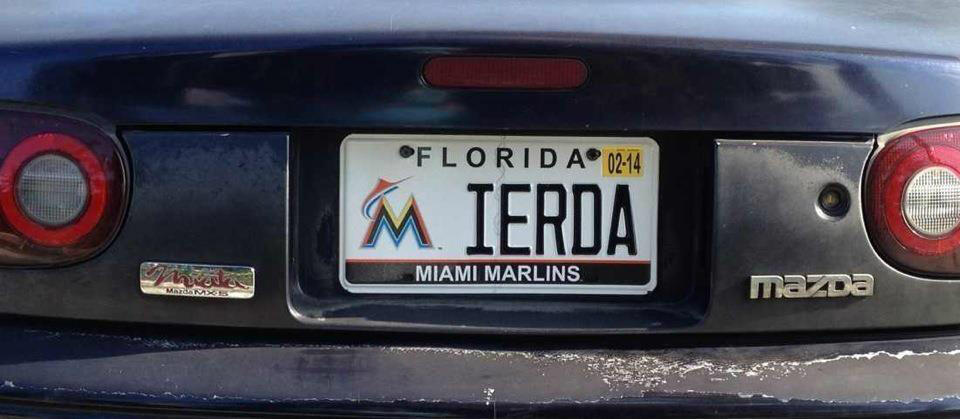 The Miami Marlins are a halfway decent baseball team right about now; fighting for playoff contention and with plenty of exciting players to root for. However, things weren't always rainbows and butterflies. Once upon a time, the Marlins were barely a pathetic excuse for a professional organization. The Fish also happen to be one of the things I love the most in this world; your sympathy is very much appreciated. As a lifelong fan, believe you me, I've seen some shit come across this "baseball" team. I mean, I've seen some real doozies. Therefore, I've assembled some names that might just give my fellow PTSD'd fan-base the push they need to finally go ahead and walk off that cliff. Enjoy!
Honorable Mentions
Ozzie Guillen: A greasy-haired, loud mouth, Fidel Castro loving son of a bitch. Need I say more?
Valerio de los Santos: What an asshole (more on this later).
Braden Looper: Feel free to not give up a HR every time you take the mound.
Adrian Gonzalez: The Marlins' only first overall pick in franchise history, Adrian Gonzalez was traded to acquire Ugueth Urbina, a man recently released from a Venezuelan prison.
Josh Booty: God damn it, his name was Booty! BOOTY! Why isn't this brought up more?!… Anyways, all he wanted to do was play some football.
Mike Piazza: Ah, yes. Who could forget that memorable stretch for one of the best Marlins of all time? Here are the staggering statistics: 5 games, 5 hits, 5 RBI before being shipped off to the Mets faster than it took to re-route his luggage to JFK. That's what I'm talking about.
Dan Jennings: This is not about the lefty relief pitcher, I could give a shit about that poor bastard. This regards the GM that decided, after an extensive search, he had found the perfect candidate for the team manager vacancy. Here's how I imagine it going down:
Jennings looks in the mirror and says: "I found just the guy for the job". Points finger guns at the reflection, clicks his tongue and yells out with enthusiasm: "You're looking at him, baby!"
Not to be confused with Leo Nuñez. Leo Nuñez was actually a solid relief pitcher for a period of time. However, after a little investigation and a minor case of deportation (no big deal), the RHP formerly known as Leo Nuñez resurfaced under a different name. Juan Carlos Oviedo is a dirty motherfucker with serious self-identity issues. Get your shit together, Juan Carlos.
Jeremy Hermida, Jeffrey Allison, Taylor Tankersley, Chris Volstad, Aaron Thompson, Jacob Marceaux, Ryan Tucker, Sean West, Brett Sinkbeil, Matt Dominguez, Kyle Skipworth, Chad James… Ever heard of most of those names? I didn't think so. Who the fuck has?!
This franchise has managed to spectacularly miss on almost every first round pick for more than a decade. You would think every now and then they would get one right by mistake.
The story of Chris Coghlan is actually quite sad. A former NL ROY who hit .321 in his first big league season, Coghlan tore his meniscus while attempting to pie, then teammate, Wes Helms after a walk-off win. I actually thought Chris Coghlan was going to be a solid ballplayer, but unfortunately, he has never been the same since. Damn you, Wes Helms… Damn you!
Mariano Rivera is the best closer of all time. Kevin Gregg wore glasses on the mound. They, obviously, did not work because he still sucked balls… These are just the facts, people.
Kevin Gregg might not have blown every save opportunity he ever had, but it sure as hell felt that way; at the very least, it was always an "edge of your seat" 9th inning. Sweet vindication came the year after he left. Gregg came back as the Cubs closer and gave up back-to-back HRs to blow the save and lose the game.
You can't just have six digits at the end of every limb and not make this list.
Man, I have seen some shit in my time, enough to know that I had never seen a situation quite like this. Literally one day after the trade was finalized, Rea went from the San Diego Padres to taking the mound at Marlins Park. His Marlins tenure lasted exactly 3 1/3 innings. Pulled for elbow issues, reports have it that the Padres tried to get away with selling the Marlins some damaged goods. MLB apparently stepped in and vetoed the "no takesies backsies" rule resulting in the Padres taking back their noodle armed starter and the Fish retaining their top pitching prospect.
Oh, yeah! How can we talk Marlins without discussing the brilliant move that gave away a 2-time MVP, the first triple crown winner since 1967 and maybe the best right-handed hitter of all time? We can't.
Andrew Miller and Cameron Maybin were the "can't miss" prospects that completed the Miguel Cabrera trade. I enjoyed their Marlins existence about as much as I would enjoy sitting on my balls. In fact, the argument can be solidly made that thrown-in reliever, Burke Badenhop, actually had the best Marlins career of any of the players the Fish received.
Because FUCK THIS GUY!
One week into his Marlins tenure I would've traded this tubby-faced piece of shit for a half-eaten pack of sunflower seeds (the small ones). I dare you to Google image search his face and not punch the screen.
For those of you not familiar with Adam Greenberg, he was the only player in major league history to have his career end on the very first pitch. As a member of the Chicago Cubs, on a pinch-hit appearance against the Florida Marlins in his first big league at bat, Greenberg took a first pitch 92 mph fastball from Valerio de los Santos to the back of the head. Suffering from a series of vision problems and vertigo, Greenberg never made it back to an MLB team until the Marlins gave him a pinch-hit appearance, on a one day contract, as the result of his One-At-Bat campaign. The poor bastard never stood a chance…
Adam Greenberg stepped up to the plate against R.A. Dickey, dead smack in the middle of his would-be Cy Young groove, and took 3 mighty hacks resulting in a strike-out. My sources say Greenberg is still in search of where the hell those knuckleballs landed.
(Visited 179 times, 1 visits today)