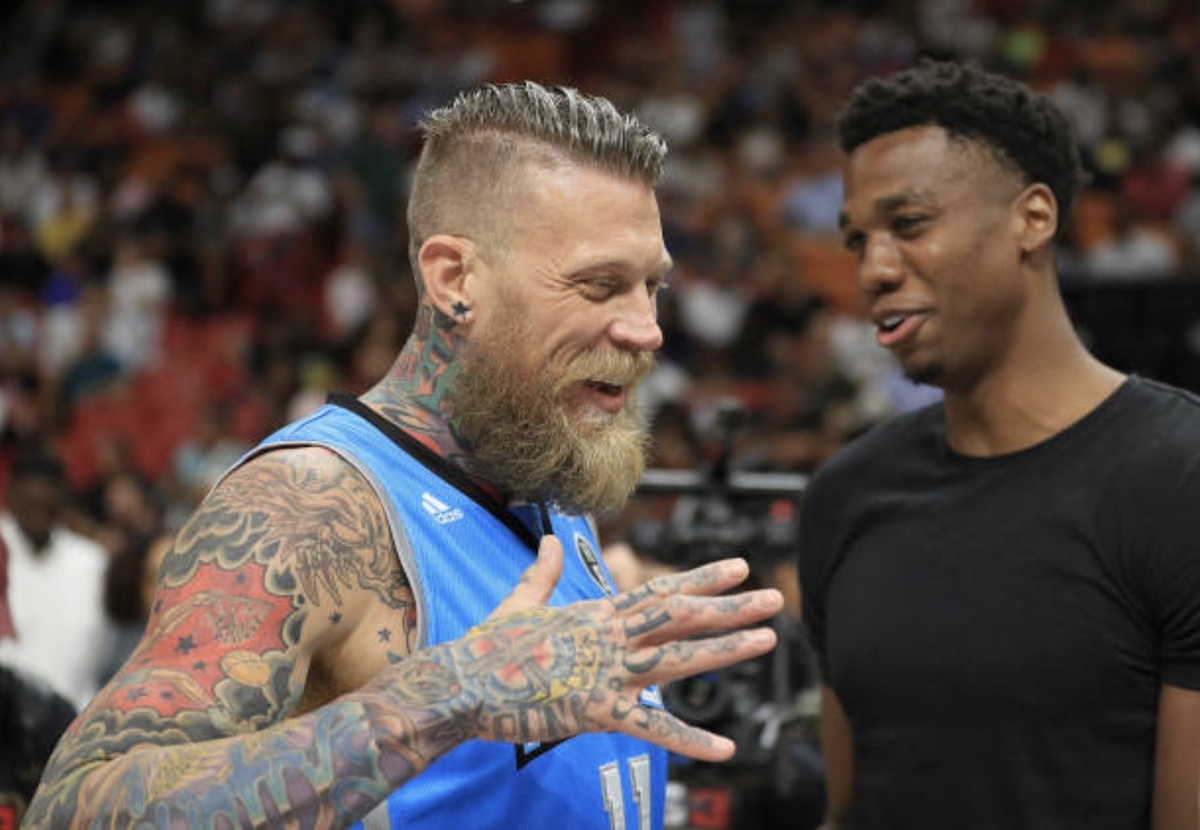 Miami, FL – What do Millennials know about the old school? There's only a limited amount of those 90's / early 2000's games available on YouTube, so unless you're old enough to remember those OG's, ballin' in their prime, you probably don't have much to which compare. By now you're probably asking yourself, "So how can I experience 90's/2K basketball?" Well, this past Friday, The Big3 "brought its talents" to the Magic City, and I'm sure the players eventually did end up on South Beach. 13,562 fans were able to reminisce, or experience for the 1st time, a different style of basketball that is long gone from today's NBA. I guess Ice Cube, creator of the Big3, missed all aspects of that "Nineties With Attitude".
We're live for some @thebig3 action tonight. But first @MiamiMayor makes today officially @icecube day in #Miami
on a #Friday #NotGettingFiredToday pic.twitter.com/hGvD9iVvKr

— Lemon City Live (@LemonCityLive) July 21, 2018
Just to name a few, Mike Bibby, Ricky Davis, Al Harrington, and Cuttino Mobley were all drafted in 98! Miami Heat stars Hasan Whiteside, Tyler Johnson, James Johnson, Rodney McGruder and Bam Adebayo (1-year old in '98) came to support more great basketball in their home city. Among the star-studded crowd were Naismith Memorial Basketball Hall of Famer Lisa Leslie, Former Detroit Piston star and NBA Champion Richard Hamilton, Los Angeles Laker Kyle Kuzma and Miami Mayor Francis Suarez.
The 1st game of the night was Tri-State 51 (4-1) vs Ghost Ballers 40 (0-5). Captain Jermaine O'Neal sat out with a shoulder injury, but it wouldn't be a problem for Tri-State, as MVP candidate David Hawkins lead them to an easy victory over Ghost Ballers. Hawkins had his first BIG3 double-double (25 points, 10 rebounds), which included his league-leading third 4-pointer of the season.
Game 2 was Killer 3s 50 (2-3) vs Ball Hogs 38 (1-4). Both teams came into the game with a 1-3 record, so they were aching for a win, and it showed in their effort. Stephen Jackson helped lead his squad back from a 18-25 halftime deficit by leading them to a 17-2 run. He finished the game with 22 points 8 rebounds. "We needed this win," said Jackson after the game. "This'll get us back in the hunt."
Miami is lit tonight #BIG3Season2 pic.twitter.com/S9H2zJtMbv

— BIG3 (@thebig3) July 21, 2018
It's only right that the big game of the night was game three. Power 51 (5-1) vs Trilogy 49 (1-4) was LIT! (That's for all you Millennials) Before the game, Trilogy players received their Alex and Ani 2017 BIG3 Championship rings, and were motivated to earn their 2nd win of the season, after winning their first the previous week. However, no one man should have all that Power. I guess that's why they had four players score in double figures: Corey Maggette (13), Cuttino Mobley (12), Glen "Big Baby" Davis (10) and Quentin Richardson (10). That, ladies and gentlemen, is called ball movement, for the win!
Finally, 3 Headed Monsters 50 (5-0) vs 3's Company 47 (3-2) had the best ending of the night. For the first time in BIG3 history, a game was decided on a 4-point shot! Mahmoud Abdul-Rauf has already made two game-winning shots, but on Friday, the 3 Headed Monsters were Mooning! The squad's leading scorer was Jamario Moon (24), on eight of nine shooting, including the game winning 4-pointer! He literally just signed with the team last week, and week five in Miami was his first game of the season. The undefeated streak continues.
13,562 Strong 💪💪💪 Thank you for all the love Miami! @AAarena #BIG3Basketball #BIG3Miami pic.twitter.com/jZAwQVzss2

— BIG3 (@thebig3) July 21, 2018
For week six, the Big3 heads to Toronto. Look for 3 Headed Monsters to keep their unbeaten streak alive vs Ball Hogs. Killer 3s vs Power will be the most exciting game, and also the first game of the night, so let's hope Toronto-folk do a better job of showing up on time than we do here in the 305. If you missed it this year, I highly recommend coming out next year. It was a lot of fun, and surprisingly competitive!
[foogallery id="13158″]
📷Credit: Getty Images
(Visited 217 times, 1 visits today)