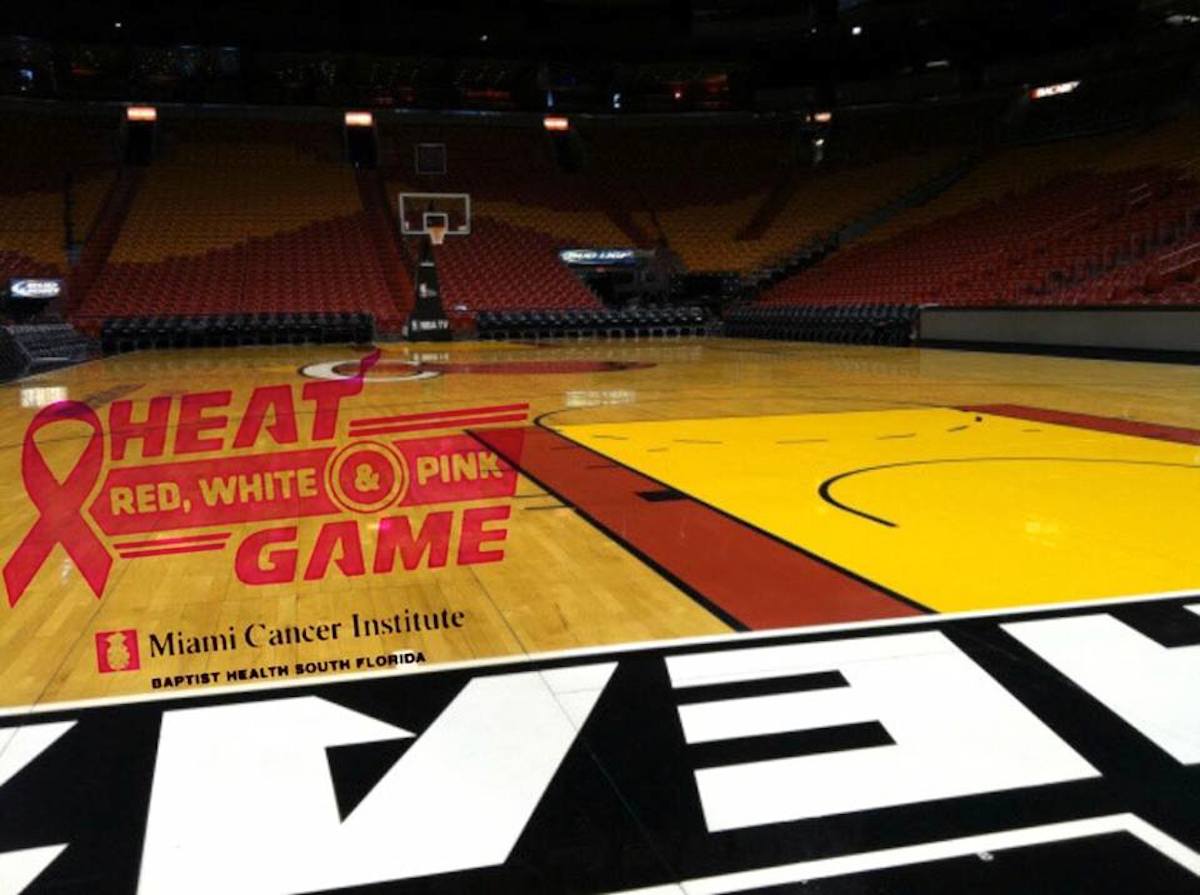 Miami HEAT Press Release
---
Miami, FL – The Miami HEAT will host its Miami Heat Red, White, & Pink Game, benefiting Miami Cancer Institute at Baptist Health South Florida—an open scrimmage that will include the current 2018-19 roster—on Saturday, September 29th beginning at 10:00 a.m. The game will take place at Florida Atlantic University, where the team will host its weeklong training camp. Doors to FAU Arena will open at 9:00 a.m.
The event is open to the public and tickets are now available via the Miami HEAT App, Ticketmaster.com or the Ticketmaster App. Tickets cost $1.00 each with proceeds benefiting cancer care and research at Miami Cancer Institute. Additionally, there is an eight-ticket maximum per transaction. Parking is complimentary.
The Red, White & Pink Game will resemble a regular NBA game with four quarters and a halftime, and will also feature many elements of the HEAT Experience performances. HEAT fans will get a close-up look at the 2018-19 Miami HEAT team.
The team has incorporated the color pink into the scrimmage for the fifth consecutive year in honor of Breast Cancer Awareness Month. HEAT players will be wearing a special edition Red, White & Pink jersey.
The charitable component of the game is part of a new philanthropic partnership among the Miami HEAT, Miami Cancer Institute and Entercom, which are teaming up in the fight against cancer with "HEAT.HELP.CURE," representing "Join the HEAT. You can HELP. Find a CURE." The signature event will be the first-ever HEAT.HELP.CURE Radiothon November 7th from 6:00 a.m. to 7:00 p.m. across five of Entercom South Florida's most popular stations. For information, visit HeatHelpCure.org.
For more information on the Red, White & Pink Game, please visit HEAT.com.
About Miami Cancer Institute at Baptist Health South Florida
Miami Cancer Institute is part of Baptist Health South Florida, the largest healthcare organization in the region, with eight hospitals (Baptist Hospital, Baptist Children's Hospital, Doctors Hospital, Fishermen's Community Hospital, Homestead Hospital, Mariners Hospital, South Miami Hospital and West Kendall Baptist Hospital), more than 50 outpatient and urgent care facilities, Baptist Health Medical Group, Baptist Health Quality Network and internationally renowned centers of excellence. A not-for-profit organization supported by philanthropy and committed to our faith-based charitable mission of medical excellence, Baptist Health has approximately 16,000 employees and 2,300 affiliated physicians. Baptist Health South Florida has been recognized by Fortune as one of the 100 Best Companies to Work For in America and by Ethisphere as one of the World's Most Ethical Companies. For more information, visit BaptistHealth.net and connect with us on Facebook at facebook.com/BaptistHealthSF and on Twitter and Instagram @BaptistHealthSF.
–Miami HEAT
(Visited 258 times, 1 visits today)