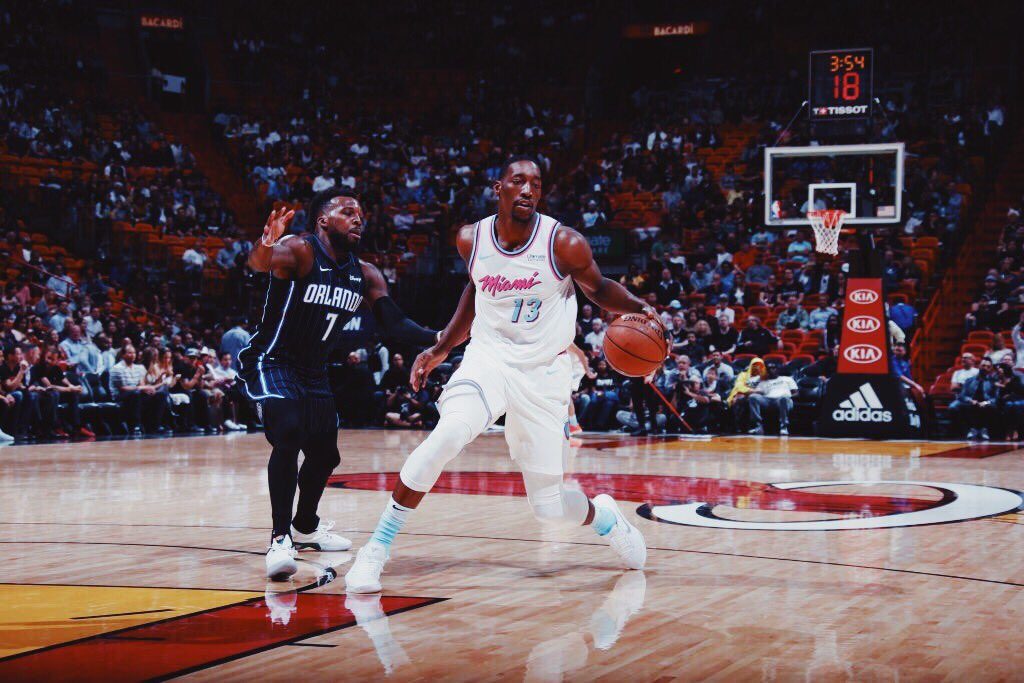 It was all good just a week ago. Less than a week prior to this game, the Heat were facing the Cleveland Cavaliers for sole possession of the 3rd seed in the Eastern Conference. Now suddenly, after suffering 3 straight losses, Miami dropped all the way to the 7th seed. Miami is back home at the Triple A looking to end their losing streak in a Sunshine State battle against the Orlando Magic, who were coming in with the NBA's worst record at 15-36.
The Orlando Magic entered this game without two of their best players due to injury: Nikola Vucevic and Aaron Gordon. So you're probably thinking easy money for the Heat, right? Well, it surely seemed that way in the 1st quarter. Hassan Whiteside came back after missing the last game against the Pistons from an illness, and it was BBQ Chicken for him from the start. He scored the Heat's first nine points of the game, positioning himself in the right spot to get easy buckets. Miami had the right energy, as they were aggressive attacking the rim and had a high scoring 1st quarter. For the most part, Miami played well offensively in the 1st half, except for the fact they couldn't make jack from 3 point land. Also, Miami lost Kelly Olynyk midway through the 1st after suffering a shoulder strain after running through a screen. I don't know what the hell was in the Gatorade for the Magic, but it had to have had some impact because they couldn't miss. Like I'm pretty sure a bunch of Steph Curry's were cloned and perfectly disguised themselves into these players we call Random Scrub Heat Killers to play for the Magic. For those who don't know what a Random Scrub Heat Killer (RSHK) is, basically they're a bunch of nobodies who are NBA players that make no impact in other NBA games; i.e. any player who averages between 5-8 ppg. However, when they play against the Heat, they're prime Michael Jordan. It happens every time.
1st half double-double for @YoungWhiteside!

15 points & 11 rebounds pic.twitter.com/hdducutaVV

— Miami HEAT (@MiamiHEAT) February 6, 2018
The 2nd half, Miami lost their offensive groove, and the Magic are still making these garbage shots, and suddenly they're in control of the game. Before you know it, they're up 13 in the 4th. However, the home team always makes a run, and that's exactly what the Heat did. Lead by their young core of Josh Richardson, Justise Winslow, and Bam Adebayo, who by the way was obliterating rims as if those rims use to make fun of him in middle school, ended up tying the game. COMEBACK SZN baby!! Well, almost. Miami ends up losing by 2 in a game where they shot 3-28 from 3 point distance. Jonathan Simmons scored the last bucket for the Magic with an uncontested dunk.
BAM! pic.twitter.com/5P5iRRXsed

— Miami HEAT (@MiamiHEAT) February 6, 2018
Ok, that's your recap, kind of. Now I just need to say this… this is FUCKING EMBARRASSING. This is the 2nd time in a span of a week that the Heat lose at home to teams with the worst record in the league. I don't want to act like I'm exaggerating because this team was literally maybe an overtime away from being the 3rd seed. THAT WASN'T EVEN A WEEK AGO. But you know what, it's probably better for the sake of the team for them to lose now, and realize that THIS team isn't good enough to make some real noise in the playoffs, rather than them being a 3 seed and being content and fooled with the product that's out there. Yeah, you can rely on Spo and him continuing to do an elite job coaching this team and expecting them to be a menace defensively, but, man do they need some scoring.
Here are the positives: J-Rich, Winslow, and Bam. Miami's best lineup in terms of Net Efficiency (overall value in basketball) includes those three guys, along with Kelly Olynyk and Wayne Ellignton. Watching those guys flourish, roaming free and leading the comeback makes you wonder why Spo doesn't continue to run with that trio. These guys are the future of this team. Bam is the future of this basketball team, and the future is now.
The Trade Deadline is February 8. Time is ticking for Pat Riley, and I refuse to believe that's he's perfectly okay with rolling with this team for the rest of the season. I'm not naming any names here, but if a certain someone continues to not be needed in the most important part of the game on a nightly basis, why is he still on this team? Get it done, Patrick James Riley. Trade SZN is coming. *Cough* Jabari *Cough* Parker *Cough*
#ORLvsMIA Final: HEAT 109 – Magic 111. Richardson 20pts, Whiteside 19pts 14rebs, Adebayo 18pts 10rebs 2blks, Winslow 16pts 7rebs, Dragic 13pts 9rebs 7asts, T. Johnson 12pts 4rebs 4asts. pic.twitter.com/BVwrQ8gIcG

— Miami HEAT (@MiamiHEAT) February 6, 2018
Photo Credit: SLAM Magazine
 
(Visited 133 times, 1 visits today)