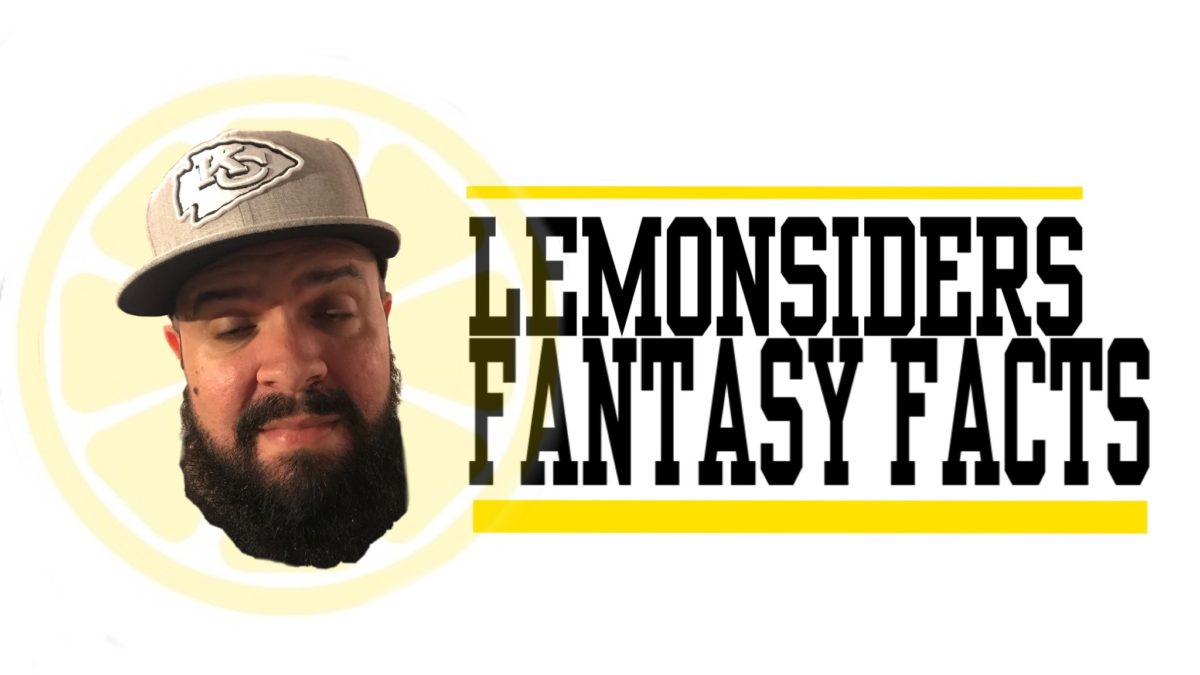 Can you believe it's already Thanksgiving weekend?! This year has flown by way too quick. Feels like just the other day we had our fantasy drafts and now we're heading into the last few weeks of the Fantasy Football season. Hopefully, you're still in playoff contention and if not, don't be that guy just to quit your league and walk away. Stick around and play the role of spoiler and go out swinging! Grab your favorite souvenir cup as we pour out some cold Lemonsiders Fantasy Facts for Week 12.
Quarterbacks
WARNING: This start depends on the common sense factor for coach Sean McDermott. Heading into last week, the Bills were 5-4 yet decided to bring in Nate Peterman to start. Five interceptions later, Tyrod came in off the bench and threw for a touchdown and rushed for one as well YET it's not guaranteed he starts this week. Crazy right? If he does start, I like the matchup against my Chiefs who struggle against running QB's and to put it nicely, they have a generous secondary.
Tyrod Taylor when the Bills coaches asked him to go back in at QB

— The Football Bible™ (@TheFBBible) November 19, 2017
When Matt Moore comes in relief, he comes out guns blazing but when he starts a full game (especially on the road), things tend to go a little different. Patriots secondary has been torched for a big portion of the year but has buckled down as of late and expecting Moore to have another successful air raid might not be a good idea.
It's always been feast or famine with Matt Moore. The gunslinger just doing his thing. pic.twitter.com/CrkphCM6TN

— Omar Kelly (@OmarKelly) November 19, 2017
Sleepers: Joe Flacco vs. HOU & Andy Dalton vs CLE
Running Backs
We're at the point where starting Hunt isn't obvious because his production has fallen considerably from the start of the season until now. I'm sure you don't feel as confident to start him now as you did before but the Bills are ranked in the bottom half of yards allowed to running backs. Don't bench Hunt just yet, especially this week.
I remember when Kareem Hunt played running back for the Chiefs.

— Steven St.John (@SSJWHB) November 19, 2017
The Ravens backfield has been a roller coaster ride all year. It's gone from Danny Woodhead, Terrance West, Buck Allen to Alex Collins. Each week you have no clue what to expect which makes starting any one of them a nightmare. Collins has become the lead back but even then, the matchup against the Texans isn't a good one. Hopefully, you have better options than Collins, if not, don't expect too much from him.
And just a few minutes later Alex Collins gets a TD and does the Irish dance celebration #WPS pic.twitter.com/L2VU8pmVtG

— Ben Creighton (@Ben_CreightonTV) November 19, 2017
Sleepers: J.D. McKissic @ SF & DeVonte Booker @ OAK
Wide Receivers
On the road against a strong pass defense in Week 11, Matthews had 5 receptions for 113 yards and a touchdown and now has an easier opponent in the Colts. He's been targeted at least 6 times per game the past 4 weeks and should once again see volume against a broken down secondary. Feel confident in starting Matthews this week.
On the first play of the second half…

Mariota to @_RMatthews for the 75-YARD TD! #TitanUp #TENvsPIT pic.twitter.com/PlHDcKwVUy

— NFL (@NFL) November 17, 2017
His home/road splits look like Big Ben's. Even as one of their best playmakers, the Chiefs somehow don't give him enough touches which drive Hill's owners crazy, trust me. He's a boom or bust player, especially at home and I'm not too confident this week is one of those boom games.
Sleepers: Kenny Still @ NE & Cooper Kupp vs NO
Tight ends
For the first time all season, the Giants didn't give up a passing touchdown to a tight end in Week 11. On the road this week, I expect things to go back to normal. If Jordan Reed misses yet another game, Vernon is a top 3 TE play this weekend. He's had over 60 yards per game in three straight and that streak should continue in Week 12.
Fuck Kirk cousin's. Fuck Jay Gruden. Fuck Dan Snyder. Fuck Troy Aikmen. Fuck Rg3. Fuck Preston Smith. Fuck Vernon Davis. Fuck Drew Brees. Fuck Brian Orakpo. Fuck Injuries. Fuck every kicker since Gano. Fuck our defense. Fuck McNabb. Fuck Haynesworth. Fuck this franchise. #HTTR

— Riley the DC Choke Artist (@buckcommander71) November 19, 2017
Things have gone bad really quick for Dallas the past few weeks. No Zeke, Sean Lee and Tyron Smith have had Dallas go from a Super Bowl contender to possibly a long shot just to make the playoffs. Witten, as reliable and consistent as it comes in the TE position, unfortunately suffers as the team suffers. No Dallas player, including Witten, is a safe start week in and week out.
Sleeper: Jack Doyle vs. TEN
Defenses
Say what? Start the Patriots defense? As I said earlier, Matt Moore isn't coming in on relief, he very well may be the starter and the last time he started on the road it didn't well. It was a Thursday night game against the Ravens in which the Fins got slapped around and Moore struggled more than me fully understanding Portuguese. Pats aren't the best streamer but if it's your best option, don't be too nervous plugging them in.
Bust Alert:

Saints

@ LAR
Surprisingly enough, the Saints defense has exceeded expectations, especially for fantasy purposes. They've have 4 games of 15+ points this but the past two weeks have totaled less than 10. They'll be going up against a Rams team that ranks nearly dead last in points allowed to DS/T's so I'd look to stream another defense this week rather than go with the Saints.
How the @Saints march into Week 12 after winning 8 straight

— Bounty Boyz Back!!!! (@MrTweetYoGirl) November 19, 2017
Kickers
Boswell at home has been a machine. He's scored double digits in 3 out of 4 games at home this season. This week the Steelers are heavy favorites against a broken down Packers team so Boswell is in line for another productive outing at home.
.@WizardOfBoz09 out here like…

50-yarder is good.

PIT 16 | TEN 7 pic.twitter.com/JS9Fiy0QWK

— Pittsburgh Steelers (@steelers) November 17, 2017
The Rams kicker has been one of the most consistent kickers this year in fantasy but has a tough matchup this week and came off a tough matchup last week. He only had 1 point in Week 12 and I don't expect he'll reach double digits this week.
Be sure to check with us each week where we will discuss not only start, bust alerts, and sleepers for that particular week, but also who you should be adding to your roster and who you should be dropping.
Don't forget to follow us on Twitter, Facebook, and Instagram.
(Visited 69 times, 1 visits today)