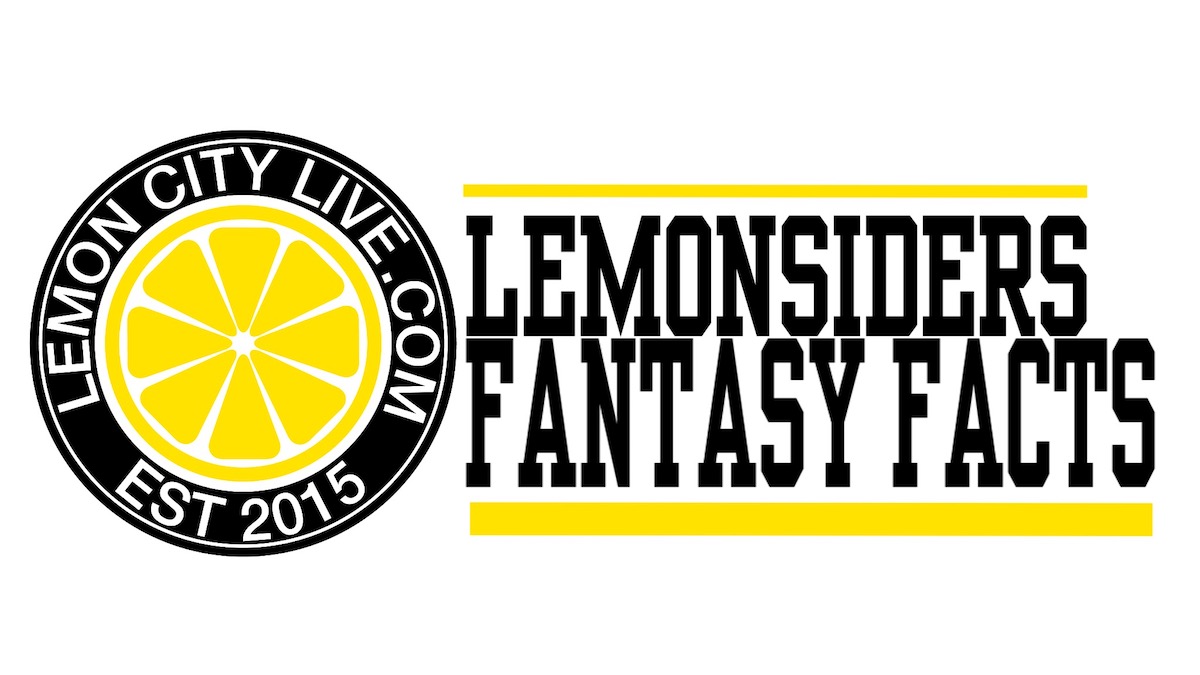 Well, now that Hurricane Irma is gone and power has been restored (hopefully yours has) we can get back to them fantasy facts! It's been a difficult week for many, especially in South Florida, so hopefully this weekend of fantasy football brought you some much deserved happiness.
We've only been through 2 weeks of football and the panic button for some is already being smashed. Whether it's offenses getting off to a slow start or injuries, the emotions for some has been real. In the words of Aaron Rodgers from a few years back, R-E-L-A-X. We're here give you the Lemonsider Fantasy Facts on players you should be adding to your cups, ones you should be selling and ones you need to toss out like if you were Uncle Phil throwing out Jazzy Jeff.
Hold
WR AJ Green, Bengals: This may seem obvious to some but believe it or not, the panic meter for some AJ Green owners has been high. Bengals offense has been off to such a slow start, they fired their OC Ken Zampese after Thursday night's game against the Texans. Bengals have NOT scored a TD in their first two games but we're here to tell you, keep your lid on AJ Green. This offense is too talented to continue being this poor. Next 3 opponents are Packers, Browns and Bills. I expect AJ Green to be top 15 WR in at least 2 of those 3 games.
Andy Dalton's 5 favorite play calls:

1. Heave it up to AJ Green
2. INT
3. Incomplete pass to AJ Green
4. Pass to the grass
5. Take Sack

— NOTSportsCenter (@NOTSportsCenter) September 15, 2017
WR Tyrelle Pryor, Redskins: Washington is another offense off to a slow start and Pryor is right in the thick of it. In Week 2 Pryor only had 2 receptions for 11 yards. It's too early to sell or throw out Pryor. For someone I was high on during the offseason coming off 1,000+ yards receiving on the Browns now being paired with Kirk "YOU LIKE THAT!?" Cousins, don't react just yet. Way too early to make a decision on the Redskins top WR weapon.
WR Doug Baldwin, Seahawks: In 2 games, Baldwin has yet to score a TD or surpass 70 yards in a game even with a favorable matchup in Week 2 at home against the 49ers. As an owner of Baldwin, I was watching the game more disappointed than Kevin McCallisters uncle was after he pushed Buzz for eating his last cheese pizza that caused the milk to spill everywhere. Even with that, I'm confident Seahawks can turn it around soon and I'm not willing to pull the plug on Baldwin just yet.
Toss Out
RB Eddie Lacy, Seahawks: Not sure why but some were expecting him to fit the Marshawn Lynch role and yeah, that didn't work out at all. He was a healthy scratch this week and with 3 other backs more capable of him, Lacy seems to be on the decline and I wouldn't want him on my roster at all.
The only thing Eddie Lacy dominated today was the pregame meal

— Packers Jesus (@PackersJesus) September 10, 2017
RB LeGarrette Blount, Eagles: After not receiving a single carry in Week 2 and the uncertainty of that backfield, he's in an ugly situation. After scoring 18 touchdowns last year with the Patriots, expectations were high on Blount on the Eagles but from preseason through the first 2 games it's been disappointing. To me, this offense is better with scat backs like Sproles and Smallwood and Blount does not fit their scheme at all. He provides no safe floor or upside so having him on your roster is pointless, don't do it.
RB Charcandrick West, Chiefs: For some reason people love keeping handcuffs on their bench and if you're that type, be smart and don't have West as Kareem Hunt's handcuff. Too many people have him on their bench and as a KC fan, I'm telling you to sing with me, "Let it go, let it goo"
On the Hot seat: RB Adrian Peterson NO, RB Bilal Powell NYJ, WR Kenny Britt
Add
RB Chris Carson, Seahawks: Thomas Rawls is frequently injured and CJ Prosise is primarily a catching back so I LOVE the possibilities of Carson being lead back soon. He led the team this past week in carries and it's something I expect to happen moving forward but be patient because Seahawks are off to a slow start offensively but this is someone I'm trying to stash in all my leagues.
Just sayin… #ChrisCarson #GOHAWKS pic.twitter.com/pDhRrYqSM2

— Super Seahawks Memes (@SeahawkMemes) September 18, 2017
WR Rishard Higgins, Browns: This is more of a long shot but let me explain why he's someone I've added in ALL my lineups wherever it was possible. After being called up from practice squad for Week 2, Higgins had the highest targets, catches and yards for the Browns receiving core. Kenny Britt has yet to look good and Corey Coleman broke his hand and will be out 4-8 weeks which creates opportunity for Higgins. Next opponents are Colts, Bengals and Jets. Could be target magnet for Kizer. Giddy up!
QB Jay Cutler, Dolphins: Simply put, the fins next opponent is the New York Jets. If your QB has a tough matchup or you're the owner of Andrew Luck and have been streaming QB's, this may be your top streaming option for Week 3. Light your cigs up and get ready for some Smokin' Jay this week.
Retweeted Faux NFL Network™ (@FauxNFLnetwork):

Jay Cutler taking on Hurricane Irma. 😂😂😂pic.twitter.com/gPtUEQuPZJ https://t.co/uFN6QT0gd8

— Jeff Martin (@JeffMartinMedia) September 9, 2017
Sell
RB Jordan Howard, Bears: Howard helped many, including myself, win leagues last year when he emerged on the scene. Yet, coming into this year, I knew I had to fade him completely. Had this gut feeling that Howard 2017 would be Todd Gurley of 2016 and after the first two games, I'm feeling good about that projection. Rookie Tarik Cohen stole the show Week 1 with 12 targets out of the backfield and in game 2, Cohen received only 2 less carries than Howard and outscored him yet again. With a team that will be chasing points often, Cohen is the guy to keep. Howard is a "notable" name so try packaging him in a trade to someone who still feels he can turn it around.
Be sure to check with us each week where will discuss not only start, bust alerts and sleepers for that particular week, but also who you should be adding to your roster and who you should be dropping. Until then, enjoy your week Lemon Heads!
Don't forget to follow us on Twitter, Facebook, and Instagram.
(Visited 49 times, 1 visits today)