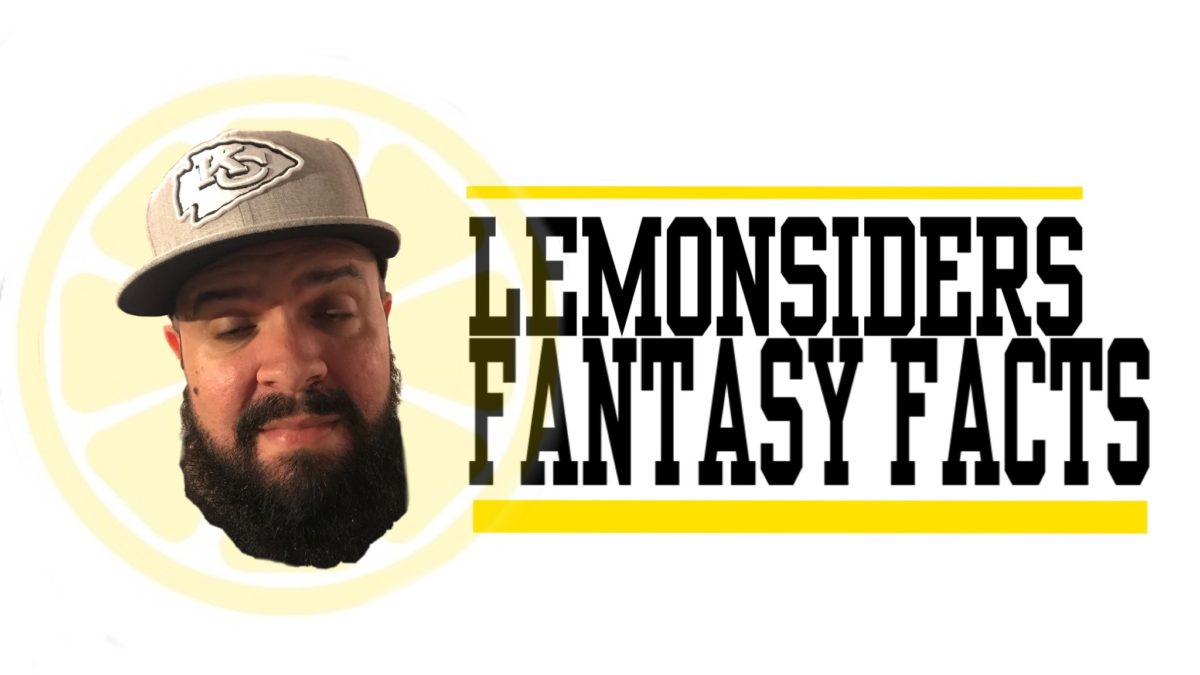 Pretzels make you thirsty, am I right? Well guys, if you're a Seinfeld fan of any sort you will hold high value for this special edition of Lemonsiders Start, Bust Alerts & Sleepers as much as Elaine valued the last of her good sponges. On the flip side, if you've never seen the show or not a fan of the show you should beat yourself up like Fletcher Reed (Jim Carey) did to himself in Liar Liar. Quick disclaimer here: Get ready for nonstop quotes and phrases from one of the greatest television shows of all time. We've said it plenty of times before, "We know nothing about football" so it's only fitting to use a show about nothing to show that we know nothing about football am right? Not sure about you but that just blew my mind right there. Anywho, in the words of Izzy Mandelbaum, "It's go time!"
Quarterbacks
Last week Rivers had such a good game that I wouldn't doubt he exited the stadium wearing Kramer's "The Pimp" outfit struttin' down the street. He's thrown for multiple touchdowns the past three weeks and is now facing one of the worst pass defenses in the league. Use the pen that writes upside down if need be but if you have Rivers, start him. The results will almost surely make you feel as proud as Morty Seinfeld talking about raincoats.
Starting Stafford will make yourself look in the mirror after and say, "Look away, I'm hideous" because you'll be sick to your stomach like the President of NBC was after he ate food someone sneezed on. Look, he hasn't been horrible but he's banged up, not as bad as Tony after he fell rock climbing but he's not 100%. On the road against Baltimore defense? Stafford will be like the red dot on the cashmere sweater. You may not notice the problem now but you will later.
Sleepers: Josh McCown @ KC & Marcus Mariota vs. HOU
Running Backs
If I could be honest, I'm as embarrassed as George was when he got caught changing when he had just got out of the pool. Last week I suggested to pick up Perine and yet I benched him and of course, he had a good game. That was a bad decision like the urban sombrero and I learned through my mistake. Fact is, volume in fantasy football makes you want to high five everyone like David Puddy. He should once again get that volume against a Dallas defense weaker than Jerry's tolerance for bad hygiene. Don't listen to anyone, not even your caddy, if they tell you to bench Perine this week.
"Serenity now! Serenity now!" is all I could think of each week starting Kareem Hunt. Lately, thinking about starting or benching him has been a hard decision like Jerry choosing to leave with his girlfriend or staying in the soup line to get the medium crab bisque from the Soup Nazi. This is the last week of the season for some, others,  it's already the playoffs. It's not a comfortable feeling starting Hunt like having to videotape bootleg movies in the theatre for Brody. KC's play calling has been as bad as Elaine's dancing skills and you sure as heck can't trust it just like you can't trust Newman. I'm sitting Hunt this week in some of my leagues myself and maybe you should too.
Sleepers: Kenyon Drake vs. DEN & Alex Collins vs. DET
Wide Receivers
Has anyone realized he's scored a touchdown in 5 straight games? When I realized that I wanted to push someone and say, "Get..out!". He must have man hands right? Anderson and McCown have been low key very good for fantasy this year. Meanwhile, the KC secondary is as bad as Babu taking advice from Jerry to open an all Pakistani restaurant as they are ranked 28th in pass yards. Having a receiver on your roster that plays the Chiefs should have you dancing like Mr. Pitt when Elaine figured out the trivia question that would allow him to hold the rope for Woodywood Pecker's balloon.
The quarterback play for the Broncos has been annoying Emmanuel Sanders & Demaryius Thomas owners as Banyan annoyed Seinfeld asking him to go to Mendy's for dinner. The Dolphins pass defense isn't great so I'm not doubting they can be exposed but I just can't trust any QB from the Broncos now. If you have another option at WR aside from Sanders, take it quicker than Kramer took the settlement from the coffee company.
Sleepers: Randall Cobb vs. TB & Sterling Shepard @ OAK
Tight Ends
Henry twice this year has given me zero points on games I've used him so suggesting he's a good starting option leaves a bad taste in my mouth like licking old cheap envelopes. The fact is, the Browns give up TE touchdowns as often as the Maestro gets upset if you call him by his first name instead. Coming off his best game of the season, Henry is in the best matchup possible this week so giddy up on plugging him in this week.
As bad as KC's defense is, they've somehow defended the tight end position well this season even without Eric Berry. Streaming a tight end this week feels like getting a wedgie from Jerry and George's high school gym teacher. Normally, ASJ is a good streamer but this week I wouldn't feel good about plugging him in. Might as well get some Jujy Fruit candy before visiting the idea of using him as an option.
Defenses
The Chargers defense is real and they are spectacular. They have been a top 7 defense in 4 out of their last 6 games and face the Browns offense that gives up more fantasy points to opposing defenses than any other team. They had a bad start to the season but we jumped the gun like Jerry did in the race against Duncan and completely wrote them off. Now late in the season, their team and defense looks as strong and promising as Little Jerry.
Bust Alert:

Bills

vs. NE
There are a few things NO ONE should ever do in their life: double dip their chips and start a defense against Tom Brady. I'd rather start Oaklands below average defense against Geno Smith than have to plug in Buffalo. Starting Buffalo's defense against the Patriots is odd like Hustler magazines in the lobby of Tim Whatley's office.
Kickers
I let go of Matt Bryant in a few of my leagues and I think I made a huge mistake. Bryant has scored double-digit points in 3 straight games and the Vikings give up close to double digit points on average to opposing kickers. Starting Bryant is as good at Drakes coffee cakes and Junior Mints and won't be disappointing like the food shelter receiving muffins without the tops.
Last time they played the Jags, Vinatieri didn't attempt a single kick in the game. Indy's offense will struggle against the Jaguars like trying to understand a low talker. I literally rather have any other kicker than Vinatieri this week. Considering playing him is hard to understand like trying to understand George Steinbrenner's rants on the show. But hey guys, if you want to ignore my advice go ahead. My fantasy facts may be off at times but random known fact here: If there is one thing I know, trust me when I say, pretzel's make you thirsty.
Be sure to check with us each week where we will discuss not only start, bust alerts, and sleepers for that particular week, but also who you should be adding to your roster and who you should be dropping.
Don't forget to follow us on Twitter, Facebook, and Instagram.
(Visited 50 times, 1 visits today)