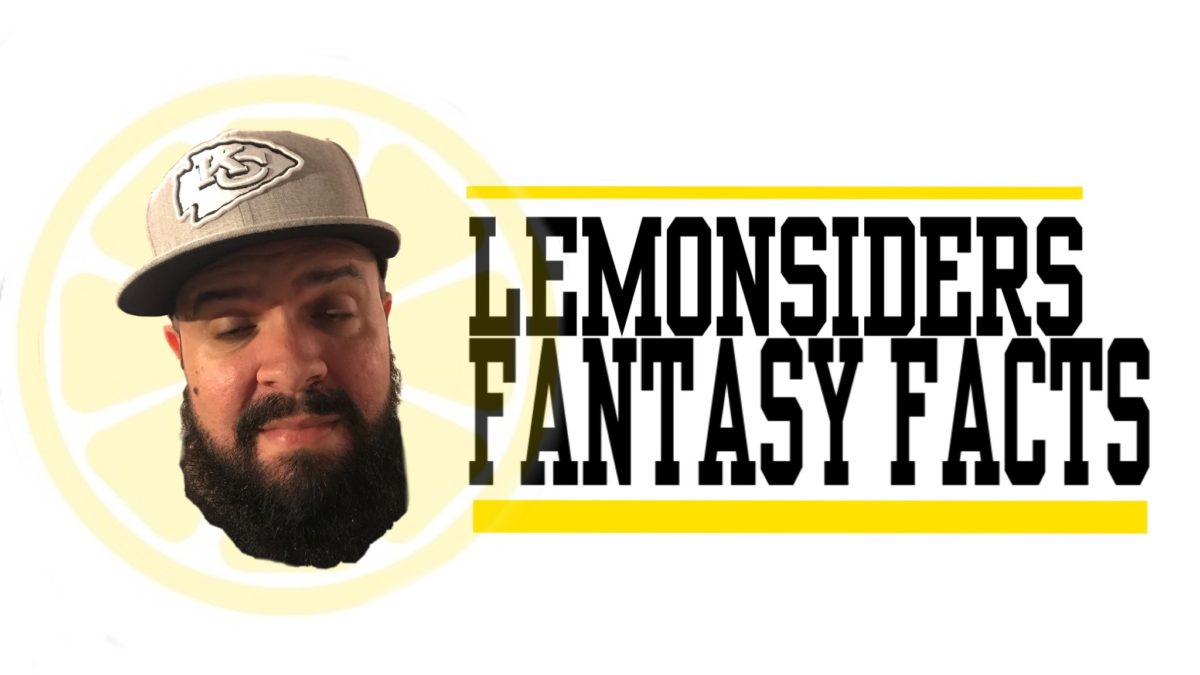 We know NOTHING about football, it's that simple. We set our lineups according to matchups, stats, projections and make the most logical choices based primarily on those 3 things with a mix of the "gut feeling" vibe. Truth is, sports is impossible to predict and be accurate 100% of the time. No one projected Mariota to get injured during Texans game and who in their right mind was ready for a Matt Cassel appearance?! (How many of you actually knew Matt Cassel was still in the league?) We are going to be right a lot, going to get LUCKY a lot but we're also going to be wrong a whole lot. It's part of the love/hate reality with fantasy football. With that being said, let's get into some Lemonsiders Fantasy Facts for Week 5. (We're always going to avoid obvious starts like Tom Brady and Antonio Brown but if we feel like a high profile player is going to be a bust, we will NOT hold back and let you know whats up!)
Quarterbacks
This week Matt Ryan, Drew Brees, Kirk Cousins and Trevor Siemian have bye weeks and if you had Mariota or Derek Carr, you may be in a bad spot QB wise. Guys that are great plays but are doubtful to be on your waiver wire are Jameis Winston and Carson Palmer. If they are, pick them up ASAP or you may have to dig deep. In a few of my leagues, I have to dig deep and I'm not excited about it. Jacoby Brissett is not a sexy play but it's a safe one. A favorable matchup at home against the Niners won't give you a high ceiling but will provide a safe floor.
Jacoby Brissett 💨🌪 pic.twitter.com/X6e4y9Fq8M

— Football Is Life (@FootbaIl_Tweets) September 25, 2017
Bills are in first place in the AFC East. Yes, you read that right. The Bills defense has only allowed 1 QB to pass over 250 yards and they have controlled the clock with their run game. This game has the lowest point spread of the week so even Vegas predicts a low scoring week for these two teams. If you HAVE to use Dalton, be ready for a possible let down.
So much for a benching… Andy Dalton is 17/18 with 215 yards and 3 TD's in the first half 😳 pic.twitter.com/EXWbCrzn1f

— The Sports Quotient (@SportsQuotient) October 1, 2017
Sleepers: Josh McCown @ CLE , Brian Hoyer @ IND
Running Backs
Still unknown if Ty Montgomery is going to suit up or not but if he remains sidelined, Aaron Jones is a must start. Dallas since week 2 has given up two 30 fantasy point performances to opposing RB's so get ready to fire up the rookie from UTEP with confidence.
Fantasy owners ready to go after Aaron Jones owners like … pic.twitter.com/9G84tljFFK

— Brad Evans (@YahooNoise) September 29, 2017
After Chris Carson's season ending injury, Eddie Lacy made an appearance and looked like he had some life left in him. Truth is, Seattle's backfield is crowded like a Pollo Tropical drive thru during lunch hour. Thomas Rawls, CJ Prosise, Eddie Lacy and J.D. McKissic. It's unknown who will get carries so choosing who gets the bulk load is going to be rough. If you're faced with bye weeks and have to play Lacy, shoot prayers up but if you have better options, I'd recommend to sit him to see how that backfield plays out.
"Eddie Lacy" pic.twitter.com/SfzDK1T7mB

— Complex Sports (@ComplexSports) October 2, 2017
Sleeper: Wendall Smallwood vs ARI , Duke Johnson Jr. vs NYJ
Wide Receivers
Eli Apple. It's that simple. Eli Apple is the Giants number 2 CB and he's allowed a TD in every game to the opposing number two receiver. With the G-men, automatic plug ins are WR2's and TE's. As great as this defense looks at times, Eli Apple has looked awful and they are extremely vulnerable against tight ends. This game could be a shootout and with Jenkins being locked in to Keenan Allen, Tyrell is in a good spot.
Tyrell Williams 75 yard TD from Phillip Rivers! pic.twitter.com/xjHNX7f79C

— NFL Update (@MySportsUpdate) October 1, 2017
One of the biggest busts so far in fantasy will now have EJ Manuel throwing passes in his direction. He leads the league in dropped passes with 7 and as good of a route runner as he is, his hands are more slippery than Brucie's after he ate popcorn. Can't feel good about any Oakland player on the offense side of the ball, especially at receiver. Never thought i'd say this but the best Cooper right now in the NFL is Cooper Kupp, not Amari….dang.
Sleepers: Marquis Goodwin/Aldrick Robison @IND
Tight Ends
This is another deep play. Tight ends have been ROUGH this year so streaming has been the way to go. ASJ has a dream matchup against Cleveland as they have been one of the worst teams in the past few years covering tight ends.
Packers have given up the 2nd fewest fantasy points to the TE position. The official dad runner of the NFL is usually a safe security blanket but has a tough matchup this week.
jason witten is no fun pic.twitter.com/8Xi3d2WVhG

— nick (@nick_pants) October 1, 2017
Defenses
Yet another DEEP play if you're in a pinch. Cleveland has allowed 2 DS/T's to score over 17 points this season and rookie Kizer is prone for picks and sacks. I'm rolling with them in 2 of my leagues so let's all pray together and hopefully have a group hug after in happiness, not sadness.
Watson's arm and legs could be a problem for KC. Cousins was running around them so Watson could take advantage against a team who runs a lot of 3 man fronts. The Chiefs will also be on the road which doesn't favor well.
I've always dreamed of working for the @Chiefs. 24 years of fanhood & never seen them live. Only have met 5 KC fans in person #ChiefsKingdom

— Chris Perez (@noturnormalhero) September 26, 2017
Kickers
Elliot has hit 4 40-49 yard field goals in the last 2 games and in a game expected to be a shoot out, feel safe playing the rook.
Just saw Jake Elliot at Barns and Noble selling his new book… pic.twitter.com/SZhy2S8him

— Gayle Saunders (@EagleSessions) October 2, 2017
Unless you feel like EJ Manuel and that offense is going to light it up, can't see why you'd use the Raiders kicker here. Baltimore has given up the 9th fewest points to opposing kickers.
Ej manuel is the starting qb pic.twitter.com/q18vtN0Rci

— Monte Johnson (@RRayo_) October 1, 2017
Be sure to check with us each week where will discuss not only start, bust alerts and sleepers for that particular week, but also who you should be adding to your roster and who you should be dropping.
Don't forget to follow us on Twitter, Facebook, and Instagram.
(Visited 75 times, 1 visits today)