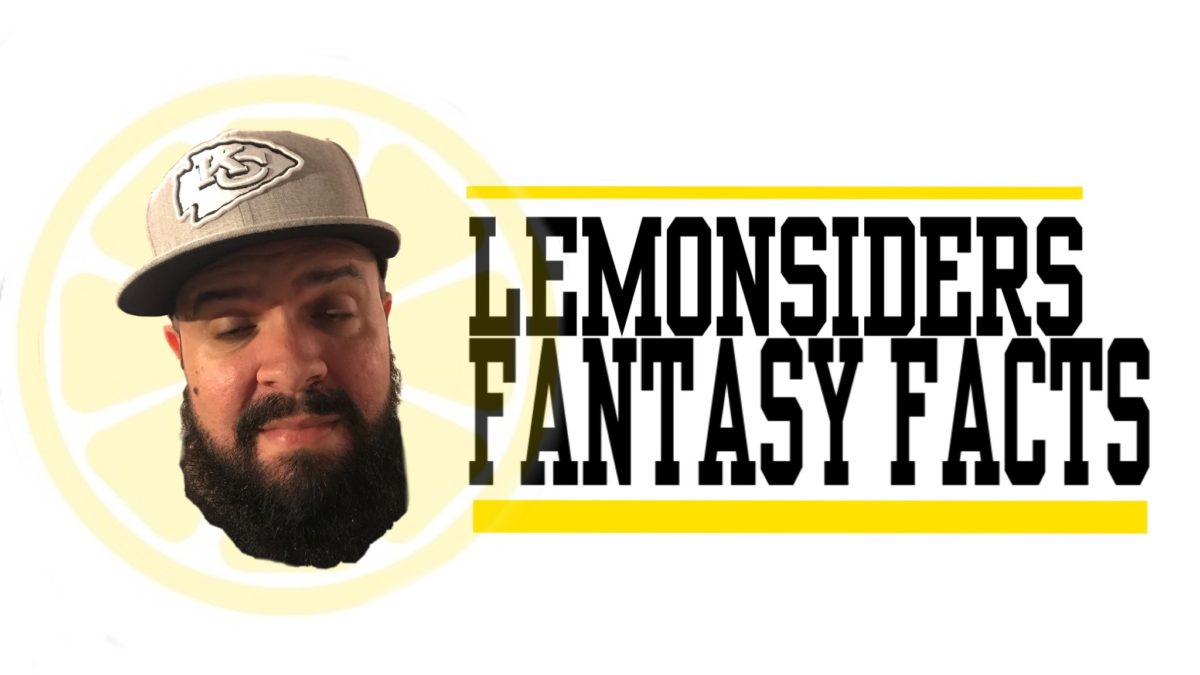 This week was filled with too many heartbreaking injuries from big name players. Ty Montgomery, Dalvin Cook, Chris Carson, Derrick Carr, Marcus Mariota and Julio Jones. Week 4: ROUGH. You know what else is rough? Sunday morning games. Not just waking up early on Sunday but having to watch bad football while drinking cafe con leche. Totally have to admit that Sunday 9:30 AM games are worse than Thursday night games. About them injuries though, we are here to help find some replacements for your injured players. Grab your cups slowly to avoid injury and get ready for them Lemonsider Fantasy Facts.
Hold
Them darn Jets. Two weeks in a row now they shock us all and pull out the win. Powell was someone who was inching on over to the toss out list and now, smack in the middle of the hold list. With Forte out with a toe injury, Bilal Powell put in work. 21 carries, 163 yards and a TD to go along with 4 catches and 46 yards. If Forte stays out, expect Powell to get the bulk of the work and put up numbers. Their next weeks have very favorable matchups : CLE, NE & MIA.
HAVE A DAY, @bilalpowell29! #JAXvsNYJ#Jets pic.twitter.com/MDSe0ZwMhg

— NFL (@NFL) October 1, 2017
With Danny Woodhead still being sidelined with an injury, Buck Allen is the primary pass catching back for Baltimore. Owners of Allen had hoped he would be featured as a 3 down back but seems as if Baltimore is wanting to give more touches to Alex Collins. Javorius caught 6 passes on 6 targets this week and that amount of looks is possible week in and week out. Hold on to him tighter than Will did to the bear when there was an earthquake.
The @realbuckallen lookin like Primetime @DeionSanders out here. #NFLCelebrations pic.twitter.com/5DKC3gOC6P

— The Checkdown (@thecheckdown) September 17, 2017
We all know the home away splits from Big Ben are lopsided. Steelers next 2 of 3 games are at home so Bryant's numbers should pick up soon. He's had 13 targets over the last 2 games so despite him not producing a lot, he's still getting plenty of looks. Sit tight.
Looking for Martavis Bryant fantasy points like pic.twitter.com/7dy2QEGArd

— Matt Franciscovich (@MattFranchise) September 10, 2017
Toss Out
In the offseason there was plenty of buzz about Beasley and I'm truthfully not sure why. He's a great WR but for fantasy? Not really. I've seen rosters that still have him on and I'm here to say, need to cut ties with Beasley like RIGHT NOW. In 4 games he's only had 11 receptions, 86 yards and 0 TD's. If you're holding on to him still, come on man!
When you realize Steve the pirate from dodge ball is actually Cole Beasley..😂😂 pic.twitter.com/ebi0sqMiKS

— Andres Garza (@miguelgarza575) October 2, 2017
With the Ravens giving more touches to Alex Collins and him being more productive with his touches than West, owners can't feel too comfortable at this point. This week against the Steelers he had 4 carries for -7 yards. Unless you're super thin at RB, I'd highly recommend to give him the boot.
Always known as a TD machine but this year it's been rough and that's an understatement. Way too many mouths to feed on the Titans and Decker hasn't produced at all. If Mariota's injury keeps out for any time, things will only be worse for Decker as Matt freakin Cassel will take over. Yikes!
Only took Matt Cassel 7 passes to throw 2 picks.

— Scott Kacsmar (@FO_ScottKacsmar) October 1, 2017
Add
Ty Montgomery was on his way to a big night before injuring his ribs. Reports initially said it was broken ribs but soon after there was conflicting reports showing injury wasn't as serious. This needs to be monitored closely because if Ty Montgomery does miss time, Aaron Jones will be the lead back on the Packers. This was one of my favorite deep players from the offseason and now he may get his shot. Next game is against Dallas who just got torched by Todd Gurley.
Aaron Jones explodes through the hole right to the top of the waiver wire! #TNF #NFL #FantasyFootball pic.twitter.com/Fg7Y5zKeKX

— SquadQL (@SquadQL) September 29, 2017
If you haven't already, head on over to your waiver wire and add Will Fuller V ASAP. Deshaun Watson has surprised many and has been lighting it up. The Texans offense seems like it's legit and not every pass can go to Hopkins so Fuller is a must add.
Welcome back, Will Fuller V!

TOUCHDOWN #TEXANS!!!!! pic.twitter.com/h3avdfDyNU

— Houston Texans (@HoustonTexans) October 1, 2017
With Marcus Mariota's hamstring injury and Derrick Carr's back injury, you may be in need for a quarterback badly! Deshaun Watson has thrown for 6 TD's past two games and with his running abilities, he tacks on more points with his legs as well. I myself having Mariota in 3 leagues am already eyeing to pick up Watson as soon as possible and highly recommend you do too. Doubtful that there are better options on your waiver wire.
January, 2017, Dabo Swinney: "I'm telling you, they pass on Deshaun Watson, they're passing on Michael Jordan."

Hmmmm.

— John P. Lopez (@LopezOnSports) October 1, 2017
Sell
Such a talented back but in a rough spot. Browns tend to play from behind and this does not fare well for Crowell. Duke Johnson is the RB to own on the Browns because of his pass catching abilities. There is still a chance he can break out but heading into week 5 of your fantasy leagues, you NEED to start making hard decisions on the "what if" guys. It's either you cut them loose by trying to trade them or sticking it out for few more games. When it comes to Crowell, sell while you can.
Be sure to check with us each week where will discuss not only start, bust alerts and sleepers for that particular week, but also who you should be adding to your roster and who you should be dropping. Until then, enjoy your week Lemon Heads!
Don't forget to follow us on Twitter, Facebook, and Instagram.
(Visited 63 times, 1 visits today)